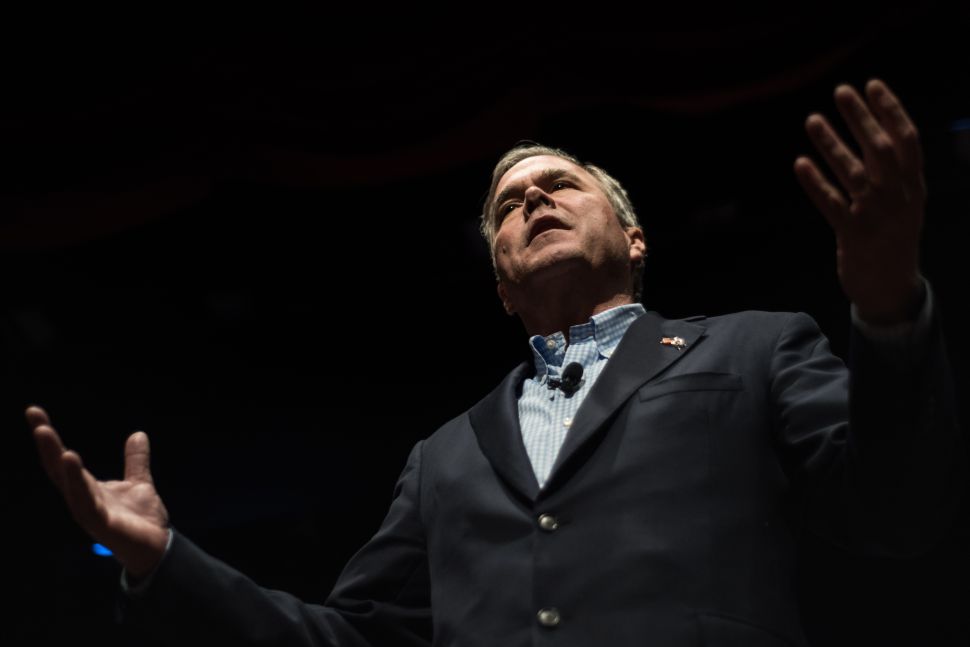 Jeb Bush wandered the grounds of Yale University without security on Wednesday to give a speech on "restoring conservatism in America." Unfortunately for the failed presidential candidate, the only thing that was restored was his de facto role as a punching bag for the Trump administration.
During his speech before the William F. Buckley Program, Bush told campus Republicans that he returned home to children "who actually love me" after the 2016 election. Students at the event interpreted this as a dig at President Donald Trump, as did the president's two sons. To reinforce their family's nouveau riche dominance over New England aristocracy, Eric Trump and Donald Trump Jr. took to Twitter to galvanize support from their father's working-class base.
".@JebBush I actually love my father very much. #PleaseClap," tweeted Eric Trump on Wednesday night, a reference to when the former presidential candidate pleaded with a sparse audience to applaud him during a campaign event.
"Jeb! I love everything about my father. I love that he's a fighter, I love that he has guts, I love that he's President (all those things you're not)," he wrote. "Also love that he learned enough about politics in a few weeks to dismantle you piece by piece despite it being your life's work."
Although Bush touted his family's love, students who saw him with his family on campus tell a different story.
"They didn't look very loving at the time," an undergrad at Yale told Observer. "They did seem pretty united in their miserable glare. No security!"