"I'm telling you, if [firefighters and paramedics] wrote down everything they saw in one week we'd have a whole season's worth of stories," said Chicago Fire executive producer Derek Haas at a recent press event.
Jesse Spencer, who stars in the series as Captain Matt Casey, jumped in to add, "And some of it you wouldn't believe. It's funny, sometimes we actually have to make the situations a little, like, less [accurate] to make them believable."
Considering they once staged  a plane crash that looked so real it prompted several witnesses to dial 9-1-1, the show's clearly achieving the authenticity they're going for.
"I don't think people know how hard it is to make [these rescues] look easy," said Haas. But when your series revolves around the lives and jobs of first responders, realism—making viewers believe this could actually happen out there in the world, to the point their hearts are racing just watching TV, laying on the couch—is what will make or break you. And while the writing and directing plays a huge role in achieving this, at the end of the day, it's down to the actors to make it look real.
That's something Jesse Spencer knows keenly. People aren't going to watch if it looks like he's just pretending to be a firefighter, and given that they show uses real first responders as background actors, it would be pretty obvious if any of the leads were just screwing around.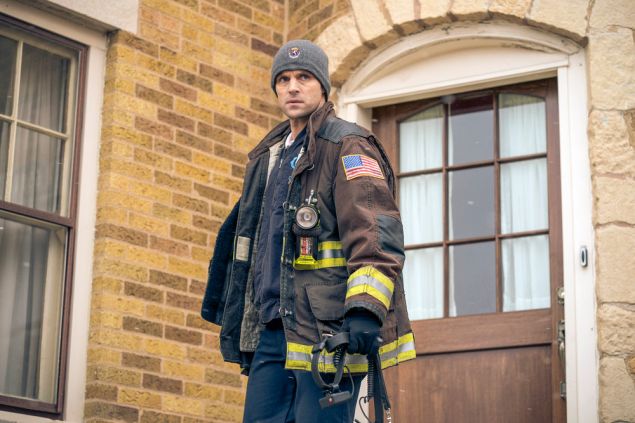 Spencer, who originally hails from Australia and came up by way of the Melbourne-set soap Neighbours, was no stranger to high-intensity TV drama before joining Fire six years ago. After making the move to L.A., he landed a part on House playing an underling to the famously surly doctor, a role he held for eight years.
But even so, his transition into the first-responder leading Firehosue 51 took some research.
As Haas recalled, "In episode two, we were at this construction site and none of [the actors] knew what to do, what to hold." But Spencer, along with the rest of the cast, worked at it. "Now, we write the scene and they know where to go."
Key to making it look realistic? Being totally in the moment when filming a scene. To make sure their focus is ready when needed, the actors do a solid amount of goofing off when the cameras aren't rolling.
"We need to laugh to relieve the tension sometimes," said Spencer, "Because, even though we're just acting this stuff out, all of these situations are based on real-life and death incidents and that can get pretty heavy if you think about it too much."
Added Haas, "When they need to be in it, they're definitely in it. They have to be to do this job."
They've certainly become close. The ensemble of actors in Chicago Fire function at a highly interconnected level in part because of their shooting location. Spencer explained, "In places like Los Angeles, [actors] all drive themselves to work every day." But not Spencer and co. "We all vanpool together. It's like being a school trip, every day."
Right now, he's grateful to be in Los Angeles for a bit, having escaped the brutality of the current Chicago winter.
"We didn't believe in snow," says the warm weather junkie of growing up in the Australian heat. "We thought it was a conspiracy of some sort." Then, in his second year of working in the notoriously frigid Midwestern city, the actor endured his first "polar vortex," a weather pattern that creates extremely cold temperatures coupled with heavy snowfall.
"It was the coldest winter [on record]. Your face doesn't work," he said. "Forget dialect, you just want to say your line and get out of there. It looks great on-screen—because you look miserable."
He'd better get used to it though. Haas has big ambitions for the show's run. "I want Chicago Fire to go as long as SVU." But Spencer seems ready to take it on. "Yeah, I hope we go 20 years," he agreed. Spencer sees (fake) firefighting well into his future. "I loved working on House, but I never ever want to do another medical show. It's 'fiddly' stuff," he says bending his head forward a bit, pulling his hands close to each other near his chest, rapidly twirling his fingers. Then he straightens up, makes two fists, and adds, "Fire is physical and has a lot of grunt to it. I really love that."
Though it's possible all the on-set heroics have made him a little too willing to take on death-defying acts. When the show breaks for their annual hiatus in the spring, he'll go home to visit his family, then plans to road trip around the U.S., "I'd like to see more of Colorado, Utah, and maybe go to Yellowstone. Oh, and I'd like to kayak down the Colorado through the Grand Canyon."
"Just be careful," Haas half-jokingly requested.
"Hey wait, you can jump the Grand Canyon on a motorcycle, right?" Spencer shot back. "I'll do that."