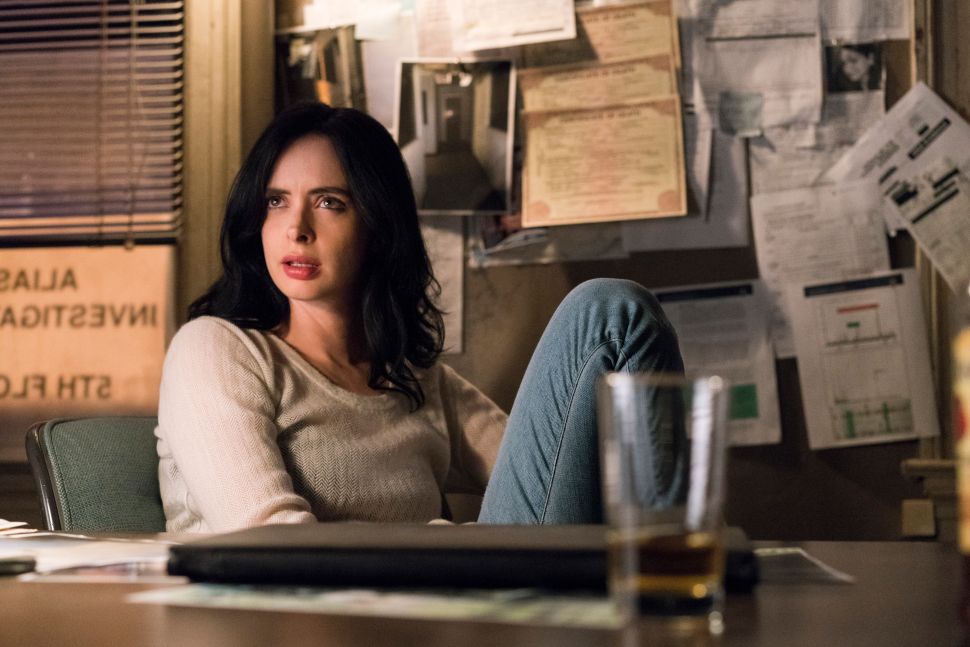 Marvel's Jessica Jones returns to Netflix for its second season on March 8 following the character's adventures in last summer's underwhelming team-up miniseries The Defenders. As of right now, Marvel has six series set in its shared cinematic universe airing on the streaming service, but does it have the story chops to support them all?
Each of those shows has been credited with taking on their own perspective, whether that be urban issues and race relations in Luke Cage or unhealthy obsession in Daredevil (Iron Fist has no running theme because, well, it's awful). Jessica Jones' center has been perhaps the most potent of all as the narrative has been crafted around a rape survivor story.
Yet regardless of the hook, each Netflix series has also been criticized for proving unable to support 13 episodes of story. Every series runs out of steam before it reaches the finish line. Four chapters into Daredevil season two or six episodes into Luke Cage and viewers feel like they've found their next worthy binge. After that, you find yourself longing for the shortened big screen installments as needless narrative detours start consuming more and more screen time. (Will Simpson, anyone?)
We've reached the point where Marvel has enough small screen experience to either course correct or continue on this path, and the second season of Jessica Jones can help answer that questions.
Unfortunately, based on the mixed reactions from critics, the answer may be the latter.
Indiewire's Liz Shannon Miller:
"Season 2's all-female directing staff keeps the show's noir bent in place though doesn't push too hard into the realm of art—but the clean approach works, as does Ritter's always grounded and believable performance."
Decider's Meghan O'Keefe:
"It's one thing to hang a character's arc on confronting their demons, but it's another if the whole show seems stuck in reverse. Jessica Jones felt revolutionary in her first season, and now she just seems trapped in the past."
Slant Magazine's Michael Haigis:
"While Jessica Jones coheres around a persistent view of Jessica (Krysten Ritter) and her friends as survivors, the series too often seems content to simply acknowledge the effects of trauma without offering an original argument about treatment or prevention. It inevitably conforms to comic-book convention, and Jessica's internal strife is overshadowed by her showdown with a super villain."
The Playlist's Rodrigo Perez:
"Sluggish and without drive, Jessica Jones may be less aggravating than it was in season one, but it still struggles to say much of anything new for the character, her persona and her journey forward as a person."
Variety's Sonia Saraiya:
"Season 2 of Marvel's Jessica Jones does all it needs to—which is to say, it brings Ritter's fantastic interpretation of Jessica Jones back to TV, with every ounce of shadowed malice and explosive desire on display."
Despite existing in the same continuity, Marvel has always made the curious decision to separate its film and television properties. Though its darker Netflix offerings have always outshined the mundane Agents of SHIELD, they have yet to fully coalesce as standalone viewing appointments. Rather than be enhanced by their connection to the world of the Avengers, they come off feeling disjointed and disconnected in a confounding way.
It's too bad because there are few things more enjoyable in the modern superhero genre than Jessica Jones dunking on the goofy Iron Fist.