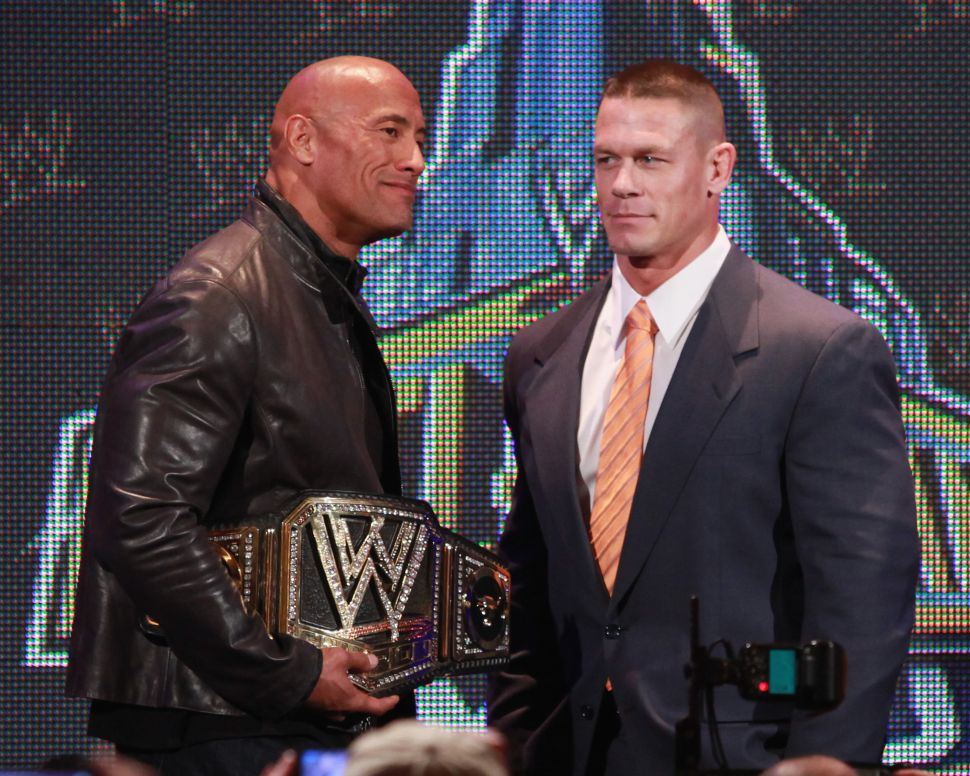 Dwayne Johnson is the only living Movie Star; all other pretenders and false idols fall short of The Rock's towering box office prowess. Of his last 10 films, only two failed to gross at least $215 million worldwide, according to Box Office Mojo. Five of them surpassed $500 million, and two of them crossed the vaunted $1 billion mark. No one brings consistency like that anymore. Not Jennifer Lawrence, not Tom Cruise, not Will Smith. No one.
But John Cena hopes to get there someday. Until then, however, he's wary to draw parallels between himself and Johnson just because they both made names for themselves in the WWE.
"The Rock is in a conversation by himself. He is an anomaly. He's done unbelievable things in the world of sports and entertainment," Cena told TheWrap last week before hosting the Nickelodeon Kids' Choice Awards for the second consecutive year.
"There is only one man even involved in that conversation, and it is him. He sets the bar rather high."
Despite his modesty, Cena has proven himself more capable in front of the camera than many of his fellow wrestlers. The 40-year-old turned in a scene-stealing performance in Amy Schumer's Trainwreck ($140 million), anchored the animated money-maker Ferdinand ($292 million), and will appear in the raunchy comedy Blockers in April, which is generating positive word-of-mouth out of the SXSW Film Festival.
The similar career trajectories of Cena and Johnson, 45, are hard to ignore.
"It's guys like that who not only work hard but use their platform. He is unbelievably gifted at using social media to spread the fact that hard work is how you achieve success," Cena told the outlet. "Hard work is also how you achieve significance. He inspires a lot of people, I don't think he understands the depth of how much. He is someone I look up to—so if I look up to him, there's no way we can be in the same conversation."
Cena is a smart guy who, like Johnson, knows how to cultivate a public persona and leverage his image. Any direct comparisons to Johnson, who has essentially become Beyoncé for boys, are smart to be met with modest deflection. But while Johnson's star power is a rare element in today's Hollywood landscape, Cena has managed to carve out his own territory on the big screen thanks to his charisma and comedic chops.
Based on Cena's reverence of Johnson, it doesn't sound as if the rising star views their career paths as a competition.
"I sat down with him, and we shared a special moment long before I stepped into a ring. He gave me his time, and he was very kind and candid in his conversation. It is something I will never forget," Cena said.
Johnson can next be seen in April's Rampage.