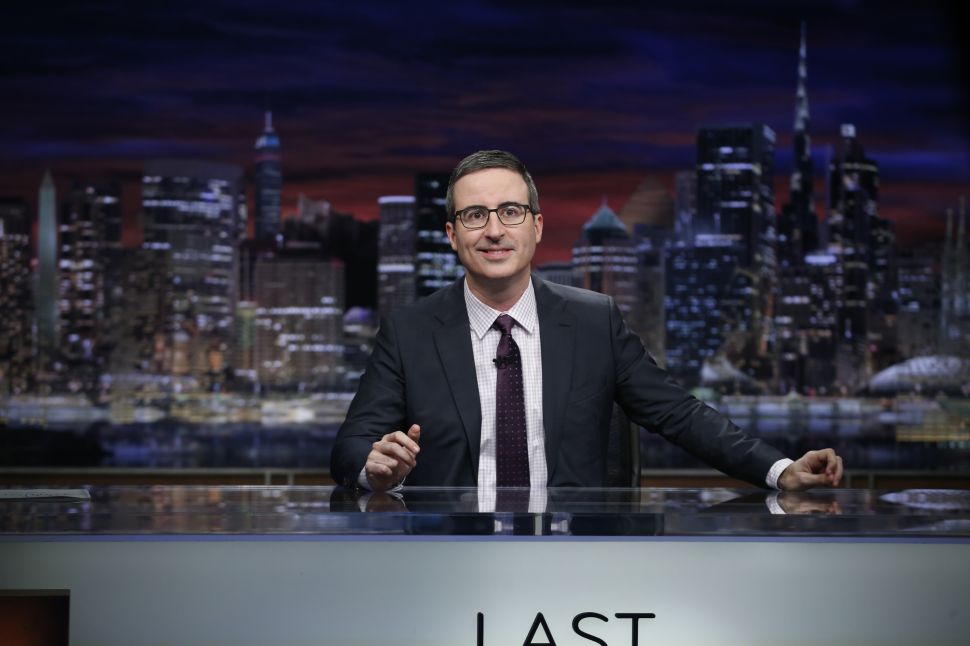 On his HBO show Last Week Tonight, John Oliver has educated viewers on obscure topics like the declining value of pennies and Pennsylvania train sets.
But on Sunday night's show, he turned his attention to a topic we've covered frequently: cryptocurrency.
He talked about everything from the crypto conference which stopped accepting Bitcoin payments because they take too long to the burgeoning Bitcoin music industry (it exists, and it's amazing).
But one of the most interesting parts of the segment came when he revealed that since Bitcoin is an open-source software, budding miners have created over 1,500 cryptocurrencies.
Oliver rattled off a bunch of currency names without going into much detail, but we were intrigued and did some research on each coin he mentioned.
Here's a look at 12 cryptocurrencies which are making "ripples" in the market, even if you've never heard of them.
Titcoin
Dubbed "the official cryptocurrency of porn and adult entertainment," Titcoin claims to process transactions in under six minutes. Owners of the currency can pay for adult products and services without incriminating payment histories appearing on their credit cards. Titcoin has actually received several nominations at the XBIZ Awards for adult entertainment.
TrumpCoin
Make Bitcoin great again!
This currency is intended for supporters of President Donald Trump, though it is not in any way associated with him. TrumpCoin can be dished out to investors and then forwarded to Trump as donations. The website also encourages donors to keep some coins for themselves, however, because Trump wants them to be "better off financially."
Jesus Coin
This coin aims to "decentralize Jesus" as "the currency of God's son." Unlike other "morally bereft" cryptocurrencies, Jesus Coin offers forgiveness of sins and claims to save all of its owners from hell (as long as they're Christian). It even hopes to become more valuable than the Christian church by 2050. God bless.
Insane Coin
There's not much information available about this cryptocurrency, but its website lists many possible use cases, including messaging, coding, content distribution and data checking. The coin makers also want to open an "Insane Space" where users can "get those creative juices flowing" and "make the future happen."
Electroneum
A mobile currency available on both the App Store and Google Play, Electroneum is secure, private and designed for mass adoption. It claims to have access to over 100 million smartphone users, who can mine their first coins minutes after downloading the app. The app's mobile mining feature went live just last week.
WAX
Short for "Worldwide Asset Exchange," WAX is a global decentralized marketplace.
It was developed specifically for the online gaming community, who already collect, buy and sell items in games. Gamers who win WAX tokens in games can exchange them for cryptocurrency. As of this week, more than five million in-game items can be bought and exchanged on WAX.
Particl
All digital coins value privacy, but Particl takes it to another level. Billed as a "privacy platform" and "the Swiss Army knife of cryptocurrencies," the marketplace is anonymously encrypted, and all transactions are untraceable. What's more, Particl is governed by its community of stakeholders rather than an executive team or third-party group.
Snovio
Aimed at businesses, this currency will help users find sales leads instantly so they can aim their products at specific groups of people. Snovio also ensures that users have the most up-to-date, relevant data on phone numbers and email addresses. And business owners can pay for these leads in a transparent, decentralized marketplace. Snovio's proprietary mailing list launches next month, when we'll find out if this is too good to be true or not.
Plutus
This system adopts cryptocurrency for the credit card era.
Once users download the Plutus app and get a Plutus debit card, they can use the currency anywhere credit cards are accepted (over 40 million stores in all). Even better, the transactions have zero fees. As a funny Easter egg, the mock credit card on Plutus' website belongs to Vitalik Buterin, the creator of the Ethereum marketplace.
NuBits
Each NuBit is sold for $1, so it has the same value as a dollar and can theoretically be used in its place. There are no vendor fees, and coins can be sent anywhere in the world for pennies per transaction. There's also no cost to download a NuBits wallet—it's available for Windows, Mac, Android and Linux users.
Clams
At first glance, Clams seem like the hippie anarchist cryptocurrency. The website promises a network "freed from tyranny," and anyone who runs the Clams software on their computer is eligible to create and transfer coins within one minute of first use. This system theoretically ensures "freedom, fairness and equality" so users can "dig for clams" without fear.
Deep Onion
Another anonymous, untraceable currency, Deep Onion features special protections so it can't be hacked or attacked by bad actors or government agencies. Payments can be sent and received worldwide instantly. Plus, its mascot wears a Guy Fawkes mask so you know he's serious.
Oliver particularly liked this coin.
"I tried to come up with a dumber name than Deep Onion, but it just can't be done," he said.
Note: It's basically impossible to know the real value of these coins since prices constantly fluctuate, so invest at your own risk.