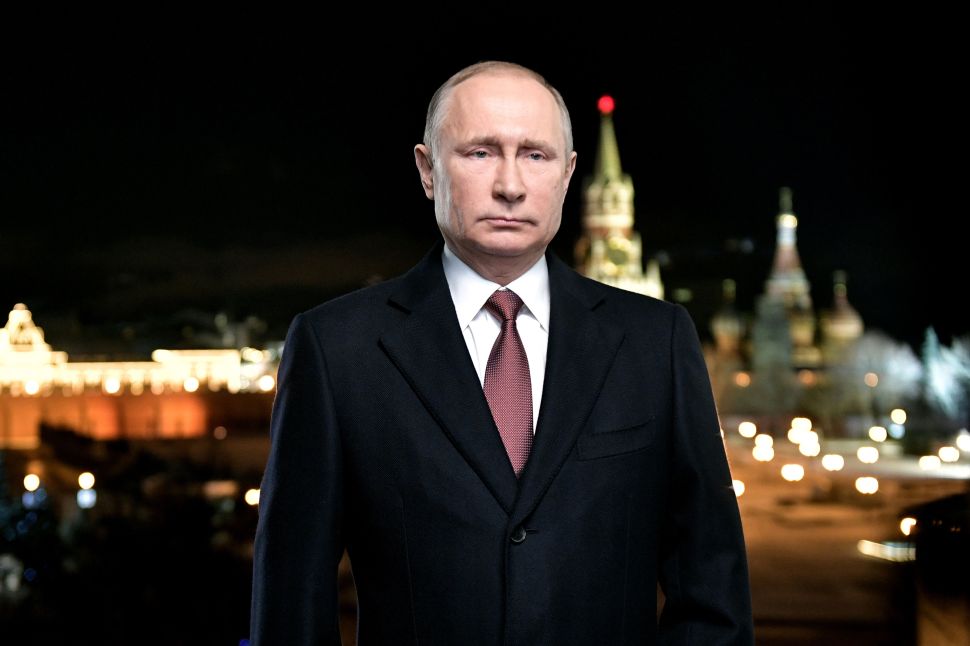 Russian President Vladimir Putin touted the Kremlin's nuclear arsenal in his annual State of the Nation Address on Thursday.
Standing next to a projector with video modeling of a nuclear warhead, Putin lauded a missile developed by Russian scientists and engineers capable of breaking through missile defense systems. When outfitted with a nuclear power plant, the warhead mirrors the U.S. Tomahawk Missile, but with "a flight range that is dozens of times greater" boasted the Russian president.
"We've started the development of new types of strategic weapons that do not use ballistic flight paths on the way to the target," explained Putin, according to the Kremlin's news agency TASS. "This means that the missile defense systems are useless as a counter-means and just senseless."
Praising the missile's range as "practically unlimited" and its flight pattern as "unpredictable," Putin confirmed that Russia successfully launched the weapon at a testing ground.
"As you may have guessed, no other country in the world has anything like that. Possibly, something similar will appear someday, but our guys will come up with something else by then," added the Russian president to applause from the audience.
Following Putin's announcement, the website for the Russian Ministry of Defense appeared to crowdsource names for the Kremlin's new nuclear warheads. Federation of American Scientists Director Hans Kristensen remarked on Twitter that this initiative was similar to a campaign led by the U.S. Department of Defense last year, in which the Air Force asked Americans to name the division's B-21 Bomber.
Even with a U.S. president seen by many as an enabler of Putin's regime, tensions between Washington and Moscow have been strained since the 2016 election.
In recent weeks, relations between the two countries have turned downright hostile following a U.S.-backed airstrike in Syria that killed Russian mercenary forces. As top-ranking U.S. military officials warn against Russian disinformation campaigns ahead of the 2018 midterm elections, the White House has threatened the Kremlin with "international consequences" over a cyber-attack executed last year.
Putin, in turn, has called rhetoric from the Trump administration "a hostile step" with the potential to push U.S./Russia relations "to the nadir."
Given such a precarious relationship between the two superpowers—and North Korean President Kim Jong-un's threats of nuclear annihilation against the United States—in January, the Bulletin of Atomic Scientists moved the Doomsday Clock to its closest point to man-made destruction since the height of the Cold War.