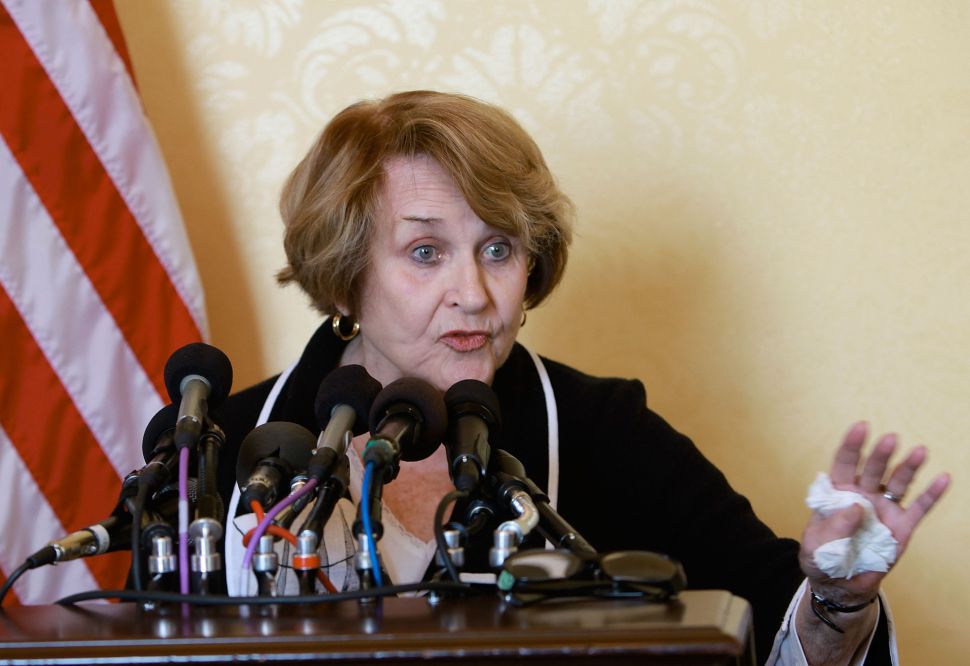 New York Rep. Louise Slaughter, the first woman to head the Rules Committee in the U.S. House of Representatives and the oldest member of Congress, died on Friday at the age of 88.
On Wednesday, her office said she was hospitalized after falling and suffering a concussion at her home in Washington, D.C.
At the end of February, Slaughter launched her reelection campaign for a 17th term in office. She was the oldest sitting member of Congress, and was first elected to Congress in 1986. She is one of the longest-serving Democrats in Congress.
In a statement, Liam Fitzsimmons, Slaughter's chief of staff, described her as a "relentless advocate" for Western New York whose "visionary leadership" yielded infrastructure upgrades, technology and research investments and two federal manufacturing institutes in Rochester.
"As the first chairwoman of the House Rules Committee, Louise blazed a path that many women continue to follow," Fitzsimmons said. "It is difficult to find a segment of society that Louise didn't help shape over the course of more than 30 years in Congress, from health care to genetic nondiscrimination to historic ethics reforms."
Born in Harlan County, Kentucky, Slaughter received a Bachelor of Science in microbiology and a Master of Science in public health at the University of Kentucky, according to her official website.
She and her husband, Bob, were married for 57 years before he died in 2014, Fitzsimmons said. She leaves behind three daughters, seven grandchildren and one great-grandchild.
Before she served in Congress, Slaughter served in the New York State Assembly from 1982 to 1986 and in the Monroe County Legislature between 1976 and 1979. She also served as regional coordinator to the late Mario Cuomo (who also served as governor from 1983 to 1994) from 1976 to 1978, when he was secretary of state and from 1979 to 198 when was lieutenant governor.
During her time as chairwoman of the House Rules Committee from 2007 to 2011, she brought major pieces of legislation to the House floor for a vote, including increasing the federal minimum wage for the first time in 10 years in 2007, as well as passage of the Genetic Information Discrimination Act (GINA) in 2008 and the National Women's Rights History Project Act in 2009.
Early in her career, she successfully fought for the passage of legislation that guarantees that women and people of color are included in all federal health trials, established the Office of Research on Women's Health (ORWH) at the National Institutes of Health (NIH) and gave out the first $500 million in federal funding for breast cancer research at the NIH, according to her website.
Slaughter also co-authored the Violence Against Women Act, advocating for reauthorization campaigns and urging congressional Republicans to pass an extension that includes more protections.
House Speaker Paul Ryan, House Minority Leader Nancy Pelosi, Gov. Andrew Cuomo, Mayor Bill de Blasio, House Democratic Caucus chairman and Rep. Joe Crowley (D-Queens/Bronx) and Rep. Carolyn Maloney (D-Manhattan) were among elected officials who mourned Slaughter's loss and praised her work and achievements.