How's this for an icebreaker: In 2021, the first luxury cruise ship will reach the North Pole.
Ponant, the French-owned cruise line is creating the trip of a lifetime, allowing passengers to crown 90 degrees North Lattitude on a Maserati for mariners.
However, with their maiden voyage still three years out, the company is wary to share details about, well, much of anything. They have yet to name the starting rate for the ship's 135 yacht-style staterooms—and for that matter, are mostly tight-lipped about what's even included in the undisclosed cost. Describing the ship's interior design, Ponant uses vague words and phrases like warm, elegant, and 'distinctive French flair.' In other words, the details of this cruise aren't quite set in stone—but the contract to build the boat was recently inked, for a whopping $319 million. As Ponant approaches its 30th anniversary, the company remains true to an opulent tone across its high-style fleet. Butler serviced suites, heated saltwater pools and restaurant menus designed with help from Alain Ducasse's consulting firm, are all signature perks. Ponant's existing itineraries sail anywhere from the Solomon Islands, Cape Verde, and all the way through the Arctic to Antartica.
"Why not sail to the North Pole?" asked Navin Sawhney, CEO America's at Ponant, in an email with Observer. "We have guests who have done polar expeditions and are looking to travel further."
Forging to the top, Ponant will not only tout passengers on the inaugural luxury expedition to the North Pole but also the first electric hybrid cruise icebreaker to do so.

Unlike leisure-driven cruise ships, icebreaker ships are hard-working vessels designed to navigate—and slice through—ice-covered waters. In the past, adventurous vacationers mostly reached the North Pole aboard Russian-made, nuclear-powered icebreaker ships—the type of heavyweights no one would call luxurious, with equally frigid names like 50 лет Победы.
Ponant's Icebreaker will cut through ice floe measuring over eight meters thick. As an electric hybrid powered by Liquified Natural Gas, it aims to produce virtually zero emissions—a salient feature, considering that the North Pole is remotely accessible because mankind has chipped away at the climate, melting and unlocking the Arctic.
So what can passengers expect on the first luxury cruise to one of the most secluded destinations on earth?
You won't freeze to death, if that's what you're wondering. But it will definitely be chilly. Arctic cruises usually depart from June through August when ice pack has largely melted and average temperatures can rise to 35 degrees.
What will you see? "There is much more than [the] North Pole that the vessel will be capable [of] sailing to… from the roof of the world to Antarctica," hints Sawhney, revealing…almost nothing. There are few guarantees in the unpredictable Arctic, but you might see polar bears, walrus herds and, of course, ice on ice.
On deck, you'll see and hear ice split against the hull as it crushes its way through the Arctic Circle—a cacophony that drops to near silence whenever the ship stops.
Ponant's ship will stock 16 Zodiacs (motor powered inflatable vessels specially designed for Polar waters) and two helicopters, all deployed for remote excursions from the Weddell Sea to the Ross Sea. Passengers will also board helicopters and, potentially, touch down on the uninhabited, volcanic Peter I Island—one of the most remote on the planet—a breeding ground for various Arctic birds, and, if reports are true, the occasional Chinstrap Penguin or seal.
Those with cold feet—and fine taste—will find comfort inside the vessel. "Our current fleet of expedition ships and our new EXPLORER ships are all built to deliver a contemporary, modern, luxury experience," says Sawhney. "Our partnerships with distinctive French brands also set us apart–Veuve Clicquot, Ladurée, Alain Ducasse Counseil, Hermès bath products."
Macarons at 90 degrees north? Fingers crossed.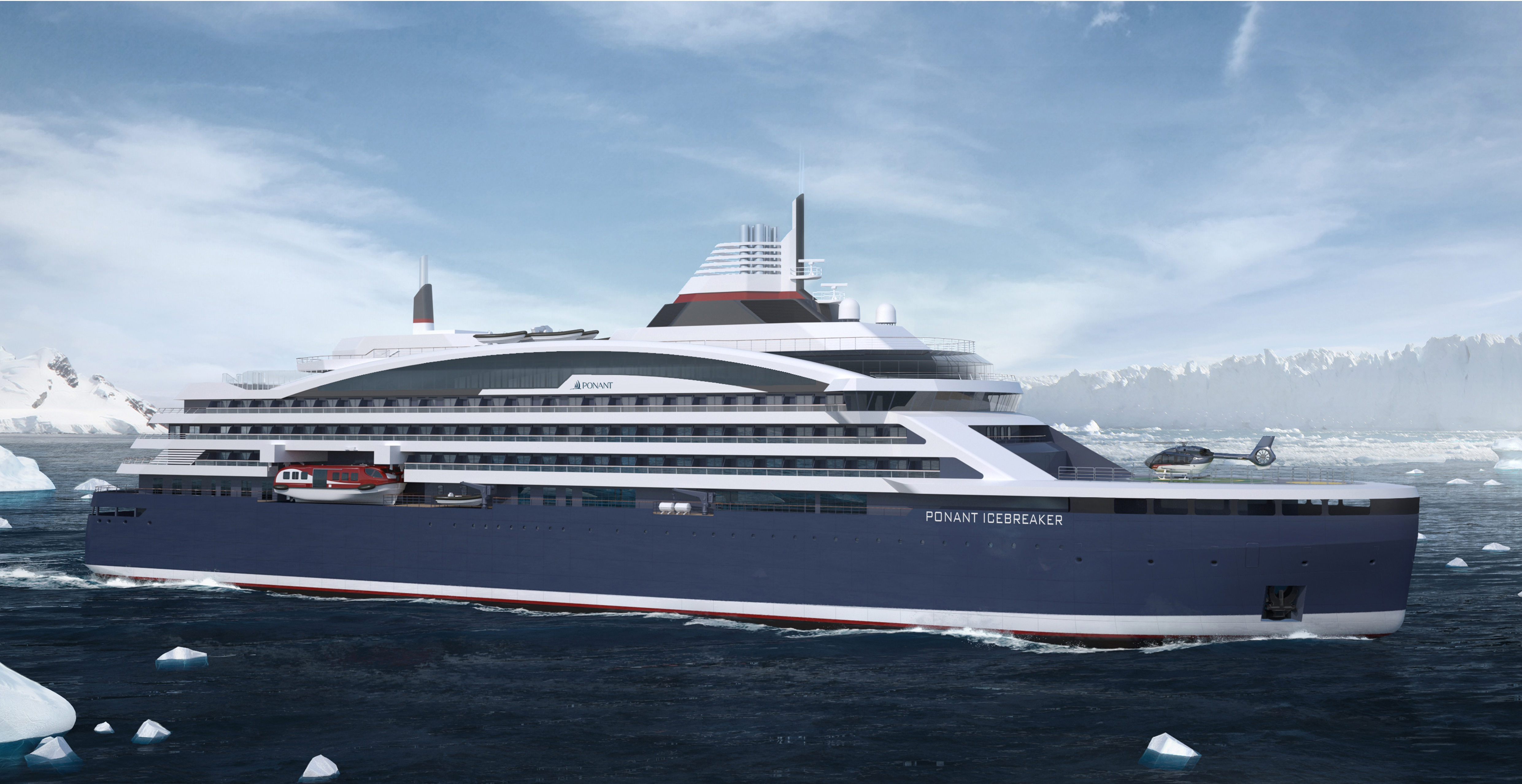 In line with luxury expedition vessels in the latest Ponant Explorers series, the ship promises sparkling, superlative features. An underwater lounge, for example, will feature glass portholes surveying what lurks below the waterline. Early renderings of the lounge suggest Starship Enterprise vibes replete with live projections from underwater cameras, hydrophones that transmit ocean sounds, and techy sofas that vibrate in unison with the ocean's sounds.
Although Ponant has yet to suggest how long itineraries might last—or even when tickets might be available for purchase—past Arctic cruises have lasted anywhere between 14 and 23 days, so expect to sit on ice for a while. As for the price, Ponant hasn't budged on an estimate for a cabin. But considering that it can cost upwards of $30,000 to board the existing arctic option—aboard a rugged Russian icebreaker—it's safe to assume Ponant's price-tag will blow the rest out of the water.
The nitty-gritty details are still under wraps, most important of which: Whether or not there be WiFi. But in pursuit of luxury, the North Pole remains a next-level destination—beyond the concept of the bucket list or the very idea of being well-traveled.