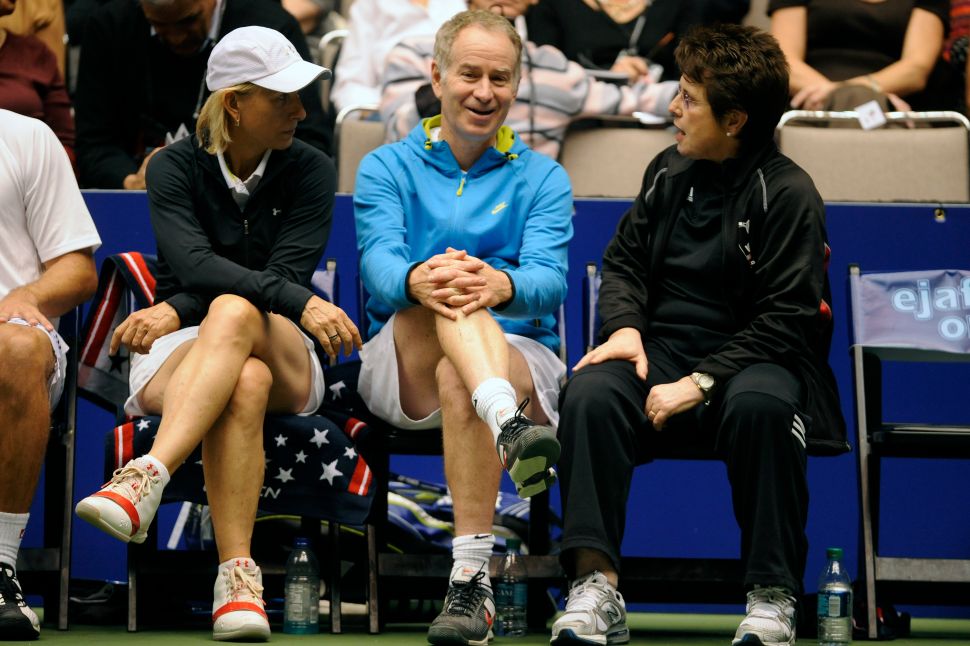 Nine-time Wimbledon champion Martina Navratilova was "shocked" to learn that John McEnroe earns a minimum of 10 times more than her for their respective sports commentary duties on BBC.
Navratilova revealed to BBC's Panorama series, according to Deadline, that she was paid roughly $21,000 (£15,000) when she served as a commentator for Wimbledon. McEnroe was paid between $210,000 and (£150,000) and $280,000 (£199,999). The latter's salary was revealed in a ranking of the BBC's highest-paid names last summer, according to the outlet.
The series is part of Panorama: Britain's Equal Pay Scandal, and Navratilova's interview airs in the U.K. tonight.
In it, she said: "It was a shock because John McEnroe makes at least £150,000… I get about £15,000 for Wimbledon and unless John McEnroe's doing a whole bunch of stuff outside of Wimbledon, he's getting at least 10 times as much money… It's shocking this happens, but for me, it's a part-time job—two weeks of my life. For women that work full-time, maybe the discrepancy isn't so large, but it adds up over a lifetime."
When questioned, BBC Sport countered by arguing that McEnroe's job was of "a different scale, scope and time commitment" compared to Navratilova. They also said: "They are simply not comparable."
According to Panorama, McEnroe appeared roughly 30 times at the event in a professional capacity for BBC last year, while Navratilova only appeared 10 times.
The BBC published the salaries of its on-camera talent last summer, revealing that only one-third of its stars are women and the top seven highest-paid names were men. The backlash from this report prompted an internal review, which found that men earned 9.3 percent more than women on average. In response, former BBC China editor Carrie Gracie resigned.
Interestingly, in terms of career prize money, McEnroe earned north of $12.5 million, while Navratilova earned more than $21.6 million.