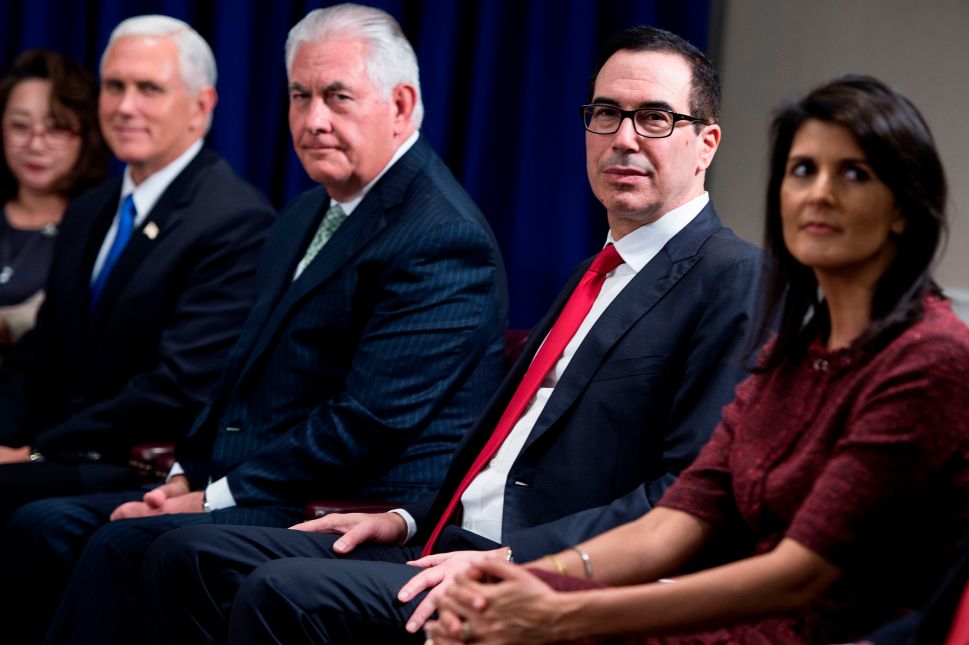 The Treasury Department on Thursday imposed sanctions on 24 Russian entities and officials for interfering in the 2016 election—the strongest indicator that the Trump administration will punish hostile actors complicit in disinformation campaigns targeting the U.S. democratic process.
Coming in the wake of British Prime Minister Theresa May's expulsion of 23 Russian diplomats, the initiative, like most of President Donald Trump's policies, sparked a mixed response: Republican lawmakers praised the sanctions, while experts warned that they will fail to deter Russian President Vladimir Putin.
"Russia has shown us time and time again that they are no friend of the United States. Today's sanctions send a clear message to President Putin and his band of thugs that we will not stand idly by while they attack our cybersecurity, attempt to influence our elections and disrupt our way of life," Congressman Peter Sessions (R-Texas) told Observer in an email.
Grand strategists are hesitant to embrace the sanctions, casting doubt on their timing and their targeting of Russian entities already indicted by the Justice Department, rather than Russia as a whole.
"The sanctions seem to be a little bit of weak tea," Elizabeth Borgwardt, a professor of history and law at Washington University in St. Louis, told Observer. "I would attribute them more to the loss of the congressional special election in Pennsylvania. Usually, Trump moves away from his base and closer to the center, toward what are numerically popular policies, when there's been some forceful kickback by blue-state voters."
In addition to the Pennsylvania election and May's announcement, the sanctions follow the departure of Secretary of State Rex Tillerson and Nikki Haley's fiery speech on Wednesday—where the ambassador condemned Russia for its alleged chemical attack after threatening military intervention in Syria several days prior.
"The Trump administration is a unified label for a not-so harmonious batch of individuals," noted Borgwardt. "It seems amazing to me that Ambassador Haley, in speaking out on the heels of Tillerson's dismissal, would not have some kind of sense that this was acceptable to Trump and the people around him."
"Outward facing forums [like the United Nations] are really not high-stakes venues for Trump. He cares a lot more about what Mnuchin says than what Nikki Haley says, so in a sense, she can go further," added the professor. "I think she has persuaded Trump that this will help if she is the forward edge in Russia/Putin condemnation."
Citing the sanctions as part of the White House's "outward facing strategy" to support the United Kingdom publicly, Borgwardt explained that Western powers have "signaled they're extremely uninterested" in Putin's grand strategy—as long as their own domestic policies remain intact. Such a power balance has not lead to Cold War 2.0 as many experts claim, but a scramble within the Trump administration to architect vision amid political upheavals and new methods of warfare.
"A piece of grand strategy is ideology," Borgwardt continued. "There's really not an ideology that the Trump administration is struggling for."