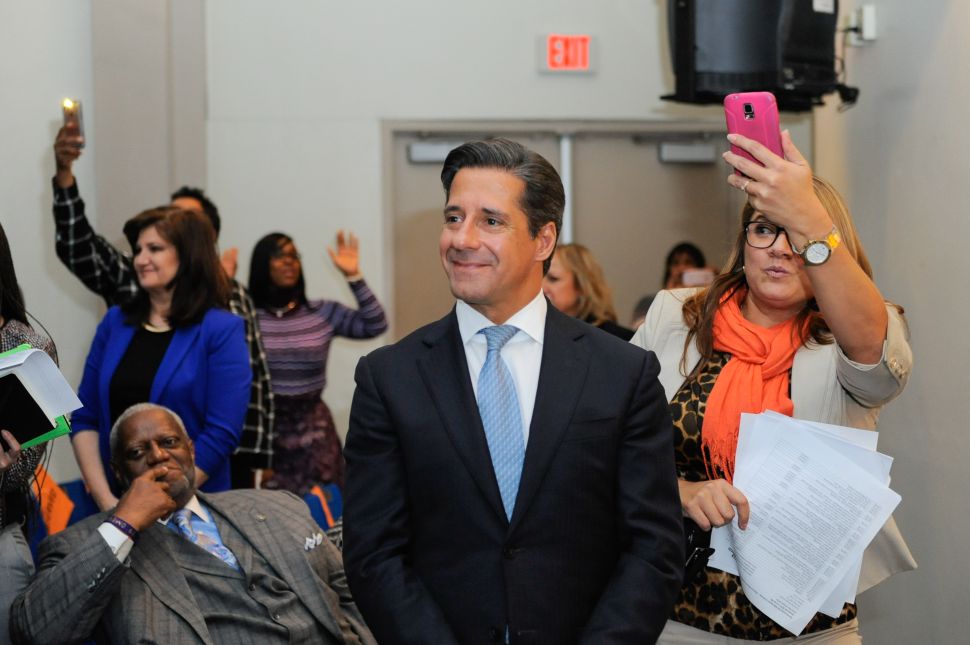 Miami-Dade Schools Superintendent Alberto Carvalho, an educator who is well-known nationwide, has turned down an offer to serve as the next New York City schools chancellor less than a day after news broke that he was tapped to head the country's largest school system.
On Wednesday evening, POLITICO reported that he would be succeeding city schools chancellor Carmen Fariña, who is retiring after first taking the job in 2013.
The superintendent—who currently heads the country's fourth largest school district—had previously considered running for Congress in Florida, according to POLITICO. He was also rumored to be a top pick for the U.S. Education Secretary position under Democratic presidential nominee Hillary Clinton if she had become president. And he is said to be a potential pick if a Democrat were to beat President Donald Trump in 2020.
Carvalho, 52, changed his mind during a heated school board meeting, in which board members and attendees expressed sadness at the news of his departure. He has held the Miami-Dade superintendent position since 2008.
"The decision that I have made about that [New York City schools chancellor] position is however a decision I can no longer sustain," he said, garnering loud applause from attendees and board members in the room. "I am breaking an agreement between adults to honor an agreement and a pact I have with the children of Miami."
He said turning down the job was the "second most difficult thing I have ever done in my life," noting the first was his decision to leave his native Portugal at the age of 17 as an undocumented immigrant to come to the United States. He also worked as a day laborer and is the first in his family to go to college.
Carvalho argued that the New York City schools chancellor position is the "most coveted job in education."
"The chancellor's position in New York City is the most impactful position that shapes and molds the future of education in America—1.1 million students," he continued. "I have made a decision about that position. I underestimated the emotional tug, the level of commitment, the power that crying members of the community have had on me."
He told the crowd that he spoke with de Blasio about his decision and praised the mayor, as well as First Lady Chirlane McCray. He said de Blasio is "one of the most keen intellects in our nation today" and that he and the mayor are in "political alignment."
"I am sorry that our short-term friendship did not grow beyond the fantastic conversations and hopes for both of our communities," he added, referring to de Blasio. "I am eternally grateful and appreciative, and for as long as I'm here, public education shall continue to retain the value it has in Miami, in New York and the entire country and I want to be strong."
He maintained that he is "not changing."
"I am driven by conviction, never afraid to take on a challenge," Carvalho said. "Last night, the challenge was New York City. Today, the challenge is the challenge that children face and my commitment to Miami is now as [strong as] it's ever been, as strong as the word that defines my name Carvalho, which in Portuguese means 'oak tree.'"
Under his tenure, the graduation rates for schools in Miami-Dade increased, and he has expressed support for school choice. He is also the founder and principal of the award-winning iPrep Academy, a public school. And he was named 2014 Superintendent of the Year by the Association of Latino Administrators and Superintendents.
A student at iPrep Academy was seen expressing support for him on Twitter.
Still, Carvalho has had his fair share of controversy.
He was rumored to have had an affair with a former education reporter for The Miami Herald when he was serving as associate superintendent. At the time, he was being considered for the superintendent position.
He has also butted heads with teachers who were not satisfied with their salaries.
Carvalho's New York City appointment garnered immediate controversy all throughout Thursday due to the fact that he would have been making more money than Fariña. His salary was reportedly going to be $353,000, compared to the $233,430 Fariña made—a roughly $120,000 difference in pay.
Eric Phillips, de Blasio's spokesman, dismissed the criticism.
In the aftermath of Carvalho's decision to turn down the job, Phillips confirmed the news on Twitter, saying that "there is… never a dull moment in our great city."
De Blasio weighed in on the appointment before even holding a formal press conference to announce it. He called Carvalho a "world-class educator" who has an "unmatched record of success."
Following Carvalho's decision, the mayor expressed disappointment, saying he was "very surprised" because Carvalho was his first choice.
The city, he explained, conducted a nationwide search. After he offered Carvalho the job, First Deputy Mayor Dean Fuleihan had followup conversations with him more than a week ago and he accepted the job. He was at a meeting at Gracie Mansion when Carvalho called him.
"We talked to him yesterday afternoon about formally putting the information out via the POLITICO article," de Blasio said. "He agreed on a phone call with Eric Phillips and I. I spoke to him again last night—I think it was around 8 o'clock—and we discussed the next steps for his announcement here in New York City. So you can imagine how surprised I was to get a phone call from him a few hours ago."
De Blasio also said Carvalho should have called him before the school board meeting. And while he did not agree with how Phillips, his spokesman, reacted, he understood the origins of his frustration.
"I would not have said it that way," he continued. "In the heat of the moment,  I'm not surprised that people express their frustration in the heat of the moment but that's what that was. We're all confused at what happened here."
In a statement, Brooklyn Councilman Mark Treyger, chairman of the City Council's Committee on Education, said the best decisions "are the most informed decisions."
"In order to make well-informed decisions, you have to involve critical stakeholders who have vested interests in ensuring that our schools succeed," Treyger said. "I look forward to being a part of the conversation regarding who will eventually accept the position of Chancellor of the largest school system in the country."
This story has been updated to include a comment from Mayor Bill de Blasio.