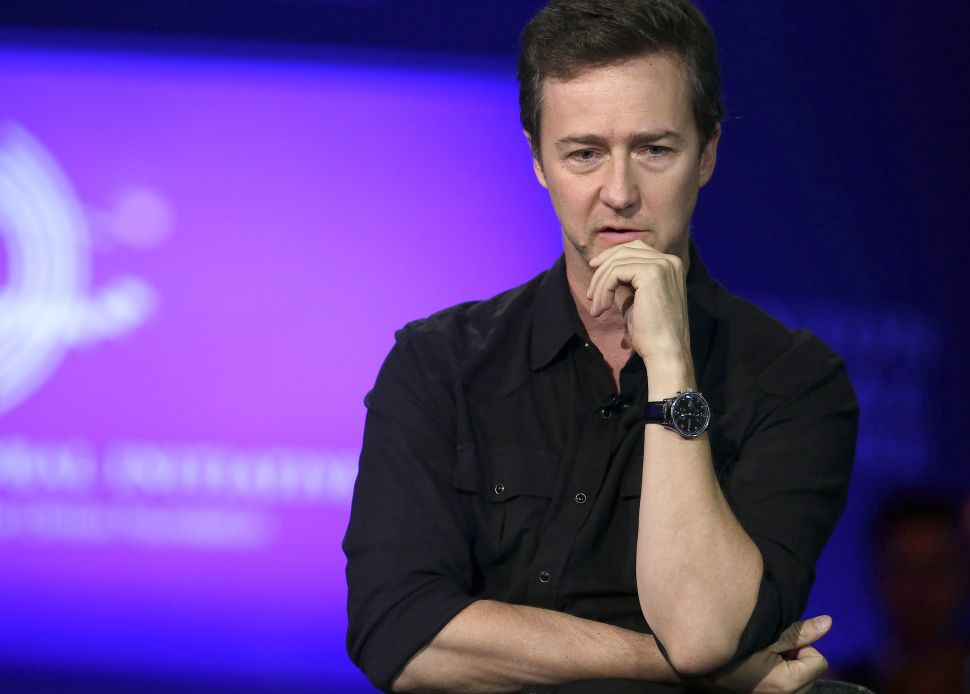 Firefighter Michael R. Davidson of Engine Company 69 died Thursday night in Harlem, New York City, on the set of Edward Norton's Motherless Brooklyn.
The fire began around 11 p.m. in an occupied residential building, though the area in which the film was shooting was unoccupied, according to THR. Firefighters quickly responded to the scene to attempt to get the blaze under control.
Davidson was manning the nozzle and directing the hose-line to contain the spreading fired. At one point, he was separated from the other firefighters inside the building. He was found unconscious and later pronounced dead at a hospital.
"It's an awful night," Eric Philips, a spokesman for Mayor Bill de Blasio, said in a tweet. "You haven't heard a scream until you've heard the scream of a mother who's seen her son give his life to protect us."
According to Fire Commissioner Daniel Nigro, three other firefighters were injured and two others suffered burns that put them in serious condition.
"Our department and our entire city mourn this tragic loss of a very brave firefighter," Nigro said, per the outlet.
It is unknown what started the blaze.
The five-story Manhattan building was being used as a filming location for Norton's adaptation of the Jonathan Lethem novel of the same name. Norton is directing and starring in the film, which also features Bruce Willis, Willem Dafoe and Alec Baldwin.
Daquan Evans, a 28-year-old neighborhood resident, saw Norton outside the blazing building and told The New York Post he looked troubled.
"That actor Ed Norton walked right by. He looked pretty upset," Evans said. "This is crazy this fire. You think a movie comes up here and it is good for the neighborhood. Not a fire… damn."
"Our deepest condolences to the family of Michael R. Davidson," Norton and his producers said early Friday. Davidson was a 37-year-old father of four and a 15-year veteran of the FDNY.
"As soon as we noticed smoke coming up into our set, our crew immediately alerted the fire department and began alerting residents of the building, even as we evacuated our cast and crew," they said in the statement, according to CBS News.
"To our great sorrow, we now know that a NYC firefighter lost his life battling the blaze that grew, and our hearts ache in solidarity with his family. New York City firefighters truly are the bravest in the world," the statement continues.
"We watched firsthand with astonishment as they charged into the smoke to make sure all were safely out and then fought to contain the blaze and prevent it from spreading, putting their lives on the line as they do every day."
Motherless Brooklyn was scheduled to be released next year.