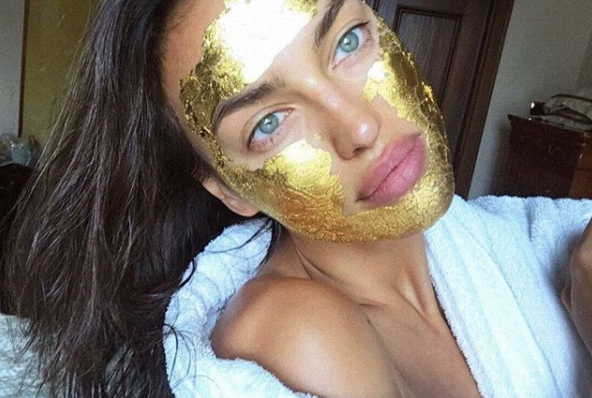 "If you're not here for the show you need to leave," an impatient security guard barked at me on a rainy Saturday afternoon during New York Fashion Week.
I was trying to get past the door of the NYFW venue Spring Place, but not to watch models saunter down the runway in their skimpiest ensembles. Instead, I was in my athleisure best—sans makeup, plus frizzy hair from the humidity—for a meeting with Mimi Luzon, the celebrity aesthetician beloved by top models and known for her pricey 24-karat gold products.
I wanted to sneak past bloggers toting borrowed Birkins, but Luzon's treatment rooms were adjacent to the catwalks. My Vans, leggings and enormous puffer jacket led to more than a few side-eyes, including a serial killer look from Jack Stone of Bachelor In Paradise fame, who raced into the venue and did not hand me a rose on the way. Once inside, I beelined for the makeshift workspace in Spring Place, a member's only club that isn't exactly known for its open door policy.
Luzon's infamous treatment is a 24-karat gold leaf anti-wrinkle mask that promises to lift and renew skin using Hexapeptide8, a synthetically derived compound that penetrates to relax facial tension. I'm no chemist, but was sold after scrolling through Instagram, where Luzon religiously posts pictures of Victoria's Secret Angels showing off their healthy skin.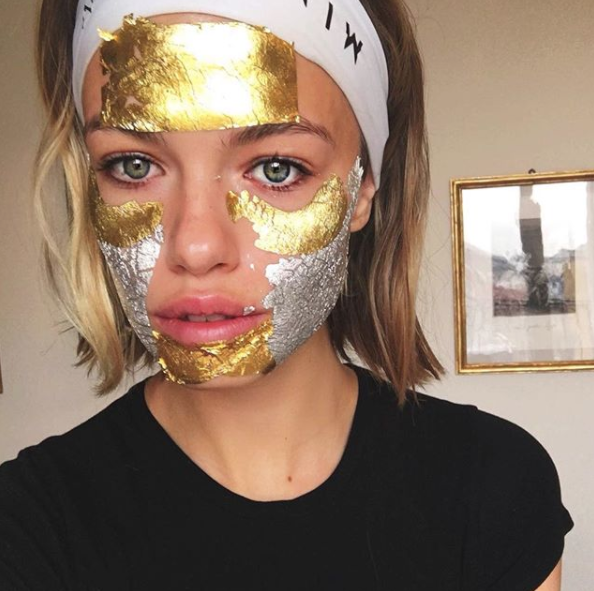 Her roster includes Sports Illustrated model Hailey Clauson, who showed off both colors to her 495,000 Instagram fans, Brazilian swimsuit model Camila Coelho, with seven million followers, and Devon Windsor, who walked in multiple NYFW shows, dated Entourage star Kevin Connolly and surpassed the one million mark on social media. Luzon has close relationships with her regulars, grabbing dinner with Kristen Stewart's Angel girlfriend Stella Maxwell during Milan Fashion Week and posing with Irina Shayk at a Harper's Bazaar party.
While Luzon circles the globe, giving models and influencers the facial, a silver four pack of her masks can be snapped up for $279 and the 24-karat version for $349, available on her site and Net-a-Porter. However, the skincare expert recommends booking her facial process first, so she can advise on which mask to try, based on your skin type. Recipients are then encouraged to continue their new routine with her extensive collection of equally pricey masks and serums.
In my quest to become an influencer, I eagerly accepted the chance to experience the Instagram-famous technique. Instead of the typical facial experience where elevator music sets the tone in a calm, dimly-lit studio, neon office lights were on while Luzon spoke in rapid Hebrew to her assistant on the phone, who was lost somewhere in Soho. At one point, she removed my eye mask to help direct the disoriented assistant's Uber. It wasn't zen, but everyone knows beauty is pain, or at least slightly stressful.
I expected to receive the 24-karat gold facial, but Luzon insisted silver was best. "For more sensitive skin types, I'm always recommending the Wonder Mask," due to its "calming and cooling effect," she explained. She courteously added, "Everyone's skin goes through different cycles, so I select the mask that's best suited for your skin and the season." Silver is for oily complexions, as opposed to gold, which delivers instant moisture. She applied serums, then silver leaf foil, which felt like a light layer of wrapping paper, until I resembled an expensive papier-mâché project.
Luzon reserves the gold for the lucky few who already have the flawless, poreless, ageless appearance of one of Leonardo DiCaprio's girlfriends. According to Luzon, it "renews, stimulates and reduces dryness and wrinkles, leaving the skin with a beautiful glow." She claims the masks have healing properties, owed to hyaluronic acid and jojoba seed oil. The ingredients in her signature mask, including pure 24k gold, brighten, immediately smooth and moisturize, like real time FaceTune.
Luzon began applying a series of masks and serums, then placed the silver leaf foil on my face. She painted it on until I bore a strong resemblance to the Silver Surfer. I ditched my phone on the nearby desk, as facials are usually time for a digital detox, but once the mask was applied, she asked if I wanted to snap a selfie and handed over my phone. Of course, I couldn't resist the opportunity to show my followers I was basically a supermodel. I asked Luzon if most people opted for a mid-facial selfie and she answered, "Not everyone, but wouldn't you want to take a selfie with a silver or gold mask?" In the age where wellness is performative, an unattainable skincare experience is the ultimate humble brag. No one can insult someone indulging in self-care, no matter the price tag.
Once the facial was over, I stumbled into natural light with bits of silver still clinging to my face and noticed that my complexion was brighter, like I'd ditched dairy during a seaside vacation. My visage glowed for a few days, leading to a handful of compliments, but there was no lasting impact.
Unlike most facials, there were no painful extractions or steam machines, which could explain why Luzon's version doesn't offer the same long-term benefits that intensive experiences do. If you're a regular person who wants a routine meant to consistently improve skin over time, this facial isn't ideal; it's for models who need picture perfect skin for a photoshoot in one hour. While it puts you in the same league as Irina Shayk, there's a reason it works best for those genetically gifted individuals. Her products are popular for their immediate, albeit fleeting, results.
For someone with problem skin, I'm simply not the target market for Luzon's facials—and few are. If you happen to have $300 readily available for a facial that guarantees a glow that evening, go ahead and indulge. But if you want an inexpensive Instagram experience, head to the drugstore and buy the first sparkling mask you come across.
A few hundred dollars for a selfie is a bit steep, but maybe I'm just bitter I didn't end up dating DiCaprio and the glow only lasted as long as one of his relationships.