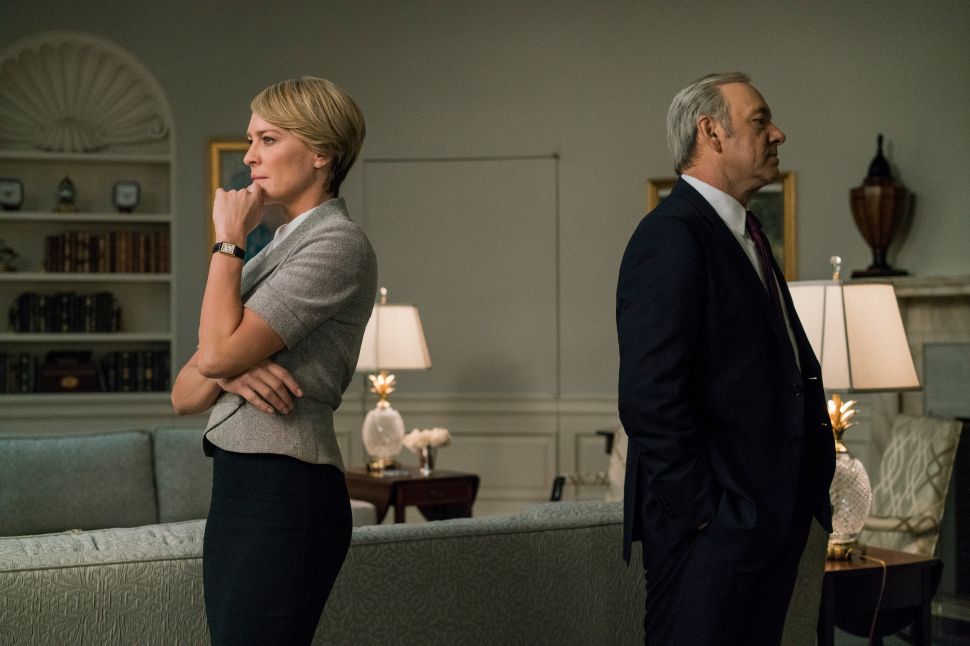 Back in November, Jessica Chastain rallied the internet by lobbying for Robin Wright's Claire Underwood to become the lead of Netflix's House of Cards during a time of uncertainty following Kevin Spacey's ouster over sexual misconduct accusations. After an extended hiatus, during which Netflix and producer Media Rights Capital figured out the future of the series, Chastain's idea became official. The sixth and final season of House of Cards will focus squarely on Claire.
But was some form of that idea always the intention?
Season six cast member Cody Fern, who joins Greg Kinnear and Diane Lane as newcomers in the final run, argues that this shifting focus has been in the works since before Spacey's firing.
"[There's] an exciting energy," Fern said of the last season, while speaking to Entertainment Tonight. "Listen, everyone is just so thrilled to be supporting Robin [Wright], and I think that she is a powerhouse, and it's been about Robin since season two, and anyone who's in denial of that hasn't been watching the show. So, we're just thrilled to get behind Robin and she is a powerhouse. I mean, what she is doing with Claire Underwood is phenomenal. And, it's only going to get more interesting."
The former fictional First Lady has certainly stepped further into the spotlight in recent episodes, though it is unclear what specifically in season two inspired Fern's comments. Regardless, the sentiment fits with the current direction of the series.
Wright's character has been a vital asset to Frank Underwood's devious machinations, as well as a sometimes opponent, throughout the show's entire run.
When we saw her last , she had assumed the office of the President of the United States following Frank's resignation. The showrunners will presumably write Frank an off-screen death, perhaps related to his liver transplant from season four.
It's unknown just what kind of Machiavellian schemes Claire will get into now that she's POTUS, but we assume the eight-episode sixth season will be full of pulpy drama.