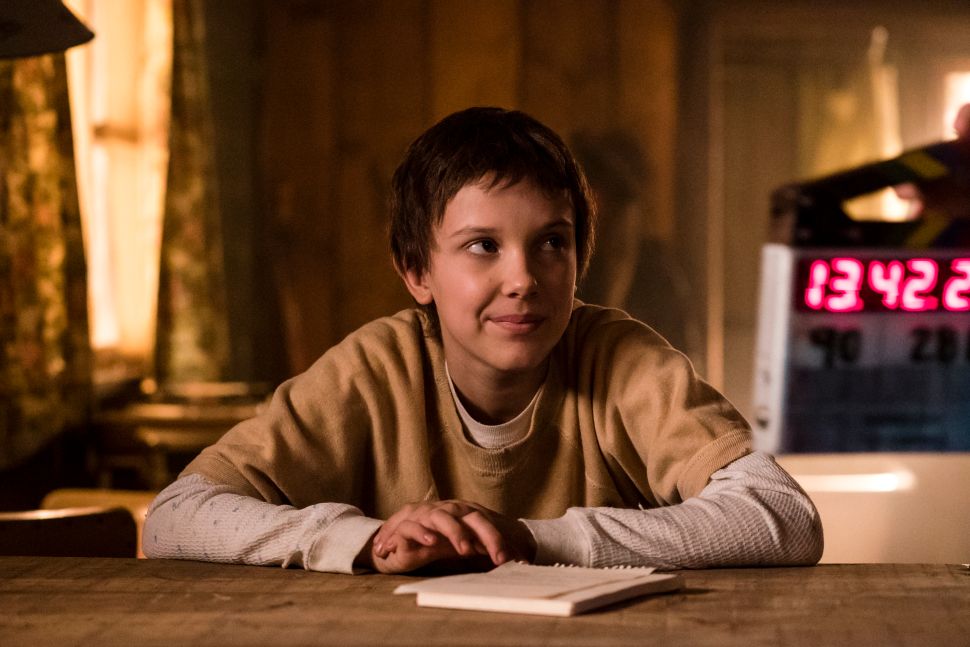 How does it feel to know that a 14-year-old earns more money than you? Intellectually, we understand that simple economics and leverage have paved the way for the young cast of Netflix (NFLX)'s hit series Stranger Things to rake in massive dollar amounts. But emotionally, it still stings.
On Monday, Deadline reported that Netflix was giving each of the main players a significant pay raise for season three.
The young stars, who reportedly earned about $30,000 per episode over the first two seasons will be bumped up to between $200,000 and $250,000. Breakout star Millie Bobby Brown is said to have landed an even bigger slice of the pie than her teenaged castmates, though nowhere near her rumored asking price of $500,000. Adult stars Winona Ryder and David Harbour will receive between $300,000 and $350,000 per episode.
Based on the global popularity of the series, this is a well-earned scale in compensation.
The season two premiere averaged a massive 15.8 million viewers within the first three days of its release in the U.S., and the second go-around took in about 8.8 million viewers per episode domestically overall, according to Nielsen data (per Variety).
On a grander scale, Stranger Things has proven to be the most popular streaming show in the world, leading all online offerings in average demand across nine out of 10 international markets.
But how do these new and improved salaries compare to television's elite?
Homeland's Claire Danes came in at the bottom of the top-10 highest-paid actors/actresses of 2017 in the drama genre with a per episode salary of $450,000. The last full season of Homeland averaged 5.5 million viewers per week across multiple platforms. Modern Family's Jesse Tyler Ferguson rounded out the top-1o for comedy at $500,000 per episode, with the series again being one of television's most-watched in its recent eighth season run.
As Netflix's flagship series, especially in the wake of Kevin Spacey's ouster from House of Cards, and in comparison to TV's other big stars, you could make the case that the Stranger Things cast is actually underpaid. Netflix is investing an imperceptible $8 billion into content in 2018 and is in the midst of a losing PR battle over the pay disparity between Claire Foy and Matt Smith for The Crown.
Yet, you're telling us that the young stars of one of TV's biggest hits will still earn less than Jamie Foxx did for hosting Shazam? (He received $3 million for the season, by the way.)
That's unconscionable, especially considering the growth the 1980s set sci-fi thriller series has spurred for the streamer.
When Stranger Things launched in July 2016, Netflix was coming off a disappointing quarter in which it failed to meet subscriber and revenue expectations. The streaming service had only added 1.7 million new customers in the time frame. Since the show's premiere, however, Netflix is averaging roughly four million new subscribers per quarter, and it closed out 2017 on the back of season two's October premiere with a staggering eight million new customers, shattering internal projections.
No, the company's recent surge isn't entirely due to Stranger Things, but as the streamer's most buzzed-about broad appeal hit, you can be confident that it played a significant role. So while we may all feel a bit inadequate when we compare paychecks to the barely high-school-aged actors, what's even more alarming is the fact that Netflix could be short-changing them.