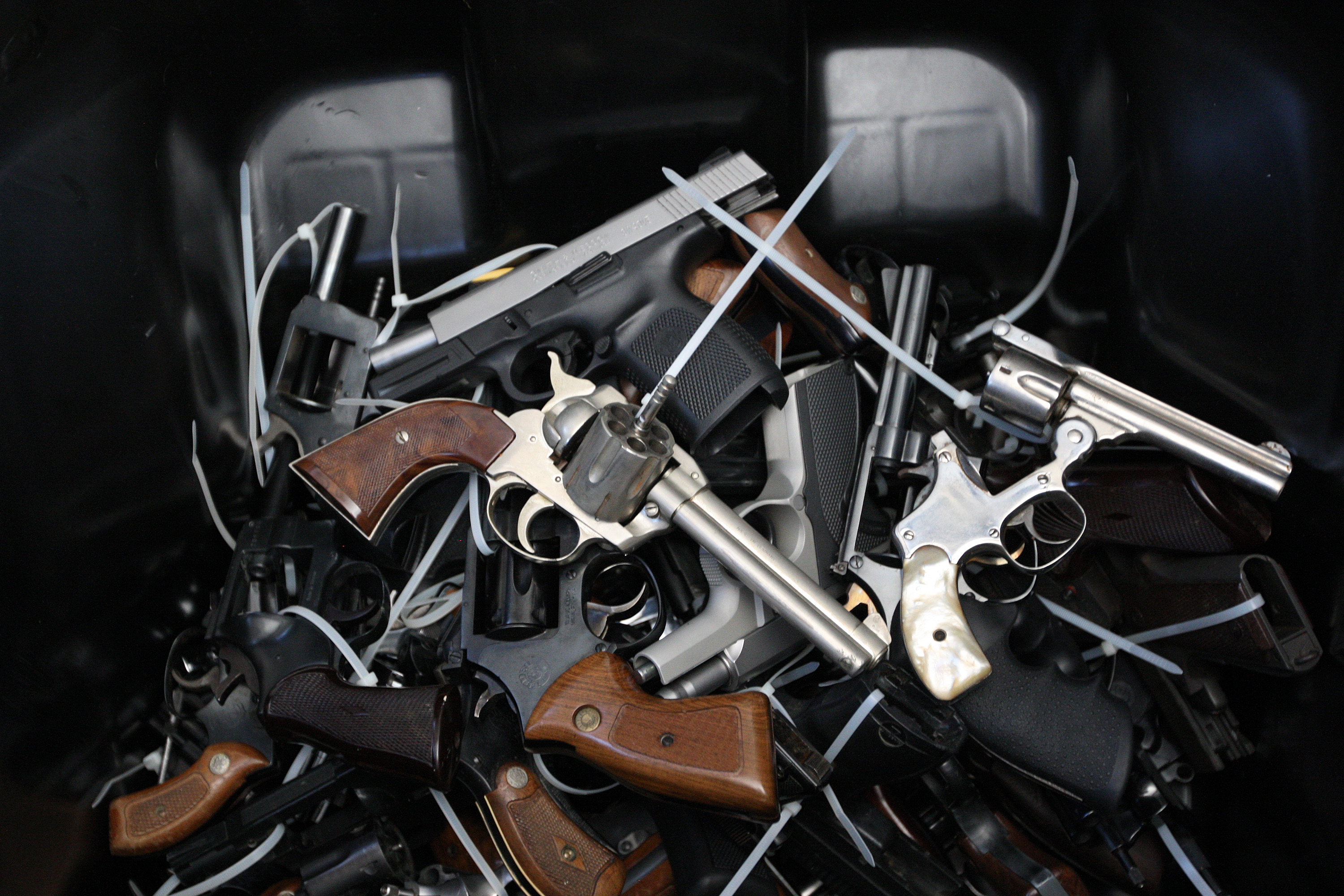 Two days after hundreds of thousands of people rallied across the world for more gun control, the New Jersey Assembly passed six bills to further toughen the state's strict gun laws.
The bills require background checks for private gun sales, ban the sale of armor piercing ammunition, reduce the capacity of ammunition magazines to 10 rounds, and codify regulations regarding handgun permits. The Assembly also passed a pair of bills that allow police to take firearms from people deemed to pose a threat to themselves or others.
Gov. Phil Murphy has pledged to sign the measures into law if they reach his desk. The bills must still clear the Senate before going to the Democratic governor.
"Gun violence is not about statistics or abstract arguments," said Assembly Majority Leader Lou Greenwald (D-Camden), a sponsor of some of the bills. "It is about countless lives that have needlessly been cut short because far too many public policy makers have failed to find the courage to eventually act. Today in New Jersey, that comes to an end."
Most of the measures received bipartisan support in the Democrat-controlled Assembly. But Republican lawmakers took issue with a bill (A2758) that would codify the definition of a "justifiable need," which is required to get a handgun carrying permit. That bill passed 48 to 26 with two abstentions, mostly along party lines.
Regulations had long required applicants to prove they faced "specific threats" to obtain a permit, but former Gov. Chris Christie's administration lowered that threshold by requiring only "serious threats." Murphy reversed his predecessor's policy, but lawmakers want to prevent a future governor from watering down the regulation.
Republicans argued the bill would make it even more difficult for those in true danger to get a permit.
"This bill gives me grave concerns," said Assemblywoman Holly Schepisi (R-Bergen). "It is almost impossible for a crime victim in New Jersey, as we stand here today, to get a concealed carry permit… If I had a 'serious threat,' if my life was in danger, if my daughter's life was in danger, I want to be able to protect myself. And we already have such a high burden."
The vote on a bill (A2761) limiting ammunition capacity to 10 rounds mostly fell along party lines as well, 48 to 25 with three abstentions. The other measures were overwhelmingly approved.
The Assembly passed the bills amid a national call for more gun control. Hundreds of thousands of people participated in "March for Our Lives" rallies on Saturday in the wake of last month's school shooting in Parkland, Fla.
Murphy, who marched in Newark, pledged to sign the gun control bills if they reach his desk.
"The energy of the tens of thousands of New Jerseyans this past weekend demanding action on gun safety continues today," Murphy said in a statement. "I applaud the General Assembly for passing these commonsense gun measures to protect our communities and families. I look forward to the state Senate taking these bills up as quickly as possible and sending them to my desk for my signature. The people of New Jersey have demanded we act, and we must."
Hundreds of gun-rights activists descended on Trenton hours before the vote and rallied to oppose the bills on the steps of the War Memorial. They derided New Jersey elected officials, the media, liberals from Hollywood, and others who they claimed were working to disarm law-abiding citizens.
Republican state lawmakers announced their own legislation that would address school shootings but wouldn't add gun restrictions. Sen. Steve Oroho, Assemblyman Parker Space and Assemblyman Hal Wirths (all R-Sussex) said they are sponsoring a bill that would require bulletproof doors for New Jersey school classrooms. Wirths said he would introduce a bill to let retired law enforcement officers assigned to protect schools carry guns on campus, noting some school districts require the officers to lock the weapons in their cars.
"What's the real problem? The real problem is school security as well as the mental health issues," Oroho said.
New Jersey already has the third-strictest gun laws in the nation, according to the Giffords Law Center to Prevent Gun Violence, a gun control group.