Mayor Bill de Blasio told more than 100 students in Brooklyn who participated in a 17-minute National School Walkout against gun violence that the country "needs your leadership" to fight for gun control legislation and that they should "keep fighting."
De Blasio addressed students from Edward Murrow High School in the Midwood section of Brooklyn on Wednesday morning as part of a National School Walkout occurring across the country to stand up against gun violence and advocate for gun control measures in the wake of a deadly school shooting in Parkland, Florida, last month.
At least 81 schools throughout the city participated in the walkout. Nationwide, about 185,000 students, teachers and parents partook in roughly 1,650 walkouts.
"I have to help you understand one thing—in the decades and decades before this moment, we have never seen anything like what you are doing today," de Blasio said. "There has been a fight for change for a long time, but there's never been a more powerful movement than what the students of Brooklyn and New York City and this nation have done these last few weeks."
And he maintained that students are best positioned to lead the fight.
"You are making so clear to this whole country that you are sick of the violence, you're sick of the madness, you're sick of the slaughter and you won't stand for it," de Blasio continued. "And we need your leadership. We need you, because you have shown the kind of leadership that we've never seen before, and I am very certain in my heart that change is coming because of you and I admire you and I appreciate you. Keep fighting."
The students—who were surrounding the school's entrance—were seen holding signs with slogans such as, "If guns don't die, children do" and "Hold hands, not guns! #Enough."
"We will not let our future be dictated by the millions of dollars [from] the National Rifle Association (NRA) that prevents stronger gun laws," Anastasia Beirne-Meyer, a senior at Edward Murrow, said. "The millions of dollars that have prevented our government from expanding background checks to all gun sales. We will not ignore the fact that gun violence is a public health crisis."
Anna Moore, a senior at Edward Murrow, said she spends more time in school with her classmates and teachers than she does with her family. School feels like home, she explained, but "this home isn't safe."
"I feel lucky to be a part of this national movement today, as student voices stretch from Florida all the way to Colorado, Connecticut and New York," Moore said. "Student activism has always been something important to me, but right now it is vital to this country. Too many lives have been lost to an issue that lies still in the hands of our representatives."
And she encouraged students to keep attending activism clubs and make phone calls and write letters to representatives.
"Hold your representatives accountable," Moore continued. "Everyone has a voice. Use it."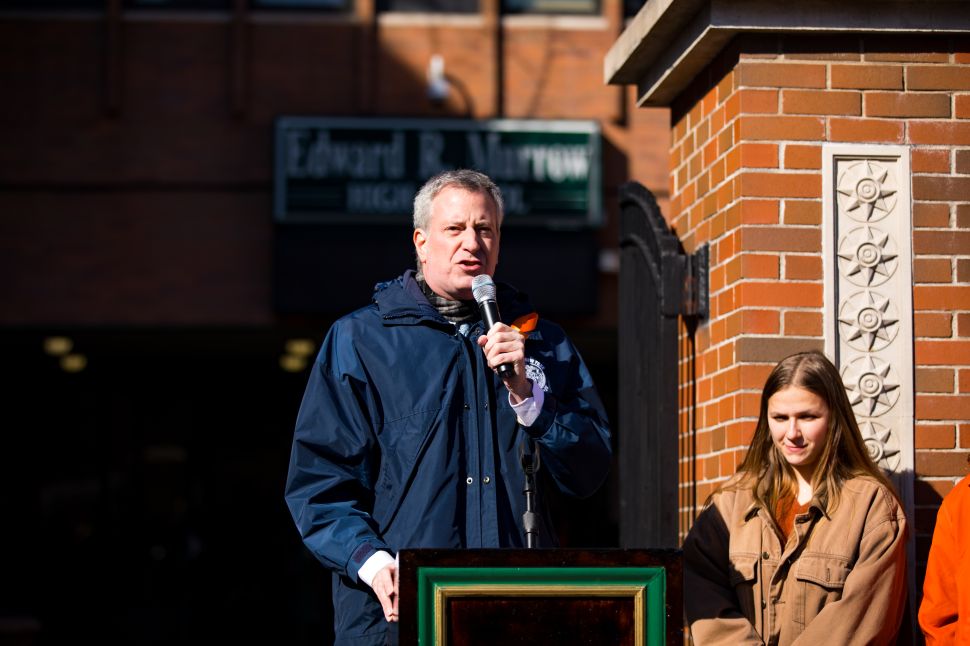 The students had orange ribbons tied to their wrists, as the color orange has come to symbolize the movement against gun violence. Orange is the color that the friends of Hadiya Pendleton, a 15-year-old girl who was shot and killed in 2013 at the age of 15, wore in her honor.
The ribbons will be left up at the gates of Edward Murrow for 17 days as a show of solidarity with the 17 victims of the Parkland school shooting.
Christie Oreste, another senior, mentioned Pendleton's death and noted that within the last 10 years, there have been 140 school deaths resulting from mass school shootings.
"To visually see what 140 really looks like, our peers wear orange ribbons on their wrists… this reminds us that 140 isn't just a number," Oreste said. "To some of you, 140 is arbitrary. To others, 140 means 140 less holidays… 140 less graduations, 140 less weddings, 140 less lives."
The walkouts come amid a national debate on gun violence and gun control measures.
In New York, Sen. Charles Schumer announced a a three-pronged strategy for combatting gun violence: universal background checks, an assault weapons ban and banning weapons from individuals who have shown themselves to be a danger to themselves or other people.
And last week, de Blasio and First Lady Chirlane McCray hosted a town hall with students on gun violence.
Some expressed concerns about excessive use of metal detectors and scanning in schools that are primarily made up of people of color and pointed to mistreatment by school safety agents. Others called for more interactions with school safety agents in the classroom and more metal detectors in schools.
Sophia Joseph, a 16-year-old student at Edward Murrow, told Observer that she wants to see stronger security in schools.
"Many people at different schools, we don't have a lot of security… and we need more of that," Joseph said. "The security needs to be tight,  so that we won't be gunned down. We don't want situations like these to happen because we had a few, we had a good amount, so we don't want it to continue."
Brooklyn Councilman Mark Treyger, chairman of the Council's Committee on Education, told Observer he was "proud" of the students and their "courage to act."
"I think it's very important for policymakers to take a step back and listen to these kids," Treyger said, noting civic engagement is also key. "These kids are on the verge of turning 18. We will work hard to register them to vote."