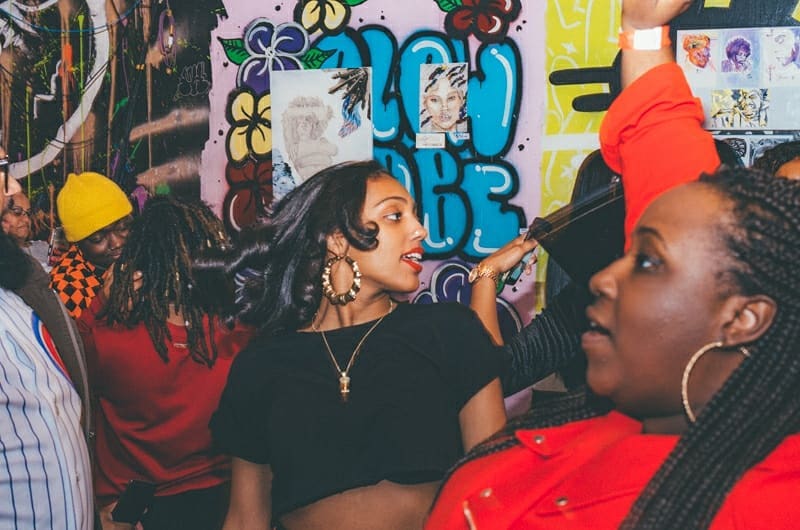 A little party never killed nobody.
New York City's first-ever "nightlife mayor"—known colloquially as the "night mayor"—Ariel Palitz took to Bushwick, Brooklyn on Tuesday night to kick off her citywide listening tour and made her first public appearance on the job since Mayor Bill de Blasio appointed her earlier this month.
More than 100 people showed up to the Secret Project Robot—an artist-run art and music/dance space in Bushwick for a panel discussion on displacement, rent control for commercial venues, paths for DIYs to become legal community spaces, safety certification processes, dance in zoning codes and MARCH (Multi-Agency Response to Community Hotspots) raids.
Jazo Brooklyn, who was born in Puerto Rico and grew up in Brooklyn, is the founder and director of Educated Little Monsters, a Brooklyn-based grassroots youth program that gives native Brooklyn youth of color artistic outlets and economic opportunities.
Her organization is in talks to take over the lease of Silent Barn, an iconic DIY venue in Bushwick that is set to close on April 30 due to financial issues.
"My main thing that I wanted to bring up as a native of New York is preservation of the culture and also protecting black and brown bodies in DIY spaces, because we don't have the same experiences as white organizations that are moving in," Brooklyn said. "And also understanding the position of, what position you have when you come into black and brown communities when so many people have access to resources in my community, but me and my kids don't, and we've been struggling in our program for five years."
Communities of color have needed protections "for many years," she explained.
"People that are from here and making sure that the businesses that are running here are actually people like myself and these kids that are natives that can have the opportunity to thrive just as much as all these new gentrified businesses have been able to and protecting us while we're in those spaces because we don't always feel protected and making sure that black and brown DIY spaces are not being policed," Brooklyn continued.
Brian Polite, co-founder of the Brookyln-based Afro Mosaic Soul Dance Collective, noted that the city announced CreateNYC, the city's first-ever plan to boost its cultural sector last year but argued that they need a space to be able to gather amongst themselves as opposed to just being showcased.
"Right now, a lot of dancers are checking out," Polite said. "A lot of people, they're doing stuff in basements. They've gone back to the '80s. There's mad illegal spaces, hole in the wall stuff, things are barely up to code because they have no access to spaces that are legal."
He also dismissed what he called "cultural arrogance," referring to the fact that the rules have become stricter in parks, for example.
"Hip hop was stealing electricity from lampposts… no one cared until the smoke from the fires that were happening in the Bronx interrupted a Yankee game," Polite continued. "Soul Summit in Fort Greene Park. We were out there partying without incident. We're still out there, but we were there every Sunday at some point."
Olympia Kazi, a member of the NYC Artists Coalition, pointed out that even though the city repealed the 91-year-old cabaret law last year that banned dancing in bars and restaurants if they did not have a cabaret license, there is still a loophole.
"Even though we repealed the cabaret law, social dancing is still actually banned in the city because of zoning cases," Kazi said. "So now we are working about amending the zoning text."
Anya Sapozhnikova, co-founder of House of YES, a Brooklyn nightclub, stressed the importance of consent education and coming up with ways to prevent sexual harassment in clubs and in other spaces.
"We're consuming alcohol and that's the primary way that we can make money to sustain," Sapozhnikova said. "We need to take a responsibility to offset that by starting these conversations and then putting them into action of making the dance floor a safe space where people can express themselves freely. And so I would like to see that become a serious public health issue because right now, it's been on the back burner."
From 2004 to 2014, Palitz—who was born and raised in New York City—owned and operated Sutra, a nightclub in the East Village, where she currently resides. And from 2007 to 2014, she served on Community Board 3 as a member of the state Liquor Authority (SLA) and the Department of Consumer Affairs (DCA) Licensing Committee.
As she received a white sash from the NYC Artists Coalition with the word "NIGHTLIFE" in bright pink letters, Kool and the Gang's "Celebration" played. Palitz was also seen dancing at one point.
"I had my own chronic 311 caller," Palitz told the crowd, garnering laughter. "I've had to help with trying to make my own dance floor safer for my patrons and staff. I've had to deal with my own bureaucratic issues in owning and operating. I love the dance community, and we hosted a lot of house and hip-hop parties [at Sutra]."
She said there will be smaller talks and roundtables and noted the Office of Nightlife is not a "complaint line" but will have umbrella policies for different types of complaints.
"We can listen and we can be a voice when it makes sense and just to have that cornerstone, I think, is really important," Palitz continued. "To be the voice and to be the ears and to have a place that really advocates and speaks for in a non-judgmental, non-punishing way."
Ahead of the panel discussion, Palitz visited Silent Barn. She described a great night out in the city as being "able to see a live band, get a great drink and hang out why my friend" and hopes to address the needs of residents and commercial issues as well.
"We have the best restaurants, the best nightlife and we have very high standards and so for me, I want to help keep our standards high, whether it's in the DIY or in the most elegant white table cloth restaurant, I want operators with great visions of hospitality and creativity to be able to deliver what New Yorkers demand, which is the best, and what the world demands and to make that easier to deliver," she added.
Brooklyn Councilman Rafael Espinal, who sponsored the bill creating the nightlife office, encouraged people to register to vote and expressed hope that the vacant SLA commissioner position—the other two are not filled by people from New York City—will be filled by a city resident and possibly a woman.
"If we continue putting the pressure on why nightlife is important and vote and show our strength, they'll get the message, but we have to have a clear message on what that is that we want our state to do to support our spaces as well," Espinal said. "We can't all just leave it all to Ariel [to] do it all because she can't."