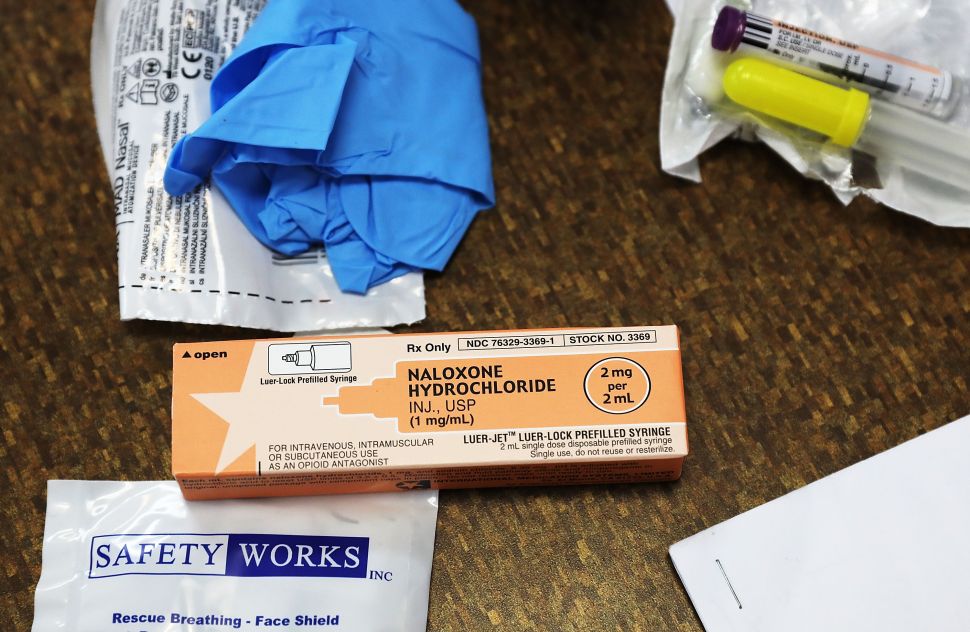 New York City is adding an extra $22 million to its citywide plan to fight the opioid crisis—bringing the total investment to $60 million a year—amid a national debate about how to best fight the growing epidemic.
The new investment—which will be added to HealingNYC, the city's response to preventing drug overdose deaths and helping those at risk—will be used toward establishing peer intervention programs at more hospitals and increasing the distribution of naloxone (medication that can reverse the effects of an opioid overdose), as well as training on how use the drug. The money will also be used to connect more New Yorkers who are dealing with substance misuse to treatment opportunities.
The new funding will start in fiscal year 2019, ramping up in full during fiscal year 2020.
"We all know this is a problem all over New York City," the mayor said at Richmond University Center on Staten Island on Monday. "We know Staten Island has suffered intensely. We know the Bronx has suffered intensely, but it's a citywide problem and we know it's a nationwide problem."
Indeed, he maintained that the epidemic "knows no boundaries," noting that it can occur in any part of the country.
"This is a national crisis," de Blasio continued. "It deserves deep, consistent solutions. That's what we're trying to build here in this city. We're all shocked by the intensity of this crisis, particularly how it's grown in the last year or two. It has so much to do with fentanyl."
In January, the city filed a lawsuit against the United States' largest opioid manufacturers and distributors for $500 million. The mayor told reporters that fight is ongoing.
"We know that's gonna play out over many months and years likely… we're gathering in a coalition with other jurisdictions around the country, and we think it's gonna make a very big impact," he explained.
First Lady Chirlane McCray—who spearheads the ThriveNYC mental health initiative and the nationwide Cities Thrive Coalition that has 200 cities as members—said the initiative is "working hard" to change the manner in which individuals think about addiction and mental illness and establish prevention protocols.
Treatment, she said, includes going to a family physician trained to prescribe buprenorphine (an opioid that is used to help individuals lower or quit their use of heroin or other opiates), going to an area clinic to receive a daily dose of methadone or working with physicians and nurses to manage symptoms.
"Just as some diabetics take daily insulin shots and others don't, some patients require more intense treatment for addiction than others," McCray said. "The bottom line is, people suffering from addiction need our help and support—not our judgment, not punishment."
In 2016, more New Yorkers died from drug overdoses than suicides, homicides and motor vehicle crashes combined, the administration said. Drug overdose death rates in the city increased from 8.2 per 100,000 residents in 2010 to 19.9 per 100,000 residents in 2016.
In March 2017, the city launched HealingNYC.
Provisional opioid overdose data for 2017 indicates that the overdose death rate has been flattening compared to the previous year, according to the city's Department of Health and Mental Hygiene (DOHMH). The city anticipates that the new financial investment in HealingNYC could help save as many as 400 lives by 2022.
Since HealingNYC was launched, the city has distributed nearly 100,000 naloxone kits to opioid overdose prevention programs and started Relay, a peer-based program in hospital emergency departments for individuals who overdosed. The city also trained more than 700 clinicians to prescribe buprenorphine.
The new investment comes as President Donald Trump unveils a new plan for fighting the opioid epidemic, which includes a call for the death penalty for drug dealers "where appropriate under current law."
De Blasio blasted that proposal.
"I disagree with president on the death penalty because I don't agree with the death penalty," he argued. "I don't think it's a deterrent."
New York City Health + Hospitals—the city's public hospitals system—will expand its peer advocate program from three to 11 of its emergency departments by the end of the year. DOHMH will finish expanding the Relay peer intervention program to 15 private hospitals by June 2020—an increase from the 10 sites slated for funding.
The expansion of both programs will provide New Yorkers who have an opioid use disorder with access to peer support at the 26 hospitals that offer nearly 75 percent of all emergency services for overdoses.
NYC Health + Hospitals will expand plans for its Consult for Addiction Treatment and Care in Hospitals (CATCH) program from four to six sites and launch the "Leave Behind" Naloxone Program, which will entail FDNY EMS distributing 5,000 naloxone kits annually at homes they visit in response to an overdose call.
And by the spring, DOHMH will establish the End Overdose Training Institute, which will show 25,000 New Yorkers a year how to dispense and distribute naloxone.
The city will also expand the HOPE program, which diverts individuals arrested for low-level drug offenses into treatment. The city will finance peer workers on Staten Island and start a new HOPE program in the Bronx—a move the city anticipates will divert 1,400 individuals a year from the criminal justice system.