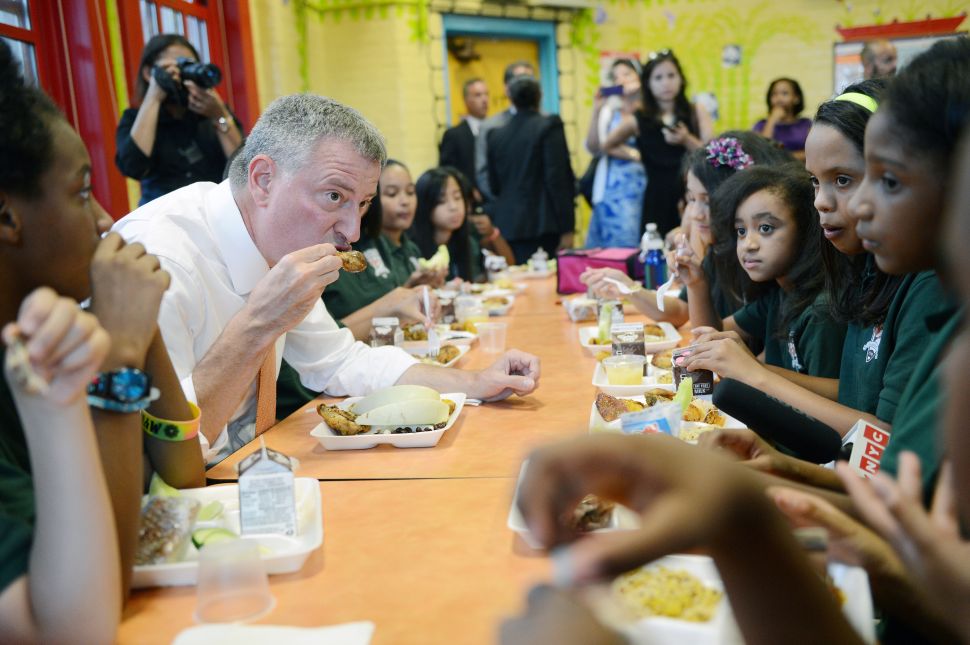 Could a processed meat ban be coming to New York City's 1.1 million student-strong public school system?
On Thursday, Brooklyn Borough President Eric Adams and Bronx Councilman Fernando Cabrera introduced a new resolution that calls on the city's Department of Education (DOE) to ban processed meats from being served in schools.
The DOE serves about 850,000 meals to students a day, induing numerous menus containing processed meat such as hot dogs, ham, bacon and sausage, according to the resolution. The mayor's office said that neither bacon nor baloney are served in schools.
Cabrera and Adams have both adopted plant-based diets due to health issues stemming from eating processes meats—heart disease and diabetes, respectively.
"We cannot continue feeding our children substances that are scientifically proven to increase their chances of cancer later in life," Adams said in a statement. "Hot dogs and ham sandwiches are in the same class of substances as cigarettes. We know that we would never give our children cigarettes to smoke, so there's absolutely no reason why we should continue poisoning our children's health with processed meats."
Cabrera, who introduced the resolution in the Council at the request of Adams, expressed similar sentiments.
"In 2016-2017, approximately 72 percent of New York City public school children received free or reduced price lunch," he said in a statement. "For a lot of these kids the food they get in school is the only full meal they will have all day. We must act now to teach our kids healthy eating habits and lifestyles so that they can live long, healthy, and productive lives."
In October 2017, Adams, Mayor Bill de Blasio and then-City Schools Chancellor Carmen Fariña started "Meatless Mondays," a program that bans meat from being served on Mondays in certain public schools, as well as vegan lunch options in 1,200 public schools.
PS 1 The Bergen in Sunset Park was the first school in Brooklyn to adopt the initiative during the 2017-2018 school year. The school introduced all-vegetarian breakfast and lunch menus.
Now, more than a dozen schools throughout Brooklyn are participating in the "Meatless Mondays" pilot program across the city, starting in the spring 2018 semester. The schools serve black bean quesadillas, Margherita pizza, crispy tofu, spinach wraps, roasted chickpea tagine, vegetarian chili and zucchini parmigiana.
The mayor's office said it is looking into the proposal. The DOE referred Observer to the mayor's office.
"This administration is committed to providing all our students with free healthy and nutritious meals," Olivia Lapeyrolerie, a mayoral spokeswoman, said in a statement. "We launched the Meatless Monday program and are reviewing this proposal."
In 2015, less than 20 percent of children in the city between the ages of six and 12 ate more than five items of fruits and vegetables per day, and one in every three children nationwide is overweight or obese, according to Adams. He noted eating healthy at school can lead to better test scores, attention spans and energy levels.
That same year, the International Agency for Research on Cancer (IARC)—the cancer agency of the World Health Organization (WHO)—ranked processed meat as a Group 1 carcinogen in 2015. The classification indicates scientific evidence proving that processed meats like bacon, ham, hot dogs, sausages and some deli meats can increase the risk of diabetes, several cancers and respiratory illnesses.
And each 50 gram portion of processed meat eaten daily increased the risk of colorectal cancer by 18 percent, the IARC found.
Meat processing methods such as curing, smoking or cooking can result in the formation of potentially cancer-causing (carcinogenic) chemicals that can have a negative effect on an individual's health, according to Harvard University's T.H. Chan School of Public Health.
Processed meat, like hot dogs, ham, bacon and sausage, the school noted, is meat that has been transformed through salting, curing, fermentation, smoking or other processes.
Amie Hamlin, executive director of the Coalition for Healthy School Food, a statewide nonprofit, told Observer processed meat is known to cause cancer.
"It is exposing them to less carcinogens and then the more plant-based options that become available, the better," Hamlin said. "That is, because in America we eat not only too much processed meat but [too much] meat in general."
Indeed, she said the processed meat ban make sense given the fact that the city already offers plant-based foods and that there are schools with vegetarian menus.
"We feel this is the next logical step for New York City schools given how progressive they are," Hamlin continued.
In September 2017, Fariña and Public Advocate Letitia James announced that lunch would be free for all public school students throughout the city. The Free School Lunch for All initiative provides more than 200,000 more students with free lunch.
Hamlin noted the processed meat ban could be costly but encouraged the City Council to fund the initiative.
"This will cost the New York City Office of School Food a lot of time and effort and money to make this transition, and I would hope that the City Council would give them the funds that they would need to do this," she added.
Naomi Peña, president of the Community Education Council for District 1 in the Lower East Side/East Village, wondered how the change would be funded given that healthy food tends to be more expensive. She also warned that what the children are served needs to be substantive enough to get them them through the school day.
She maintained that lunch options tend to be "probably not the best," though she credited the city with doing  "better throughout the years."
"I think we need to be cognizant that depending on the circumstance, sometimes that lunch is probably the only meal that some of our kids are guaranteed to get between breakfast and [dinner]," Peña continued. "So I think it's really important that what we are serving is healthy and substantive for them to carry them through the day, particularly the school day when they need the protein to do all the basic things… concentrate, stay awake."