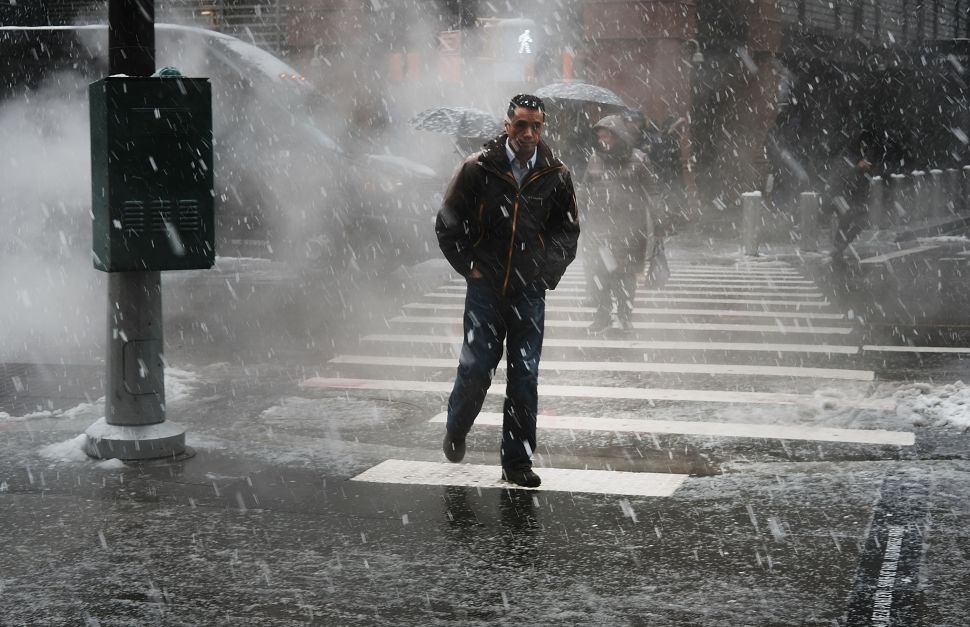 Mayor Bill de Blasio warned New Yorkers that there could be up to 18 inches of snow in the city starting Wednesday afternoon and into the evening rush hour—and urged them to get home as soon as possible.
The most recent National Weather Service forecast anticipates 12 to 18 inches of snow accumulation, according to de Blasio, who held a press conference updating New Yorkers on the status of the winter storm in Brooklyn on Wednesday morning.
A winter storm warning is in effect for the city until 6 a.m. Thursday. The mayor said the snow will hit the city particularly hard between 4 p.m. and 10 p.m.
"We should expect a lot of snow, and unfortunately that's what we're getting," de Blasio said. "We see now the beginning of serious accumulation starting in different parts of the city. We expect a lot more as the day progresses, particularly during the evening rush hour."
He also said the precipitation is projected to be one inch of snow an hour to upwards of three inches of snow per hour.
"I wanna remind people: once you get above one inch per hour, it feels blizzard-like," he continued. "You're talking about two to three inches an hour. That's very, very difficult conditions, very limited visibility, tough for our snow plows to keep up with."
High winds are also forecast, with sustained winds of 20 miles per hour to 30 miles per hour and gusts up to 40 miles per hour, de Blasio noted. And high winds will continue on Thursday before waning early Friday morning.
The mayor—who closed schools on Wednesday—also said temperatures are forecast to be freezing on Wednesday evening, with wind chill values between 20 and 25 degrees. Temperatures are expected to increase into the low 40s on Thursday.
He again noted that the evening rush hour will be "very, very difficult," warning that it will be hard for drivers to see on the roads. He suggested that individuals use mass transit, though he noted mass transit could be affected "by the kind of intense snow" that may come to pass.
"I want to encourage all New Yorkers, right now, if you don't need to be out this evening, don't go out," the mayor added. "If you are at work right now, try and leave early if you possibly can. Employers, try and let your staff out early because we expect from about 4 o'clock on the snow to start to accumulate very, very quickly and that's gonna create tremendously difficult conditions, particularly on the roads."
The mayor also advised residents living in coastal areas to prepare for possible coastal flooding during Wednesday's high tide cycles.
A coastal flood advisory was active for the shorelines of Staten Island, Brooklyn and southern Queens through 2 p.m. Wednesday. A coastal flood watch is also in effect for the shorelines of southern Queens from Wednesday evening through late Wednesday night.
The city's Departments of Transportation (DOT) and Sanitation (DOS) have also deployed workers and staffers to deal with the storm.
The New York City Housing Authority (NYCHA) is hiring temporary snow removal staff.
And the agency's Heating Services Department added four overnight roving teams—one for each borough—for Wednesday night. The department also activated 16- or 24-hour watches on NYCHA's 21 most problematic sites.