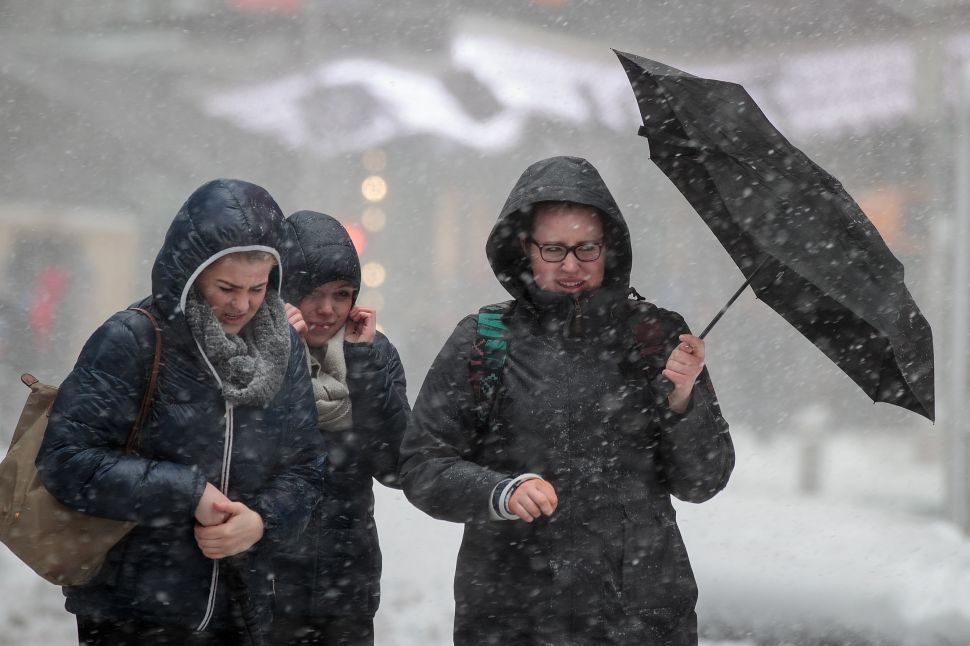 Thundersnow, a rare snowstorm event that includes lightning and thunder, is reported to have hit New York City as Mayor Bill de Blasio warns New Yorkers of a "very intense burst of snow" on Wednesday afternoon that could adversely impact their commutes.
The National Weather Service New York (NWS NY) issued a Winter Storm Warning for New York City from Tuesday at 10 p.m. up until Thursday at 4 a.m. On Wednesday morning, the NWS NY projected that thundersnow—snowfall that occurs with thunder and lightning—could hit the city on Wednesday afternoon, anticipating one to two inches an hour and potentially more than two inches.
Thundersnow usually happens in late winter when the temperatures on the ground start to warm up and the temperatures above get cooler, subsequently bringing about the lightning and thunder. NSW NY has already pointed to reports of thundersnow in Lower Manhattan.
There are also reports of thundersnow in the Bay Ridge neighborhood of Brooklyn, as well as in New Jersey, with some individuals saying that they saw lightning.
De Blasio warned that New Yorkers could see some heavy snow during the rush hour.
"Later on, it's gonna be very intense potentially, particularly around the rush hour," he told reporters at the NYPD headquarters at One Police Plaza on Wednesday morning. "So I wanna urge all New Yorkers, use common sense. If you can leave work early and get home earlier, please do if you have that option. If you have to travel, use mass transit. If you have to be on the roads during the typical rush hours, go slow. Be careful, 'cause it could be, again, a very intense burst of snow right around the time."
He said the situation "just keeps evolving."
"At this moment, we are still—in a lot of parts of the city—just rain and a little bit of sleet but nothing that has fully become snow… the storm is certainly arriving later than some of the early projections previously," de Blasio continued.
He warned New Yorkers that the storm will intensify between now and the early evening and said the city expects more wind, with gusts as high as 35 to 45 miles per hour.
"When it gets going, we'll see," de Blasio added. "We think typically snow in the one-inch to two-inch an hour range. One inch per hour, not bad. When you get to two inches or more, it gets to be a challenge… there will be a point later where we could experience a very intense burst of snow… that could be between two and four inches per hour."
The city anticipates that the body of snow will taper off between 7 p.m. and 8 p.m. And de Blasio anticipates that residents of northern Queens, Manhattan and the Bronx will see more snow, while Staten Island, southern Queens and Brooklyn are expected to have less snow.
"The broad citywide objective is in the eight inches to 12 inches range… generally, more accumulation in the northern parts of the city, less in the southern parts of the city… the highest we've seen is 16 inches… there may be a few parts of the city where we see it," the mayor said.
The Rockaway Ferry Line was suspended as of 12:15 p.m. due to wind conditions, and the Staten Island Ferry is on a modified schedule. Alternate side parking is also cancelled for Wednesday and Thursday.
The city has also issued a "Code Blue" warning, which requires that the city's Department of Homeless Services and the NYPD ensure homeless individuals have shelter when temperatures get colder. And the mayor added that there are 2,400 sanitation workers, as well as 1,500 plows, prepared to deal with the snow.
Two New York City Housing Authority developments are experiencing hot water outages, while another two currently have no heat, according to de Blasio. Most of the service will be restored today.