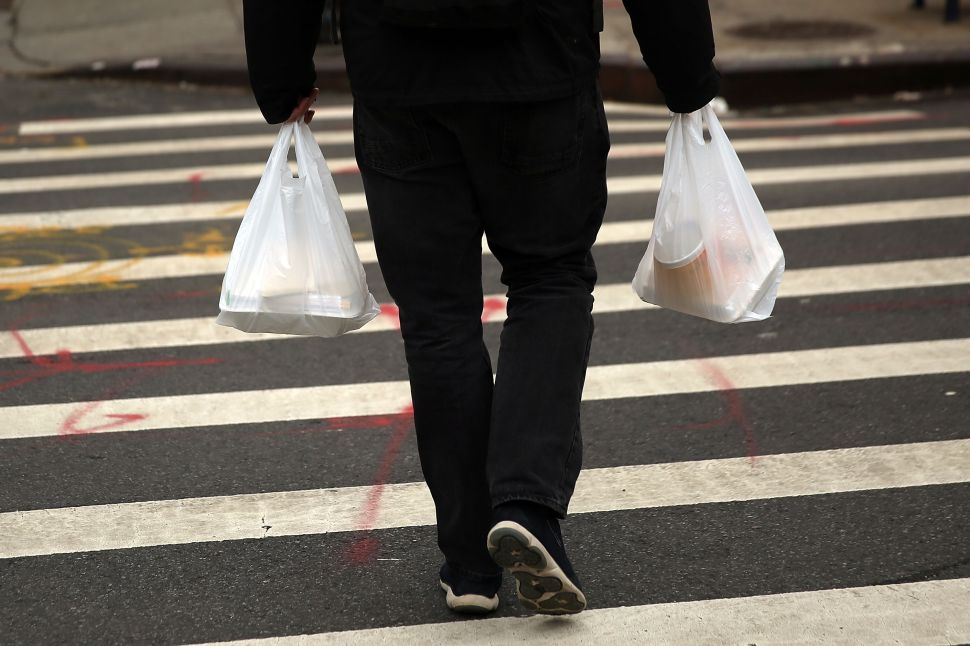 New York may be joining California in instituting a statewide plastic bag ban on the grounds that it will help protect the environment—though a proposed ban has garnered mixed views from elected officials, residents and average New Yorkers.
On Monday, Manhattan State Senators Liz Krueger and Brad Hoylman introduced legislation that would ban plastic carryout bags and place a 10-cent fee on all other carryout bags.
Stores get to keep 20 percent of the revenue from the fee to cover costs. The other 80 percent will go to the State Environmental Protection Fund for localities' pollution reduction, cleanup, education and reusable bag distribution, with priority given to low- and fixed-income communities.
In 2016, the New York City Council narrowly passed a bill—which proposed a 5-cent fee on plastic bags—by a vote of 28-20. But last year, Cuomo signed legislation overturning the city's law—a move Krueger said was wrong.
This new state legislation corresponds to a report made by Gov. Andrew Cuomo's Plastic Bag Task Force, as well as the ban in California—the first state to ban single-use plastic bags in 2016. Bans, partial bans or taxes on single-use plastic bags currently exist in more than 40 countries, including Kenya, China, France, Rwanda and Italy.
"I believe the evidence from other parts of the country and even other parts of the state that have implemented [it] show that people actually adjust to it really well," Krueger said. "Public opinion polling shows that people, by and large, support this model. And the reality shows that once you've implemented this kind of law, people adapt to it extremely quickly."
Customers paying through the Supplemental Nutrition Assistance Program (SNAP) and the Special Supplemental Nutrition Program for Women, Infants and Children (WIC)—two federally-funded public health and nutrition programs—are exempt from the fee, she said.
In-store plastic bags (i.e. produce, meat and bulk food bags), carryout bags provided by restaurants, prepared-food vendors and emergency food providers, delivery services, pharmacies and food pantries are also exempt.
Fourteen New York municipalities have a ban or fees for carryout bags, according to Krueger. More than 1.6 million New Yorkers reside in areas covered by an assortment of bans and fees.
"Despite some people's belief that the sky would fall if this happened, nowhere has the sky fallen, and I checked, they're still buying food—even in California," she continued.
Every year, New Yorkers use more than 20 billion plastic carryout bags, the majority of which are sent to landfills, getting stuck in trees and recycling equipment or clogging drain storms, Krueger said.
The city's Department of Sanitation collects an average 1,700 tons of plastic bags per week, costing $12.5 million annually in disposal costs, according to the Plastic Bag Task Force report.
Statewide, New Yorkers use 23 billion plastic bags annually.
"This bill would address the statewide issue of wasteful plastic bag usage and would also encourage residents to be more mindful of how their actions affect the communities in which we live," Manhattan Councilwoman Margaret Chin, one of the Council bill sponsors, said in a statement.
Mark Murray, executive director of Californians Against Waste, said nearly half of the cities and counties in California had already adopted their own local ban by the time voters passed the statewide bag ban via referendum.
An upcoming report by the state's recycling agency also found that more than 87 percent of Californian consumers come to grocery stores without having to buy a bag, and there has been a 70 percent reduction in bags found littered on beaches, according to Murray.
"The vast majority of consumers have adapted by bringing their own reusable bags," he said.
Imana Servais, 23, who is from Holland, told Observer that in her country, people adapted to a plastic bag ban quickly because they were already paying a fee for bags in grocery stores.
The Netherlands banned free plastic bags in 2016, with the use of bags in the retail sector dropping by 71 percent. The country also saw a 40 percent decrease in the number of bags thrown on to the street and into water.
"It's better for the environment because there's less plastic, people are careful with bags, and I think it's better," Servais said.
Jennie Romer, a national expert on carryout bag policy, worked with Krueger and Hoylman on the legislation.
"The bill is meant to get people, to encourage people, to bring their own bags to the store," Romer said.
Opponents say the ban would hurt low-income New Yorkers and communities of color.
A 2015 poll found that 63 percent of adult New Yorkers opposed a 10-cent fee, including 51 percent of self-described liberals, 74 percent of black people and 67 percent of lower-middle class or lower class residents.
And states like Arizona, Missouri, Idaho, Michigan, Wisconsin, Minnesota, Florida, Indiana and Iowa have prohibited plastic bag bans. Arizona, for example, sought to safeguard individual rights. The anti-bag ban organization, American Progressive Bag Alliance (APBA), also lobbies against plastic bag bans.
Bertha Lewis, founder of the Black Institute and a long-time community activist who has been fighting the ban—she also received payments from anti-bag ban lobbyists—said she and her staff were the only black people present at a meeting of Cuomo's Plastic Bag Task Force last summer.
"They came up with recommendations that actually kind of took in account a whole range of opinions and different approaches," Lewis said. "But the patriarchal progressives don't give a damn."
Legislative options the task force's report points to include strengthening the voluntary plastic bag take-back law, manufacturers funding a program for recycling of single-use plastic bags, a fee on single-use plastic bags, a single fee for the use of single-use bags and a fee on single-use plastic and paper bags.
"We went and talked to real people," Lewis continued. "We weren't trying to go around and get some organizations. We knocked on doors, we actually held community meetings."
Queens Councilman Barry Grodenchik, who voted against New York City's version of the plastic bag ban, said the Council proposal was a "regressive tax," in which money would not fund environmental education or remediation. His family uses compostable bags.
He hopes that the state legislature will come up with a ban that offers more of a compromise.
"I would hope also that perhaps we can come up with a bag—we're pretty smart people in this country, we could find a bag that we can make cheaply from renewable resources," Grodenchik said.
He also questioned how exempting SNAP and WIC recipients helps.
"You wouldn't be able to use them anywhere in the state, so I don't understand what that would mean," Grodenchik continued.
Darrell Lopez, a street vendor and war veteran who lives in the Bedford-Stuyvesant section of Brooklyn, said people cannot afford the fee.
"White folks can push whatever kind of rules they want, but the minority is not having it… them white folks, when they go, they don't even go shopping," Lopez said. "They send their maid and nanny and butler."
Raymont Johnson, a 52-year-old union construction worker who lives in the Bensonhurst section of Brooklyn, said stores should keep giving out bags.
"I make good money, and I still have to penny pinch at times," Johnson said. "So yeah, I mean if you have to pay a nickel. Let's say if you're doing $120 worth of shopping and how many nickels is that gonna be equivalent to?"