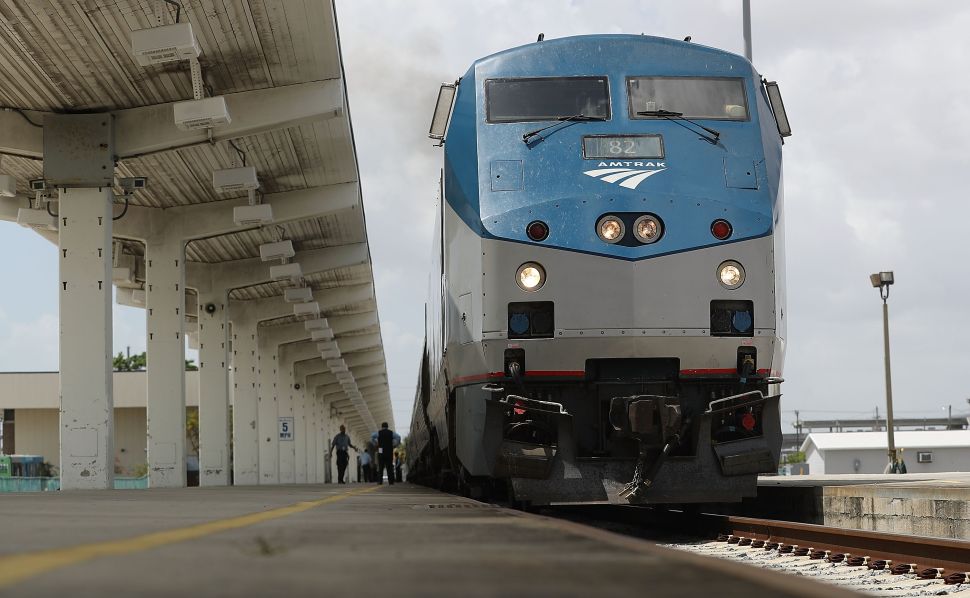 Amtrak won't allow NJ Transit trains to operate on its tracks if the state agency fails to meet a Dec. 31 deadline for installing crash-prevention technology on its cars. But the federal rail agency says it has a solution that won't leave commuters in the lurch.
Speaking before the Senate Commerce, Science and Transportation Committee, Amtrak CEO Richard Anderson said his agency could provide locomotives and crews to operate trains equipped with the postitive train control-equipped trains for NJ Transit, according to a northjersey.com report.
New Jersey Transit was one of seven railroads fined by the Federal Railroad Administration on Thursday for missing a deadline to install the positive train control system, according to a report by NJ.com. The federal agency did not disclose the size of the fine. Amtrak was fined for failing to file its progress report on time, the report said.
Quote of the Day: "Everybody's looking at how Gov. Murphy can keep his promises in a very difficult budget year without much of an appetite for higher taxes. If you don't have the millionaire's tax and you don't have marijuana, there's only so much you can do." — Lobbyist Bill Pascrell III, on a prominent topic of conversation during the annual state Chamber of Commerce trip to Washington.
Gov. Phil Murphy Doubles Down on Millionaires Tax in Speech to Business Leaders
Gov. Phil Murphy said Thursday that he still wants to raise taxes on millionaires to pay for a multitude of state programs, potentially setting up a showdown with Senate President Steve Sweeney over the state budget.
Christian Hetrick, Observer Read more
Gov. Phil Murphy Meets With Congressional Delegation Before Chamber Speech
While New Jersey's political class was riding—and drinking—on a train to Washington, D.C., Gov. Phil Murphy was already in the District on Thursday, meeting with the state's congressional delegation.
Christian Hetrick, Observer Read more
If NJ Transit Misses Safety Deadline, Could Amtrak Save the Day?
Amtrak could save the day for New Jersey commuters if NJ Transit is barred from operating on the tracks to New York Penn Station because a critical safety system hasn't been installed.
The Record Read more
NJ Transit Slapped With Fine for Failing to Meet Deadlines for Speed Control System
The Federal Railroad Administration on Thursday fined New Jersey Transit for missing a key deadline for installing an automatic speed control system. Amtrak was fined for failing to file its progress report on time.
NJ.com Read more
Hudson Tunnel Requires Committed Cash, Transportation Secretary Tells Senators
Almost a year after U.S. Transportation Secretary Elaine Chao called a massive tunnel connecting New Jersey with New York "an absolute priority," she said federal loans shouldn't count toward the states' share of funding.
Bloomberg Read more
These Are the Top Contributors Who Helped Keep Sen. Bob Menendez out of Prison
Beating corruption charges was not cheap for Sen. Bob Menendez.
The Record Read more
Lobbyists, Politicians Pack Train for D.C. Trip Amid Mid-Terms, Gun Debate, Pot Fight
Nearly 1,000 lobbyists, activists and elected officials from local town councils to the State House rode a chartered train that doubles as New Jersey's premier networking event for the state's political and business classes, which stops in Washington for a night of speeches and partying.
The Record Read more
12 Crazy Moments and Things to Know as N.J.'s Weirdest Political Tradition Returns
One of the biggest, weirdest, and often wildest events on New Jersey's political calendar is rolling around again.
NJ.com Read more
Protesting PBA Prez Colligan Stays Clear of the Chamber Train
Irritated by the New Jersey Chamber of Commerce's support for the extension of the two percent cap, Pat Colligan, president of the New Jersey Policeman Benevolent Association, boycotted this year's Walk to Washington event and spread the word for others friendly to the cause of public safety to stay off the train.
InsiderNJ Read more
Expanding Gun Background Checks Wins Support of These 2 N.J. Republicans
Two New Jersey Republicans have signed onto Democratic-led legislation that would require background checks for all gun purchases and help states improve the database used to screen potential buyers.
NJ.com Read more
ICE Arrests of N.J. Immigrants Without Criminal Records More Than Doubled in 2017
More than twice as many undocumented immigrants in New Jersey with no criminal histories were arrested by U.S. Immigration and Customs Enforcement last year as compared to 2016, a direct result of the dragnet-style policy set forth by President Trump.
NJ.com Read more
People Are Dying After Procedures in N.J. Surgery Centers and It's Not Always Made Public
They are called "same-day surgery centers,'' leading patients to expect a quick in-and-out for a routine procedure.
The Record Read more
One Small Step for BPU, One Small Step For Offshore Wind
A state agency yesterday took a cautious step toward complying with the Murphy administration's aggressive targets for developing offshore wind along the Jersey coast, a process stalled for nearly eight years.
SpotlightNJ Read more
Former BPU, DEP Chief Joins Florio Law Firm as Partner
Scott Weiner, former president of the New Jersey Board of Public Utilities and commissioner of the state Department of Environmental Protection, has joined Florio Perrucci Steinhardt & Cappelli, the law firm announced.
ROI-NJ Read more
Corrupt Ex-Aide to Cory Booker Keeps Pension, But Wants More
Things are not all bad for a disgraced former deputy mayor who was sentenced to a year in prison for corruption.
NJ101.5 Read more
New Deputy Mayor Named After Last Quit Over immigration Facebook post
The Morris County municipality whose deputy mayor resigned two weeks ago amid an uproar over his Facebook post on immigration has chosen a replacement.
NJ.com Read more
Judge Found Guilty of Trespassing at Her Kids' School
A mother was found guilty of trespassing by a judge in Middlesex County after she refused to leave the premises of the Catholic school her children attended.
NJ.com Read more
Report Accuses Housing Authority Security Director of Low-Show Job
The North Bergen Housing Authority has launched an investigation into allegations that its security director rarely spends time at its office or buildings, officials said today.
Jersey Journal Read more
This Ranking Says Life in N.J. Stinks; We Beg to Differ
Growing up in Jersey, going to school in Jersey and reporting on our state, I've been caught up in the stream of Jersey's consciousness, so it's no news to me that we kvetch—a lot.
NJ.com Read more
'Airbnb for Pools' Isn't Legal, Lakewood, Toms River Officials Say
It was billed as the latest trend in the sharing economy: backyard pools that could be rented by the hour.
Asbury Park Press Read more
'I Exposed Corruption and They Called Me Anti-Semitic'
A school administrator says district officials mistreated her because she is not an Orthodox Jew and because she blew the whistle on abuse of a program that spent millions of tax dollars on private school students.
NJ101.5 Read more
Linden Mayor Has Police Drive Him and His Family
Mayor Derek Armstead is defending his use of of a city-owned luxury SUV and police employees to chauffeur him and his family.
NJ101.5 Read more
100 to Lose Jobs at DuPont Chemical Site in South Jersey
DuPont says it will cease some of its chemical manufacturing at the Chambers Works site in Deepwater, meaning the loss of about 100 jobs in Salem County.
NJ.com Read more
As Reval Heats Up, Jersey City Finds New Attorneys to Handle Tax Appeals
As Jersey City struggles to deal with anger over the incoming results of the property revaluation, the city has dropped the outside attorney who has handled tax appeals for the city for four years.
Jersey Journal Read more
Ocean County Freeholders Plan to Cut Tax Rate for 2018 Budget
Ocean County taxpayers would see a half penny reduction in the county tax rate this year—from 35.2 cents to 34.7 cents per $100 of equalized value—under the proposed 2018 budget expected to be introduced next Wednesday.
Asbury Park Press Read more
Golden: Pent-Up Outrage Has Guns, NRA on the Run
For all of those who thought they'd never witness it, it appears the National Rifle Association is on the run. A growing number of its longtime allies who stuck with the association's "never give an inch" positions are cautiously distancing themselves from the organization in light of the national outrage over the murders of 17 students and faculty at a high school in Parkland, Fla.
Asbury Park Press Read more
Editorial: Confronting the Threat of Hate and Terror in Our Midst
Terrorism has become a frightful presence in everyday life. We have known this since at least 9/11. What we have continued to learn since, however, is that terrorist groups or individuals can take many forms and identities, can launch from different locales, and can represent varied ideologies.
The Record Read more