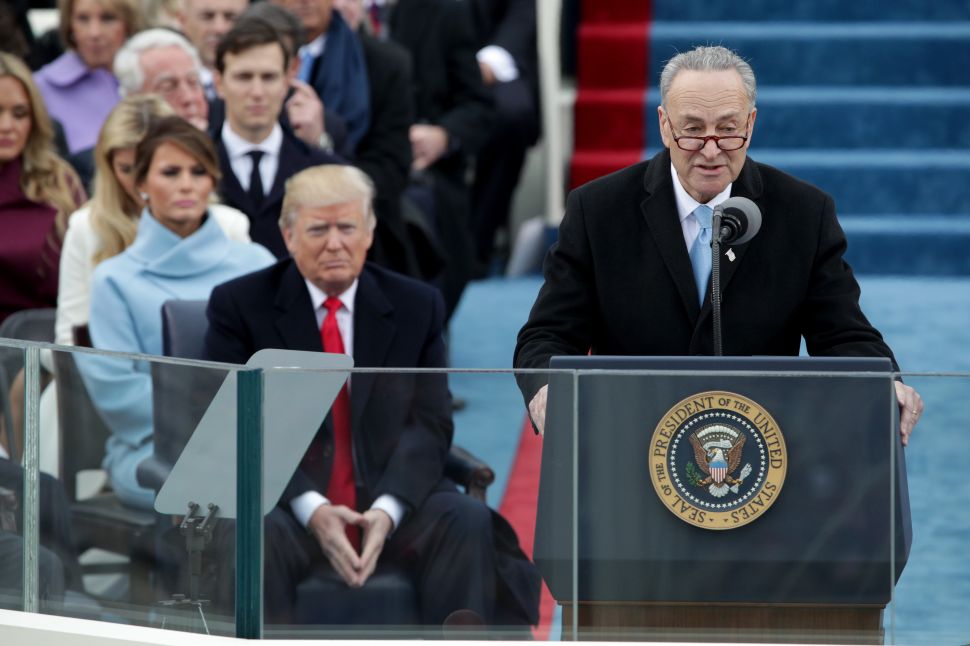 It's one of the biggest proposed infrastructure projects in the country, and the Gateway Tunnel Project is also becoming one of the biggest political soap operas in Washington.
The latest twist came Thursday, following reports by POLITICO that President Donald Trump has threatened to veto a $1 trillion-plus omnibus spending package needed to keep the government open past March 23 if it contains money for the $13 billion tunnel, part of the larger, $30-billion Gateway plan.
The stance has Trump threatening to veto a funding bill coming from a Congress controlled by his party, POLITICO noted. New Jersey Republican Rep. Rodney Frelinghuysen is chair of the House Appropriations Committee and is a supporter of the Gateway project. While conservative members of his party share the president's opposition to the project, which they deem too expensive, Frelinhuysen has championed the plan and has worked to secure funding for it.
An Obama-era agreement requires New York and New Jersey to pay half the cost of the work, with the federal government covering the other half.
It's been reported that Trump has targeted Gateway as payback for Senate Democratic Leader Chuck Schumer, who represents New York. Trump is reportedly angry at Schumer for styming his agenda and appointments. The POLITICO report also says the president views withholding funding for the project as a way to force Schumer to agree to fund Trump's plan for a border wall and other projects.
Quote of the Day: "In a democratic society, policy-making often doesn't come easy or quietly. And the most intense debates often lead to heavy lobbying activity." — Jeff Brindle, executive director of the state Election Law Enforcement Commission, on the large amount spent on lobbying in the state in 2017.
New Jersey Lobbyists Spent $90.8 Million in 2017
Lobbyists spent $90.8 million trying to influence New Jersey officials last year, and several companies spent record sums because of contentious issues in the state house, according to an analysis from the Election Law Enforcement Commission (ELEC).
Christian Hetrick, Observer Read more
N.J.'s 'Smart Gun' Law May Get New Life… But Will It Be Effective?
Last August, the telephone rang in the Teaneck office of state Sen. Loretta Weinberg.
The Record Read more
Trump Threatens Veto Over Gateway Tunnel Funding
President Donald Trump has threatened to veto a massive omnibus spending package if it includes money for the Gateway Tunnel Project in New York City, according to multiple sources.
Politico Read more
Amazon Bringing 1,000 Full-Time Jobs to N.J.
It's not Amazon's coveted HQ2, but a project under way in West Deptford Township is expected to be good news for job seekers in the region.
NJ.com Read more
Still No Power for 100,000 in North Jersey, and Murphy Blasts Utilities
Many North Jersey residents will head home from work this evening to find homes and apartments still cold and dark after another March winter storm dumped up to 20 inches of heavy, wet snow on the region, leaving 108,000 customers still without power.
The Record Read more
Murphy Orders BPU Investigation Into Utility Responses to Storms
At an Andover deli Thursday morning, Gov. Phil Murphy got an earful from exasperated utility customers in Sussex County, where back-to-back nor'easters have left thousands without power. Murphy promised they'd get priority status, but he shared their deep frustration with JCP&L, which has 17,000 customers who've been offline since last Friday's storm, and more than 110,000 out overall as of Thursday afternoon. Local officials accuse the utility of being unprepared.
NJTV News Read more
Murphy Says Truck Ban Would Not Have Prevented Highway Chaos
A ban on trucks in New Jersey during Wednesday's winter storm would not necessarily have avoided the chaos created when jack-knifed and disabled tractor trailers blocked traffic and prevented crews from plowing highways, state officials said Thursday.
NJ.com Read more
How Did Phil Murphy Handle His First Big Storms as Governor?
For New Jersey's new governor, it was a tale of two storms.
NJ.com Read more
Trump's Latest EPA Pick Works for Company Linked to N.J. Superfund Site
The candidate that President Donald Trump has picked to oversee the cleanup of Superfund sites around the country is currently employed by one of the companies responsible for some toxic sites in N.J.
NJ.com Read more
2 N.J. Hospital Chains Will Explore a Merger
Two south Jersey hospital chains announced Thursday they are exploring a merger, a deal that would make them one of the most formidable health care networks in the outer-Philadelphia region.
NJ.com Read more
JCP&L Controversial Monmouth Power Line Zapped by Judge
An administrative law judge has sided with a residents group in its battle against Jersey Central Power & Light's proposed high-voltage $111 million power line between Aberdeen and Red Bank.
Asbury Park Press Read more
N.J. Schools: PARCC Penalties Makes Good Schools Look Bad
Why does Colts Neck High School—regarded as one of the top high schools in Monmouth County—have a subpar accountability rating from the New Jersey Department of Education?
Asbury Park Press Read more
After Prez's Rocky Year, William Paterson Hires New Leader
William Paterson University has filled the top job on campus. The school announced Thursday it chose Richard J. Helldobler, the interim president of Northeastern Illinois University in Chicago, as the institution's eighth president. The appointment ends the college's nationwide search for a new leader after its current president, Kathleen Waldron, is retiring at the end of the year amid tension and controversy.
NJ.com Read more
Student Safety Tops Cherry Hill Board Meeting
In the aftermath of a tumultuous public meeting last week on school safety, the Cherry Hill Board of Education faced the community again Tuesday night and dealt with a much smaller audience that was partly satisfied with new security measures now in place.
Inquirer Read more
U.S. Sen. Cory Booker to Give Keynote at Detroit NAACP Fundraiser
U.S. Sen. Cory Booker will deliver the keynote at the annual Fight for Freedom Fund Dinner in downtown Detroit.
Associated Press Read more
Kean Jr. Hopes Democrats Join Effort to Allow N.J. Tax Write-Off For Charitable Contributions
Concerns are running high among nonprofit organizations that new federal tax policies could influence the flow of charitable contributions in New Jersey, and those fears may give lawmakers reason to take a new look at long-stalled legislation that would establish a state tax incentive for charitable giving.
NJSpotlight Read more
Robert C. Sweeney, Lifelong Trade Unionist and Champion of Labor, has Died
Robert C. Sweeney, former President & Business Manager of Iron Workers 399 and the father of Senate President Stephen Sweeney and New Jersey State AFL-CIO Vice President Richard Sweeney, has died.
InsiderNJ Read more
Former N.J. Sen. Jennifer Beck Joins Alliant
Newport Beach, California-based Alliant announced recently that former New Jersey Sen. Jennifer Beck is joining its team.
ROI-NJ Read more
If You Go to Prison in N.J., You're Not Allowed to Read These
During a battle to ensure a nonfiction book about mass incarceration is no longer banned from prisons in the Garden State, the American Civil Liberties Union of New Jersey requested and received records from the state of the names of books or publications that are banned in any Department of Corrections facility.
NJ101.5 Read more
Wind Energy Eyes Restart in N.J. With Gov. Phil Murphy in Office
After building New Jersey's only wind-energy complex here in 2005, Paul J. Gallagher teamed up with a group of commercial fishermen on an even more ambitious project: building the nation's first offshore wind farm within sight of the city's famous Boardwalk.
Inquirer Read more
Rising Mortgage Rates Could Actually Spur N.J. Homebuyers
A new survey from Realtor.com finds 1 in 3 prospective home buyers are concerned about rising mortgage rates. Almost 4 in 10 believe higher rates will drive up the down payment for a home purchase.
NJ101.5 Read more
Judge Upholds Affordable Housing Rules Affecting West Windsor, Princeton
Mercer County Judge Mary Jacobson has issued a ruling that upholds a previous judicial finding that West Windsor and Princeton must meet certain fair housing obligations.
NJBiz Read more
Putting the Brakes on Off-Road Vehicles
State lawmakers are looking to crack down on all-terrain vehicles and dirt bikes in New Jersey, which have been accused of destroying the environment, causing traffic hazards, and aiding criminals.
NJSpotlight Read more
Hudson Turf War Turns Awkward After Both Sides Claim Same Supporter
The intramural war over the Hudson County executive seat took an awkward turn Thursday when both sides claimed the endorsement of Freeholder Jerry Walker.
NJ.com Read more
Democrats Allege Improper Tax Benefits, Fake News in Primary to Take on Lance
The fight for the Democratic nomination in Leonard Lance's district has taken a bitter turn, with Tom Malinowski and Linda Weber hurling attacks on fake news and residency issues in what might be the final days of the 7th district campaign.
New Jersey Globe Read more
Egg Harbor Township Mayor Calling It Quits After 32 years
After 32 years in public office, Egg Harbor Township Mayor James "Sonny" McCullough is retiring and heading to the beach.
Inquirer Read more
Barnegat Mayor Frank Caputo Censured, Denies Allegations of Violence
Four members of the Barnegat Committee voted to censure Mayor Frank Caputo Tuesday following allegations from a fellow committeeman about violent threats, inappropriate touching of a committeeman and a 'profanity-laden tirade.'
Asbury Park Press Read more
Lowry: How Trump and His Allies Lost Their Way on Gateway
It should come as no surprise that President Donald Trump seems to be scheming to bury the long-needed and now vitally important Gateway Tunnel Project once and for all, in the backyard like a large bone, or yesterday's garbage, along with the rest of an array of well-intended programs the Garden State needs to keep growing and thriving economically.
The Record Read more
N.J. Marijuana Legalization: Take Sober Look at Legal Weed—Editorial
More pressing issues may weigh on lawmakers than legal pot, but few generate the same level of passion from both sides. The usual partisan lines are also blurred and twisted, with some divided bipartisan interests; this isn't as simple as conservative anti-pot Republicans vs. progressive pro-pot Dems.
Asbury Park Press Read more