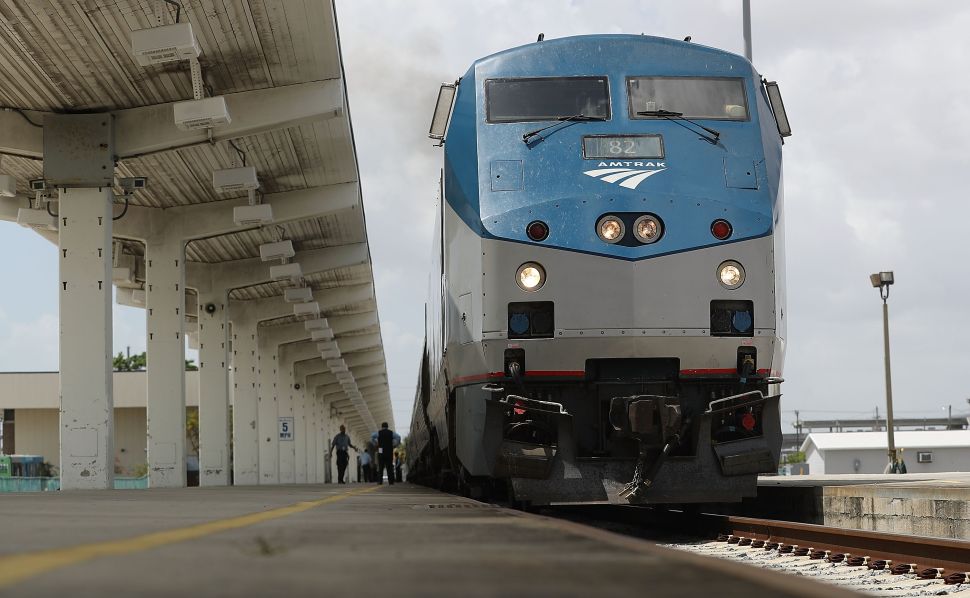 The Gateway Tunnel Project is set to get $540 million in funding under the agreement for a spending bill needed to fund the federal government for the next six months, according to reports.
The spending bill will include $540 million that could be used to help fund part of the $13 billion tunnel plan, according to both POLITICO and NJ.com.
That's good news for Gateway supporters, after President Donald Trump threatened to veto any spending plan that included money for the project. Trump, who had initially said he supported funding for the measure, reportedly was planning to withhold the funding as political payback for Senate Democratic leader Chuck Schumer's opposition to Trump policies and appointments.
The spending plan worked out by congressional leaders doesn't provide cash specifically for the Gateway Tunnel, but does provide money in transportation accounts that can be used on the project. That, however, doesn't mean federal officials can't work to block that cash from being used on the tunnel plan, according to POLITICO. This could keep Gateway in play as a bargaining chip in negotiations between Trump, Schumer and Tri-State representatives.
The Gateway Project, which includes construction of the tunnel and improvements to Amtrak's Northeast Corridor, is touted by supporters as the most important infrastructure project in the nation.
The federal spending plan totals around $1.3 trillion and will keep the government operating through Sept. 30. Congress needs to pass it by Friday in order to avoid a government shutdown.
Quote of the Day: "It's troubling that we get a tunnel, but we don't get a wall. The last time I checked, the president didn't make any promises about getting a tunnel at any of his campaign stops." — House Freedom Caucus Chairman Mark Meadows, unhappy that the $1.3 trillion federal spending bill includes money that can be used for the Gateway project.
New Jersey Will Consider Expanding Its Medical Marijuana Program
While efforts to fully legalize marijuana are moving slowly through the state legislature, New Jersey lawmakers are looking to expand access to the drug for medical use.
Christian Hetrick, Observer Read more
Jon Bramnick Is the Republican to Watch in New Jersey
New Jersey, Assembly minority leader Jon Bramnick has a conservative philosophical streak, but his thinking is by no means a dogmatic Republican brand. In fact, his bipartisanship on so many important state issues has a lot of appeal to independents and Democrats.
Donald Scarinci, Observer Read more
Congressional Leaders Etch Deal to Make $540M Available to Gateway
Congressional leaders have agreed to include $540 million in the federal spending bill that could be used to fund a portion of the massive Gateway tunnel project, according to two people close to the budget negotiations.
POLITICO Read more
Gateway Tunnel Opposed by Trump Gets Funding in Federal Spending Bill
The Gateway Tunnel project will get $540 million in the spending bill funding the federal government through Sept. 30, NJ Advance Media has learned.
NJ.com Read more
NJ Residents Don't Show Much Love for Roads, Mass Transit
We see construction all the time on New Jersey's roads. But where's it getting us?
In a new survey from the Eagleton Center for Public Interest Polling at Rutgers, it's clear New Jersey commuters are unhappy with the state's transportation infrastructure.
NJ101.5 Read more
Unaccountable Super PACs Make New Jersey the 'Wild West' of Campaign Finance
Over the last few years, a series of super PACs run by the same two men each spent tens of thousands of dollars backing mainly Democrats in local New Jersey elections, then went dark without filing mandatory reports with the Federal Election Commission.
POLITICO Read more
Colleges Wonder When Free Tuition Comes Their Way
While Gov. Phil Murphy's first budget proposal looks to fulfill one campaign promise related to higher education—to make community college free—it does little to satisfy another pledge: to make college more affordable.
NJSpotlight Read more
Murphy Soon to Tip Hand on Opportunity Zones, Sources Say
Gov. Phil Murphy is expected to make an announcement concerning the federal Opportunity Zone program, perhaps as soon as tomorrow, NJBIZ has learned.
NJBiz Read more
Tracts of Bayonne Designated in Trump Tax Reform as 'Opportunity Zones'
Large swaths of the city have been designated as "opportunity zones," which officials hope will spur investment in the city through federal tax incentives.
NJ.com Read more
Feds Convening Summit on Water Contamination in NJ, Other States
The federal government is convening a national summit to take action on manmade chemicals linked to a series of health problems in water systems across New Jersey and in other states.
NJSpotlight Read more
Belmar Mayor Matt Doherty to Get $175K Top Job at Casino Authority
Belmar Mayor Matt Doherty is rising quickly at the Casino Reinvestment Development Authority.
Asbury Park Press Read more
Out-of-State Utility Crews Arrive to Help JCP&L Stay Ahead of Spring Nor'easter
Out-of-state utility crews are on standby to help JCP&L stay ahead of the fourth winter storm to hit North Jersey this month.
Daily Record Read more
The GOP Race to Replace LoBiondo Is a Train Wreck
The fight for the Republican nomination for a congressional seat held by the GOP for the last 24 years has gone way off the rails. Eight Republicans are now seeking the nomination, and five of them have at least one county organization line.
New Jersey Globe Read more
Jersey Journal's Long Court Journey to Get Police Brutality Settlement to the Public
Friday's victory for the public's right to know the details of a police brutality lawsuit settlement represents nearly a year of state and federal court battles that Bayonne lost every time but kept appealing.
NJ.com Read more
Listen, NJ, We're Changing Newark's Bad Rep and You Need to Get on Board. 
To hear Mayor Ras Baraka tell it, the story of Newark is one of persistence. And that persistence is finally paying off.
NJ.com Read more
Youths and 'Moms' Endorse Newark Rally Against Gun Violence, NJ Firearm Bills
It wasn't designed to happen that way, but on Tuesday, March 20, the same morning a gunman wounded two students in a Maryland high school, parents gathered in Essex County to organize against gun violence.
The Record Read more
In Paterson, a Cautious Embrace of a Lull in Gun Deaths
Stephen Cotton pulled a can of Lemon Brisk iced tea from the trunk of his small white car, closed the lid and looked at the drug dealers. They stood two blocks away, in the middle of North Main Street.
The Record Read more
NJ Police Brutality: State Targets Bad Cops After Press Investigation
Following an Asbury Park Press investigation into police brutality that exposed the lack of oversight of rogue cops, the state attorney general Tuesday issued sweeping new guidelines to weed out drug-abusing cops and those who flout the law.
Asbury Park Press Read more
Puerto Rico relief Commission Meets With South Jersey Residents
Gathered within the chambers of Camden City Hall, the state's recently formed Commission on Puerto Rico Relief addressed concerns of South Jersey residents about the slow progress of the island's restoration and the influx of up to 30,000 evacuees into the Garden State in need of support.
Inquirer Read more