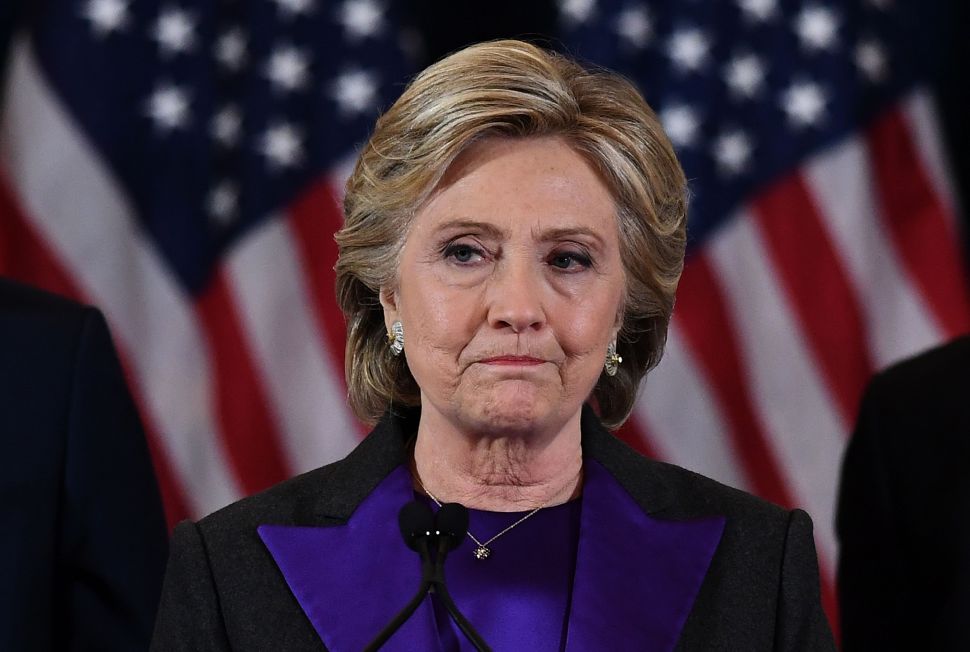 So what did Hillary Clinton do after losing the 2016 presidential election to Donald Trump?
Well, there was some chardonnay consumed and long walks in the woods, but there was also the decision to remain active and vocal in the public realm, the Democratic candidate and former secretary of state and first lady told a crowd at Rutgers University on Thursday evening.
"I am really committed to speaking out and doing what I can to have a voice in the debate," Clinton said, according to a report on NJ.com.
Clinton said that while she has some concerns, she remains "fundamentally optimistic" about the future of politics in this country, according to the report.
Clinton also talked about the difficulty of being a woman in politics and the higher expectations that people have of female candidates.
Clinton received $25,000 from a Rutgers endowment for the speech. While it's a lot of money, NJ Advance Media also noted that it was $7,000 less than Nicole "Snooki" Polizzi received for a 2011 appearance at Rutgers.
Quote of the Day: "They never said that to any man who was not elected." — Hillary Clinton, on people who think she should retire from public life following her election defeat.
New Jersey Hit Hardest By New Tax Law, Report Says
New Jersey will have the highest percentage of taxpayers facing a tax hike this year as a result of the Republican rewrite of the federal tax code, according to a new report.
Christian Hetrick, Observer Read more
New Jersey Sheds Pension Investment in Gun Company
New Jersey has shed its pension investment in a semi-automatic rifle manufacturer amid a national debate over gun control, the Treasury Department announced Thursday.
Christian Hetrick, Observer Read more
Bill to Prevent 'Passing the Trash' in Schools Heads to Governor Murphy
New Jersey may soon have new rules for vetting school employees and keeping teachers accused of sexual misconduct out of our classrooms.
John Geppert, Observer Read more
Here's Hillary Clinton's Blunt Response to Those Who Say 'Get Off the Stage and Shut Up'
The 2016 election is over and Donald Trump is president, so why is Hillary Clinton still making public appearances and talking to crowds?
NJ.com Read more
Hillary Clinton Got $7K Less Than Snooki for Rutgers Speech… Does It Get Any Worse?
Earlier today, NJ Advance Media reported that Hillary Clinton was being paid $25,000 to speak at Rutgers University,
NJ.com Read more
Will Making it Easier to Vote Increase Participation in NJ?
New Jersey lawmakers have begun moving legislation meant to increase participation in elections and give voters more information on which to base their votes, part of a long-sought effort by Democrats to expand voting here.
NJSpotlight Read more
Self-Driving Cars Stuck in Legislature's Slow Lane
Twenty-two states and Washington, D.C., have enacted legislation related to self-driving cars. New Jersey is thinking about joining them—but isn't in a rush.
NJ101.5 Read more
Have New Jersey's Pension Woes Finally Bottomed Out?
Could it be true? Is New Jersey's pension fund for public workers—among the worst-funded in the nation—really on the road to recovery?
NJ.com Read more
NJ Transit to Vote on Purchase of Union Dry Dock in Hoboken, a Move Opposed by the City
The NJ Transit Board of Directors will meet next Wednesday to vote on a controversial purchase of waterfront property in Hoboken that the city's mayor and council oppose.
The Record Read more
Here's How $10M From Phil Murphy's Budget Could Help Trade Unions
New Jersey's trade unions stand to benefit from Gov. Phil Murphy's first budget to the tune of $10 million, the governor announced Thursday.
NJ.com Read more
Pleas for Increases in State Aid as Budget Gets First Close-up
Burlington County resident John Russo, with some assistance from his wife, Loretta, leaned into a microphone yesterday and urged lawmakers to boost a state grant that helps family members care for people like him who suffer from the debilitating neurogenerative disease ALS.
NJSpotlight Read more
Adorable Relationship Between Menendez, Booker Breaks Tradition
The bromance between New Jersey's two United States Senators is sugary and unusual in a state where Senators classically despise each other—often in a very public way.
New Jersey Globe Read more
Sherrill Files Huge Number of Signatures as House Candidate
The number of signatures on a nominating petition usually doesn't matter much, unless the total is dangerously low or extraordinarily high. Democratic congressional candidate Mikie Sherrill filed petitions with the Secretary of State yesterday containing 5,677 signatures—considerably more than the 200 required.
New Jersey Globe Read more
Court Favors NYPD in Muslim Surveillance Case Involving New Jersey Man
The New York Police Department can use a Cold War-era legal tactic to conceal whether it put two Muslim men under surveillance, the state's highest court ruled Thursday.
The Record Read more
Joe Biden at Drew University: US in 'a Battle for the Soul of Our Nation'
The rise of "naked nationalism" and "senseless populism" has placed the United States in "a battle for the soul of our nation," former Vice President Joe Biden told a sold out crowd at Drew University on Wednesday night.
Daily Record Read more
ACLU Demands Halt to Gender-Based Teacher Training in West Milford
Do boys and girls learn differently and should teachers adjust their classroom methods accordingly?
The Record Read more
Cops From Across NJ Say Goodbye to K9 Who Died on Duty
As the procession of vehicles, led by the Salem County Sheriff's Office, drove down South Broadway in Pennsville with their lights flashing on Thursday, it was apparent the K-9 officer unit is a tight-knit community.
NJ.com Read more
NJ City Shuts Down Burlesque Show, Citing Obscenity Laws
Turns out, in Jersey City a bump 'n' grind can get you fined.
Jersey Journal Read more
Lodi Fires Michael Ettz, Teacher Who Hit Police Officer With His Car
A high school math teacher who was sentenced to four years in prison for hitting a Bergen County police officer with his car, leaving him with career-ending injuries, has been fired.
The Record Read more
First Aid Chief Used Squad as Personal Piggy Bank, Must Pay Back $118K and Faces Prison
A former chief of the Maple Shade First Aid Squad admitted Thursday to pilfering more than $118,000 from the rescue agency's bank account over a nearly seven-year span.
NJ.com Read more
Opioid Crisis Topic of Discussion at Prisoner Re-Entry Conference
While serving as the Archbishop of Indianapolis, Cardinal Joseph Tobin remembers a town in eastern Indiana that saw 24 overdoses in 20 days.
NJ.com Read more