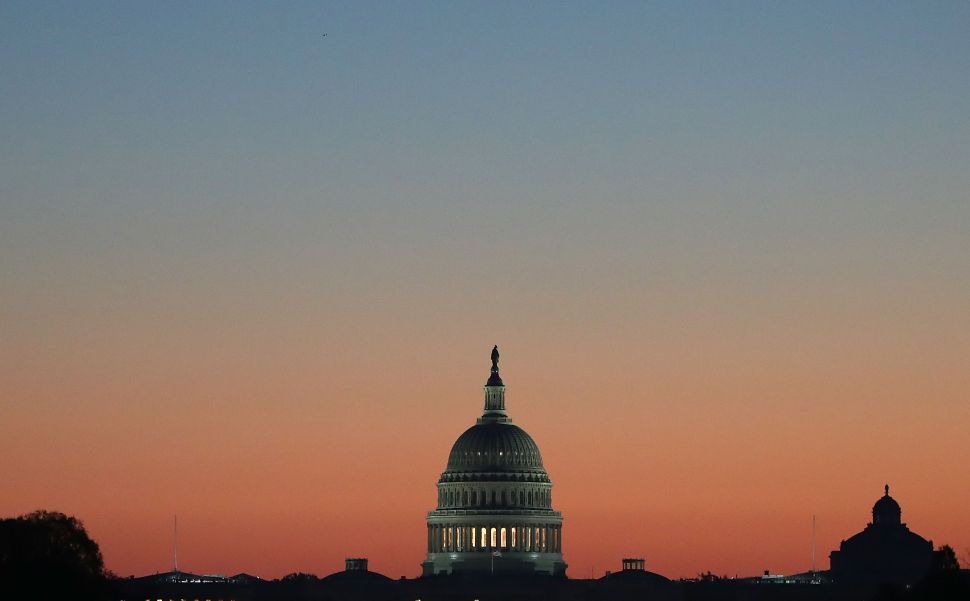 If you feel like you don't get a lot for your federal tax dollars, the online credit report source WalletHub has a message for you: You're right.
The WalletHub report issued this week ranks the Garden State as 47th in overall dependency on the federal government.
NorthJersey.com reports that return on federal taxes paid, federal funding as a share of state revenue and share of federal jobs were all considered when formulating the ranking.
New Jersey's state government was ranked 38th in dependency on federal aid, while the state's residents were ranked 49th. That ranking was based on the percentage of federal jobs held by state residents and amount of tax dollars that return to the state, according to the report.
Delaware was the only state that ranked higher than New Jersey in this category, while the folks in North Dakota and South Carolina are the most dependent on federal largess.
Quote of the Day: "We share a good bit of politics with them. But they do not know about school shootings… This is not what I want my children to think of when they think of going to school." — Monique Fineman, a mother and a teacher in Newark schools, who had been thinking about taking her children to the local March For Our Lives event.
'Taxpayer Scorecard' Grades NJ Lawmakers Based on How They Voted
New Jersey Republicans were taxpayer protectors, while Democrats largely voted to increase government spending and business costs, according to a conservative advocacy group.
Christian Hetrick, Observer Read more
Phil Murphy Outlines Plans for Proposed NJ Transit Funding
Gov. Phil Murphy said Tuesday that New Jersey Transit would be able to hire more than a hundred new workers, improve bus and rail service and hold the line on fares under his proposed state budget.
Christian Hetrick, Observer Read more
Offshore Wind: Is the Wait Over for NJ?
Fishermen's Energy, a small, pilot offshore wind farm three miles from Atlantic City, may happen after all.
NJSpotlight Read more
Study Ranks New Jersey Residents 49th in Federal Government Dependency
A new study ranks New Jersey's residents as second to last in terms of their dependency on the federal government.
The Record Read more
Change to Legal Weed in NJ Could Leave Future Hazy for Police K-9s
Coincidence drove Laszlo, a now-retired Little Ferry police dog, to the biggest bust of his 8-year-career: A stash of $480,000 in drug money secreted deep in the cab of a parked tractor-trailer at the Rodeway Inn Capri.
Asbury Park Press Read more
Can NJ Gov. Phil Murphy Save Obamacare? 3 Steps He is Taking
Gov. Phil Murphy and Democratic lawmakers are trying to shore up the Affordable Care Act with legislation and outreach to reverse what they say has been an attempt by their Republican counterparts in Washington, D.C., to sabotage it.
Asbury Park Press Read more
Murphy Says Power Lines Could Come Down Again During New Winter Storm
Gov. Phil Murphy said Tuesday said the new winter storm set to slam the state over the next few days could once again bring down power lines — and the state has been in contact with utility companies to prep for more outages.
NJ.com Read more
Why Murphy's Plan to Raise Taxes Might Not Go As Planned
Gov. Phil Murphy's budget proposal includes tax increases for millionaires, some profitable corporations, ride-sharing services like Uber and transient accommodations like Airbnb—as well as a slight bump up in the sales tax.
NJ101.5 Read more
Lacey Parents to School: Stay Out of My Life
Parent after parent spoke to the school board Monday night about two students who community members say were punished for posting a picture from a gun range online.
NJ101.5 Read more
Which Towns Receive More Federal Aid Than Lakewood? There Are More Than You Think
Carol Walker said her incessant office visits and phone calls eventually got her off an interminable waiting list and into a Section 8 government-funded housing voucher program in 2015.
Asbury Park Press Read more
Move to Help Union Officials Gain Easier Access to Public Workers
Union representatives would get greater access to public employees at the job site, under the terms of a bill that came before the Assembly Labor Committee yesterday. "We just want to make sure that we have free access to our members…" said Eric Richard of the state AFL-CIO.
NJSpotligh Read more
Teachers Incensed After Hot 97 Host Slams Jersey City Schools as 'Trash'
Teachers are not happy with the host of a popular morning radio show after he slammed the Jersey City school district and its educators last week, calling the city's school system "trash."
NJ.com Read more
Police Officers in NJ Subject to Random Drug Testing, AG Orders
All police officers in New Jersey are now subject to random drug-testing under a directive from the state's new attorney general.
NJ.com Read more
Trump New Jersey Chairman Endorses Ghee
Former Republican gubernatorial candidate Steve Rogers, an early supporter of Donald Trump's campaign for the presidency and an elected official in Essex County, has endorsed Antony Ghee for the Republican nomination for Congress in New Jersey's 11th district.
New Jersey Globe Read more
State Crafts New Strategies for Psychiatric Hospitals
New Jersey officials are looking to move forward with new oversight, more robust staffing, and expert recommendations on how to reduce overcrowding and violence — and improve treatment — at the state's largest psychiatric hospital.
NJSpotlight Read more
Trump Administration Plans to Force Polluters to Clean up NJ Superfund Sites
The Environmental Protection Administration plans to step up efforts to get the companies who dumped toxic waste at New Jersey's Superfund sites to pay to clean them up, administrator Scott Pruitt said.
NJ.com Read more
Thinking of Taking Your Kid to the March for Our Lives? Read This First
It may never be clear why the Parkland, Fla. school shooting finally jolted so many Americans into action, but some 817 "March For Our Lives" demonstrations are scheduled nationwide for Saturday, including more than two dozen marches around New Jersey.
NJ.com Read more
Former Police Officer Wins $1.2M in Racial Discrimination Trial
A jury has awarded a former Roselle police officer $1.2 million after finding the chief of the department violated civil rights and discrimination laws.
NJ.com Read more
Mulshine: Perhaps Steve Sweeney Should Push That Pension Referendum After All
If revenge is a dish best served cold, then this would a frosty treat indeed.
NJ.com Read more