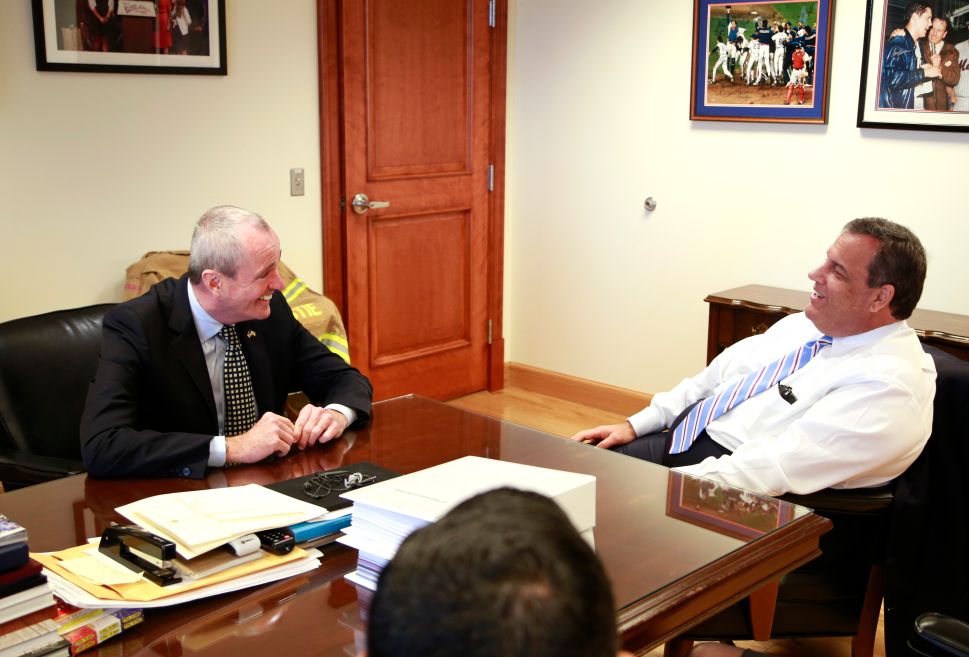 Gov. Phil Murphy isn't shy about planning to raise taxes to help pay for his proposed $37.4 million budget. But even with the $1.5 billion in hikes, Murphy is raiding a clean-energy fund paid into by ratepayers to make up a $136 million shortfall in his spending plan.
According to a report in NJSpotlight, Murphy plans to use the money to help New Jersey Transit ($82 million) and cover energy bills ($47.5 million). Five million dollars is earmarked to get New Jersey back into the Regional Greenhouse Gas Initiative, while $2.7 million will go to the state Board of Public Utilities, according to the report.
While environmentalists expressed disappointment that Murphy, who says he backs a clean-energy agenda, is tapping the fund for other purposes, the amount he is taking is less than Christie used last year. Christie took a total of $1.5 billion from the fund during his eight years in office to plug budget gaps, according to the report.
The money comes from a surcharge on utility customers' monthly bills. It is expected to raise about $700 million this year, with about half supposed to go to the clean energy fund and the remainder used to fund energy-assistance programs.
Murphy had criticized Christie's use of the funds, and there was once talk of a constitutional amendment to prevent diversion of the money, the report noted.
Quote of the Day: "It is responsible, it is consistent completely with what we said. No one should be surprised. We said what we're going to do, and we're doing it." — Gov. Phil Murphy, who last year said he would not consider raising the sales tax, defending his plan to impose several new taxes and raise the sales tax.
Murphy Diverts $136M in Clean Energy Funds to Help Balance Budget
In his first budget message, Gov. Phil Murphy retained one tactic frequently employed by his predecessor: diverting more than $136 million in clean-energy funds to help ensure a balanced state spending plan.
NJSpotlight Read more
New Jersey Lawmakers Push for New Pay Equity Law
New Jersey lawmakers are once again trying to toughen the state's gender-pay discrimination law, now that Phil Murphy is governor instead of Chris Christie.
Christian Hetrick, Observer Read more
Joe Biden Endorses New Jersey Congressional Candidate Andy Kim
New Jersey Democratic congressional candidate Andy Kim picked up a high-profile endorsement on Thursday in his bid to unseat Rep. Tom MacArthur (R-3), getting the support of former Vice President Joe Biden.
Christian Hetrick, Observer Read more
Murphy's Sales Tax Hike Wins Some Support, But Legislative Leaders Stay Silent
One of the biggest sources of new tax revenue in Gov. Phil Murphy's proposed budget—a rollback of a recent reduction in the sales tax worth a fraction of a penny—has been met with little resistance from the activists and lobbyists that roam the halls of the Statehouse.
Politico Read more
How Murphy's Budget Affects School Aid
New Jersey school districts got a first look at their state aid figures for the coming school year on Thursday, two days after Gov. Phil Murphy unveiled his $37.4 billion spending plan.
The Record Read more
Which School Districts Will Get The Most Money Under Murphy
Nearly every school district in New Jersey would get an increase in state aid next year and none would see a reduction, according to figures released Thursday by the Murphy administration.
NJ101.5 Read more
N.J. School Aid: Many Shore Schools See State Money Pour In
Just eight months ago, advocates for Jersey Shore public schools squared off against Trenton lawmakers and the departing governor, who threatened to trim school budgets—in some cases by millions of dollars.
Asbury Park Press Read more
Phil Murphy Just Held a Town Hall: Here's How He Plans to Sell His Budget & Taxes 
The word "tax" wasn't uttered except when it came time for Gov. Phil Murphy to decry New Jersey's "property tax crisis." Other than that, it didn't come up. Instead, Murphy, in his very first town-hall meeting as governor, talked about fully funding New Jersey's schools, improving public transportation, boosting the middle class and making community college free. His audience was a captive one. They applauded and cheered at his vision for the state's future.
NJ.com Read more
Mulshine: Gov. Phil Murphy Should Pay His Pension Debt Before Adding New Programs
Speak for yourself, Guv. I'm talking about a statement that Democrat Phil Murphy made during that budget address Tuesday in which he proposed a whole lot more spending accompanied by a whole lot more taxation.
NJ.com Read more
Murphy Backs Specific Fix for Out-of-Network Billing Issue
Among the surprises in Gov. Phil Murphy's budget presentation Tuesday was the mention of reforms to address out-of-network health insurance benefits, which the governor said could save the state tens of millions of dollars and improve care for all New Jersey residents.
NJSpotlight Read more
Murphy Joins Family Vacation 2 Days After Budget Address
Just two days after delivering a massive budget to lawmakers and proposing $1.7 billion in new taxes, Gov. Phil Murphy is hitting the road for a few days of rest and relaxation.
Politico Read more
Embattled Shulkin Finds Support in N.J., D.C.
Reports from Washington, D.C., suggest Dr. David Shulkin, the former president of Atlantic Health's Morristown Medical Center, could be out soon as secretary of the U.S. Department of Veterans Affairs.
ROI-NJ Read more
Ex-Pol Tries to Keep Pension He Tripled With Corrupt No-Show Jobs
He gets nothing!
A corrupt politician who managed to nearly triple his pension over a four-year period thanks to a plush no-show job, went to prison and lost it all. Then he tried to get back on the public trough.
NJ101.5 Read more
New Job for Old Prosecutor Ousted by Ex-Gov. Christie
A former Somerset County Prosecutor who was replaced two years ago after a string of controversial incidents has been appointed the interim director of the Somerset County Park System.
NJ.com Read more
Morning Radio Host Will Challenge Norcross
Paul Dilks, a South Jersey radio personality, is expected to be the Republican nominee for Congress against Rep. Donald Norcross (D-Camden) in 2018.
New Jersey Globe Read more
Trenton Council Candidate Dr. Shirley Gaines Is Not a Real Doctor, 'College' President Says
West Ward Council candidate Shirley Gaines regularly touts that she has a doctorate, even placing "Dr." in front of her name on May's election ballot.
Trentonian Read more
N.J. Marijuana Legalization: Will Murphy's Jan. 2019 Deadline for Legal Weed Become Reality?
Gov. Phil Murphy campaigned last year on a pledge to allow adults to buy and consume marijuana. With his budget this week, the Democrat took his first formal step toward making that pledge a reality.
The Record Read more
Affordable housing: Judge says NJ towns like Toms River must build 155K more homes
In a ruling that could shape the way towns across the state look and have an impact on schools and traffic, a Superior Court judge said that municipalities must take steps now that could allow for roughly 155,000 affordable housing units to be built over the next decade.
Asbury Park Press Read more
Troubled library loan program moves forward by going backward
Weeks after a botched contract brought book loans among New Jersey libraries to a standstill, the agency responsible for the lending program voted to replace the current delivery company with the one that had the job until the end of last year.
The Record Read more
N.J. Leaders Seek New Meeting With Trump on Gateway Tunnel
When federal lawmakers from New Jersey and New York met with President Donald Trump last September, they left the White House believing he supported the Gateway Tunnel project.
NJ.com Read more
New effort launched to fund N.J.'s big military base
As congressional negotiators write legislation to fund the federal government through Sept. 30, two New Jersey lawmakers sought to ensure that money for Joint Base McGuire-Dix-Lakehurst wasn't left out.
NJ.com Read more
More NJ Transit riders may get a seat on a train, thanks to Gov. Murphy
There will be more cars on NJ Transit trains to ease overcrowding on busy train lines, Gov. Phil Murphy promised at an NJ Transit meeting Wednesday.
NJ.com Read more
School Safety Bill Passed by Overwhelming Margin: Why This N.J. Democrat Voted No
When the U.S. House responded to the South Florida high school shooting by passing legislation to provide grants to improve school safety, only 10 lawmakers voted no.
NJ.com Read more
NJ Students Face Discipline Over Walkout Participation
The New Jersey chapter of the ACLU said it received a few "troubling" reports about students being disciplined for participating in Wednesday's gun-violence walkout.
NJ101.5 Read more
Gun Violence: Rutgers Expert on How to Reduce It
As students across the country increasingly speak out against gun violence, public officials continue to develop responses attempting to address the many factors contributing to that violence. We asked Matthew Mayer, a Rutgers professor and national expert on school violence and bullying, for his thoughts on the scope of the problem and what we can do to make our children—and all of us—safer.
Asbury Park Press Read more
Jersey City Council Votes Down Law Contract Sought by Fulop
The City Council last night defeated a measure reauthorizing a contract with a law firm the city says handles "special or complex" public-records requests.
NJ.com Read more
Mercer County Leaders Meet With Mayor, DOT to Try to Fix TTF 'Debacle'
A coalition of legislators have banded together to try to rectify the funding gaffe that cost the city hundreds of thousands of dollars in state aid for roadway projects.
Trentonian Read more
Seaside Heights Parking Supervisor Charged With Covering up Crash
The supervisor with the Seaside Heights Parking Authority faces numerous charges after authorities said he struck a cyclist with a borough-owned vehicle and called the victim "a drunk" before he handed over cash in an attempt to "make things right" and fled the scene, according to the Ocean County Prosecutor's Office.
Asbury Park Press Read more
Rutgers Professor, 75, Accused of Sexually Harassing 29-Year-Old Student
Rutgers University is investigating a sexual harassment complaint filed by a graduate student against a renowned professor who was her mentor, New Jersey Advance Media has learned.
NJ.com Read more
Alfred J. Marchitto Sr., Former Prospect Park Mayor, Dies at 98
Former Prospect Park Mayor Alfred J. Marchitto Sr. died Tuesday, borough officials announced. He was 98.
The Record Read more
Opinion: Murphy Budget a Dicey Proposal
The governor's budget message was upbeat and positive. Who can be against helping people, building a sound economy, increasing opportunity, improving fairness, and making critical down payments for the future?
NJSpotlight Read more