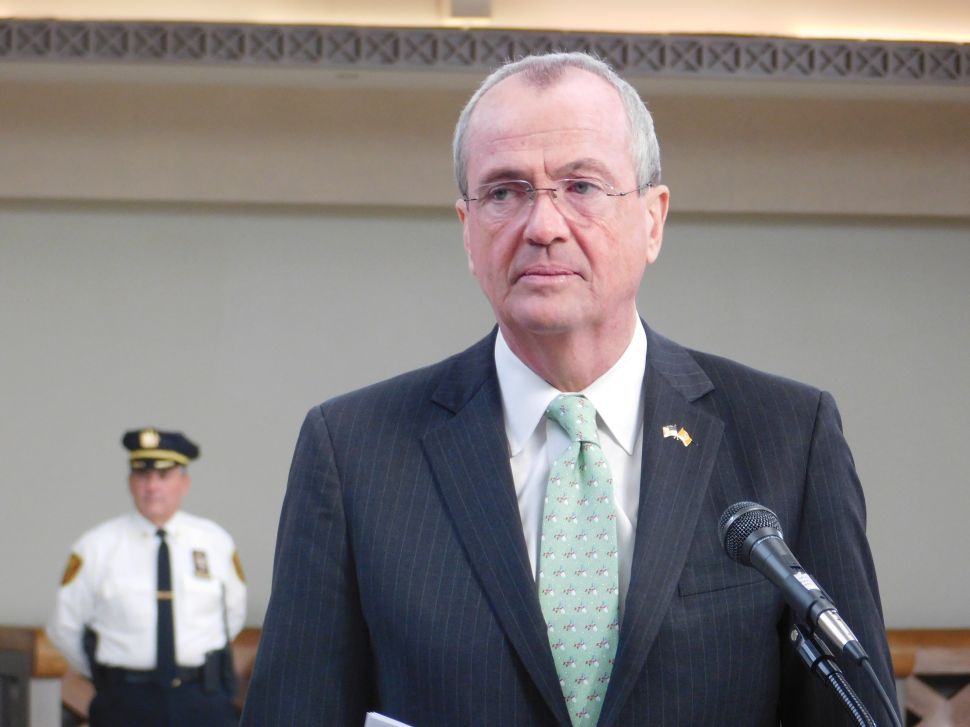 Gov. Phil Murphy is set to introduce his first budget today, and there are a lot of questions as to whether the governor will be able to pursue many of his ambitious progressive plans.
Murphy has stuck to his call for a millionaires tax and the legalization of recreational marijuana as ways to raise revenue for his plans, but both proposals have encountered resistance among Murphy's Democratic allies, not to mention Republicans in the state legislature.
Sen. President Steve Sweeney has proposed a surcharge on New Jersey corporations earning in excess of $1 million as an alternative to the millionaires tax. But on Monday, Sweeney did throw his support behind Murphy's plan to legalize pot, telling NJ.com that an alternative suggestion of decriminalizing marijuana possession was an unnecessary half measure. Sweeney's opposition means the decriminalization plan is dead if he refuses to post it for a vote in the Senate. Supporters, however, are calling on Sweeney to at least put the measure before voters in a referendum, a move the Senate president is unlikely to embrace, according to the report.
Republicans on Monday made political hay of the impending budget, holding a preemptive press conference to warn that the spending plan will call for higher taxes, according to ROI-NJ.
Meanwhile, Murphy was laying his own groundwork, saying his plan would boost funding for NJ Transit and vowing that his plan would benefit the state's middle-class residents.
Quote of the Day: "If they're so assured this is a positive thing for the state of New Jersey, if they're so assured that people want to do it, let's put it on the ballot. Let's see it," — Sen. Robert Singer, challenging Democrats to put their plan to legalize marijuana to voters.
New Jersey Republicans Urge Paul Ryan to Fund Gateway Tunnel Project
Ten House Republicans, including four from New Jersey, are urging House Speaker Paul Ryan to reject President Trump's threats and include money for the Gateway Tunnel project in a federal government spending bill.
Christian Hetrick, Observer Read more
Phil Murphy: Budget Will Make 'Major Statement' on Funding NJ Transit
Gov. Phil Murphy signaled on Monday that he will make NJ Transit a top priority in his first budget, hinting that the beleaguered agency could see a boost in state aid after years of struggling to fund its operations.
Christian Hetrick, Observer Read more
Decriminalizing Weed Instead of Legalizing It Won't Happen, N.J. Senate President Says
Don't expect New Jersey to decriminalize recreational marijuana instead of legalizing it.
NJ.com Read more
Assisted Suicide Once Again Pushed by New Jersey Lawmakers, Opponents Raise Fears
Lawmakers are launching a new attempt under a new governor to pass an assisted suicide bill that would allow some terminally ill patients to seek a prescription for a lethal dose of drugs that they could then administer to themselves.
The Record Read more
GOP Blasts Dem Spending Plans on Eve of Budget Address
"Trenton is mission control, and tomorrow is going to be the first launch." That's according to Assemblyman Jon Bramnick (R-Westfield), who was part of a Republican Senate and Assembly news conference Monday pre-empting Gov. Phil Murphy's first budget address.
ROI-NJ Read more
Murphy's Promises Meet Budget Reality as New Jersey Pension Hole Looms
Governor Phil Murphy's campaign pledges are about to collide with New Jersey politics, Wall Street skeptics and a massive budget deficit.
Bloomberg Read more
No Class Warfare, Just Fairness, Murphy Says Before First Budget
Gov. Phil Murphy on Monday said he would unveil a budget that would help the middle class, but hedged on specifics about tax hikes.
NJ101.5 Read more
This Is How Bad N.J.'s Tax Situation Is Compared to Other States
A new study confirms living in the Great Garden state isn't cheap. In fact, it costs a small fortune to live here if you pay taxes.
NJ101.5 Read more
Phil Murphy's Grab Bag of Promises From Legal Weed to Tax Increases Meets Fiscal Reality
One big—and unanswered—question has faced Phil Murphy since he entered the governor's race: How is he going to pay for his progressive promises?
The Record Read more
DiMaio: Brace Yourself for Gov. Murphy's 1st Budget
Gov. Phil Murphy described the federal cap on state and local tax deductions as a "gut punch" to New Jersey's middle class. Apparently New Jersey's own $10,000 cap on property tax deductions doesn't qualify as a gut-punch because he has rejected the idea of eliminating it.
NJ.com Read more
New Jersey Grapples With Solutions to Soaring Special-Education Costs
School officials have long complained that escalating special-education costs are stressing their budgets – and taxpayers.
Inquirer Read more
N.J. Added 43K Jobs in 2017; Here's Why That's Not Such Good News
New Jersey added about 43,000 jobs in the private sector in 2017, about 18,000 less than 2016, according to data released by the U.S. Bureau of Labor Statistics Monday.
NJ.com Read more
New Reviews, Access to Determine Direction of N.J. Medical Marijuana Program
Barbara Merrifield filled a plastic syringe with marijuana oil, golden in color, and squeezed it into some muffin batter she whipped up in a basement studio at her home in Somers Point.
The Press of Atlantic City Read more
N.J. Senate Revives Weinberg's Oil Train Transparency Bill Chris Christie Vetoed
The New Jersey Senate Transportation Committee approved an oil train transparency bill on Monday, reviving an effort that had been stymied by former Gov. Chris Christie.
The Record Read more
Hillary Speech At Rutgers Sold Out, Moved to Larger Venue
Tickets for former Secretary of State Hillary Clinton's appearance at Rutgers University were in such high demand that the school moved it to a larger location.
NJ101.5 Read more
How the 5th Dist. Is Getting Big Trucks (for Free) From the Federal Government
When the nor'easter blew through Bergen County last Wednesday night, the borough of Westwood was ready.
ROI-NJ Read more
Belmar Mayor Matt Doherty takes $150K job at Casino Reinvestment Development Authority
Belmar Mayor Matt Doherty has been named deputy executive director of the Casino Reinvestment Development Authority, a $150,000 post he began on Tuesday.
Asbury Park Press Read more
Bill Requiring School Panic Alarms up for Reconsideration After Christie Vetoes
A Democrat-backed bill requiring schools to install panic alarms and emergency light systems that would be activated during a shooting or other security emergency will be considered once again by state lawmakers on Monday.
Politico Read more
ACLU Denounces Sayreville Over Gun Violence Walkout Suspensions
Many schools across New Jersey are participating in a nationwide school walkout to commemorate the one-month anniversary of the mass shooting in Parkland, Florida, but at least one district has threatened to suspend students who participate.
NJ101.5 Read more
Tenafly Forming Task Force to Look at School Safety
In the wake of the Parkland, Fla., school shooting, Tenafly is forming a resident-led task force to address safety in the schools and community.
The Record Read more
Meet 8 N.J. Teen Activists Leading the Parkland Walkouts, Trying to Make Change
For students in New Jersey, watching the images of terrified high schoolers as gunman massacred 17 students and teachers at a Florida high school last month felt personal.
NJ.com Read more
At Marlboro High School, a Better Way to Address Student Anxiety Over Gun Violence
There is a story about a hummingbird and a forest fire, famously told by the late Nobel Peace Prize winner Wangari Maathai. It's relevant this week, as teens across the country prepare to walk out of school one month after the Parkland massacre.
Asbury Park Press Read more
States Vow to Fight Offshore Drilling by Any Means at Their Disposal
The Trump administration may have the power to control what happens in federal waters, but state leaders are vowing to make it as difficult as possible for the White House to advance its offshore drilling plan.
Politico Read more
AG Must Fork Over $1.3M to Former Detective Who Filed Whistleblower Suit
The New Jersey Attorney General's office will have to abide by the terms of a $1.3 million settlement it agreed to in order to end a whistleblower suit from a former detective.
NJ.com Read more
Bayonne Firefighters All Carry High-Tech Cameras
Bayonne is the first city in New Jersey to deploy thermal imaging cameras for every firefighter working a smoky, blazing building.
NJ101.5 Read more
North Bergen Housing Authority Suspends Security Chief After Low-Show Job Report
The North Bergen Housing Authority security director has been suspended amid reports that he put in little time at the federally funded agency, a spokesman for the housing authority confirmed this morning.
NJ.com Read more
Tax Cuts Will Lower Suez Water Bills
Water bills for Suez customers are proposed to go down next month, a result of lower taxes paid by the water utility.
Asbury Park Press Read more
Editorial: Where Will Murphy Find the Money?
Much of the drama surrounding Gov. Phil Murphy's first budget address Tuesday will center around how many of the scads of promises he made on the campaign trail will be reflected in his spending priorities.
Asbury Park Press Read more
Editorial: Don't Take Long to Plot Future Without PARCC Tests
The trap door under the state's PARCC (Partnership for Assessment of Readiness for College and Careers) exams is beginning to open. But there's still a lot of work to do before the controversial tests drop into history.
The Record Read more