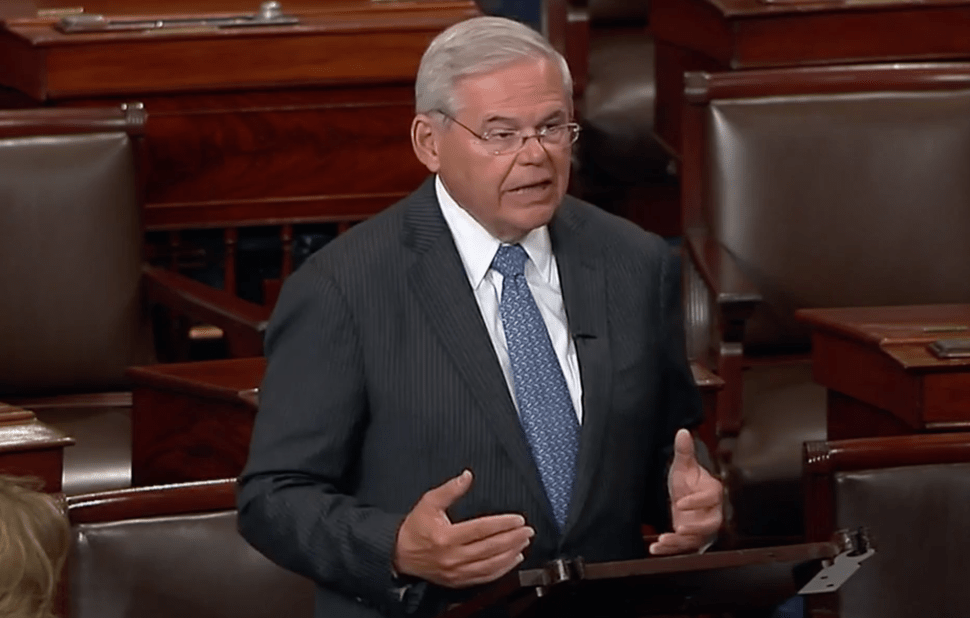 He survived a federal corruption trial, and now Sen. Robert Menendez is preparing to tackle his next challenge when he kicks off his reelection campaign at a planned event today.
Menendez is expected to be joined by Gov. Phil Murphy, Sen. Cory Booker and other top state Democrats during the event in Union City. Menendez will then head south for an event at Rowan University, where he is scheduled to be joined by state Senate President Steve Sweeney, according to reports.
Menendez is facing a challenge from Republican Bob Hugin, a former pharmaceutical executive. The two-term Democrat is the favorite in the contest, with a Quinnipiac University Poll released earlier this month showing him with a 49 to 32 percent lead over the challenger.
The same poll showed 38 percent of voters believe Menendez was involved in "serious wrongdoing" regarding the corruption charges against him. A jury deadlocked on Menendez's guilt or innocence following a 2 1/2-month trial last year. Earlier this year prosecutors dropped the case against him.
Menendez's co-defendant, Dr. Salomon Melgen, was sentenced to 17 years in prison as a result of his Medicare fraud conviction in a separate case that was tried in Florida.
Quote of the Day: "We are going roll this out and expand it as it is, and color us open minded as to what else we may want to tweak." — Gov. Phil Murphy, on effforts to expand the state's medical marijuana program.
New Jersey to Join Lawsuit Over Census Citizenship Question
New Jersey will join other states in suing the Trump administration over its decision to add a question about citizenship to the 2020 census, Attorney General Gurbir Grewal announced on Tuesday.
Christian Hetrick, Observer Read more
Phil Murphy Moves to Expand New Jersey's Medical Marijuana Program
Gov. Phil Murphy announced a major expansion of New Jersey's medical marijuana program on Tuesday that increases the number of qualifying conditions and allows dispensaries to add satellite locations across the state.
Christian Hetrick, Observer Read more
Post-trial Menendez kicks off reelection campaign Wednesday
Sen. Robert Menendez (D-N.J.), who survived a 2 ½-month corruption trial late last year, will kick off his Senate reelection campaign Wednesday accompanied by New Jersey's most powerful Democrats.
Politico Read more
Outside forces spreading cash in this pro-Trump Jersey Republican's race
Rep. Tom MacArthur's controversial votes supporting President Donald Trump on health care and taxes are being debated in his congressional district by outside groups that do not have to disclose their benefactors.
NJ.com Read more
Will Phil Murphy veto giving police and fire unions control of their pensions?
The state Legislature passed legislation Monday handing control of the pension fund for New Jersey's police and firefighters over to its members.
NJ.com Read more
What Murphy's treasurer said about lottery, pensions at confirmation hearing
Before the state Senate Judiciary Committee  approved her nomination as Gov. Phil Murphy's state treasurer, Liz Muoio defended the administration's decision on a pension move and said she's looking into the performance of a vendor running the state's lottery.
NJ.com Read more
NYC official to be director of Division of Consumer Affairs
The New Jersey Division of Consumer Affairs will have a new director, as Gov. Phil Murphy is nominating Paul R. Rodriguez to the post, Attorney General Gurbir Grewal said Tuesday.
ROI-NJ Read more
Prieto wants new casino, master plan for Meadowlands
A new casino and Meadowlands regional master plan are at the top of the wish list for Vincent Prieto, the new president of the New Jersey Sports & Exposition Authority.
NJBiz Read more
Pedro Mejia to replace Prieto in Assembly
Hudson County Democrats are sending a fresh face to Trenton to replace Vincent Prieto in the State Assembly: sources say that Pedro Mejia of Secaucus will get the 32nd district seat when Democrats hold a special election convention Wednesday night in North Bergen.
New Jersey Globe Read more
It happens here, too. NJ city takes a stand against sexual harassment
In a momentous vote for New Jersey's largest city — and a nod to women everywhere — the Newark City Council on Tuesday approved adding further protections to public workers who are victims of sexual harassment.
NJ.com Read more
Sherrill: Webber is out of touch
Sensing a potentially cutting issue in her bid to flip New Jersey's 11th district from red to blue, Democratic congressional candidate Mikie Sherrill is doubling down on her reproach of potential opponent Jay Webber, one of two Republican Assemblymen to vote against legislation that would require equal pay for men and women.
New Jersey Globe Read more
Webber hits back at Sherrill
The two front runners for Rodney Frelinghuysen's seat in Congress continue to trade barbs today, with Republican Jay Webber launching an afternoon attack on the front runner for the Democratic nomination, Mikie Sherrill.
New Jersey Globe Read more
You can speak out about recent NJ power outages at these 2 hearings
New Jerseyans can speak out about the power outages that plagued the state during this month's spate of winter storms at two public hearings in April.
NJ.com Read more
Naked Donald Trump statue headed to auction in Jersey City
A statue of a naked Donald Trump is going on the auction block.
Associated Press Read more
NY Waterway drafting public as soldiers in battle against Hoboken
To save a piece of land it purchased in Hoboken, NY Waterway put out an all hands on deck call to for help.
So far, 1,500 people have responded.
NJ.com Read more
Federal Tax Reform Means Slightly Lower Bills for NJ Ratepayers
Beginning next week, customers will start to see some modest reductions on their gas, electric, and water bills as a result of savings utilities have won from the federal tax cuts signed by President Donald Trump last year.
NJSpotlight Read more
Lakewood fraud: 159 granted amnesty, $2 million to be recovered
State officials said Tuesday 159 people took advantage of a controversial prosecution amnesty program offered in the wake of welfare fraud arrests in Lakewood.
The Record Read more
Hackensack Meridian medical school applications up to almost 1,000
Nearly 1,000 people have applied to the Hackensack Meridian School of Medicine at Seton Hall University, the state's first new medical school in 50 years, since it began accepting applications last week, school officials reported Monday.
The Record Read more
New Jersey is the worst state for doctors, says study
If you want to become a doctor, you might want to rethink doing it in New Jersey.
The Record Read more
How is Jersey City's reval affecting these politicians?
Jersey City's long-delayed citywide property revaluation has homeowners either overjoyed at the prospect of big tax cuts come August, or bracing for massive tax increases.
NJ.com Read more
Meet the woman who will now lead 7.4K NJ college students
The College of New Jersey is getting a new leader for the first time in nearly two decades.
New Jersey native Kathryn A. Foster has been chosen as the 16th president in the college's 163-year history.
NJ.com Read more
Sober homes coming to NJ neighborhoods and towns have little control
In response to New Jersey's drug addiction crisis, new state regulations make it easier for sober-living homes to operate in residential neighborhoods throughout the state.
The Record Read more
Push to mandate paid sick days gains steam again in NJ now that Murphy is governor
Employers would be required to offer paid sick days to all of their workers under a bill the state Assembly approved Monday that would benefit more than one-third of the New Jersey's private-sector workforce.
NJ.com Read more
Millburn schools: Lawyers hired to look into sex abuse letters sent to Glenwood parents
The school board on Monday approved hiring a Morristown-based law firm to investigate threatening letters sent to nearly 50 parents of an elementary school in Short Hills.
The Record Read more
Some Nutley High School students oppose armed guards
Armed protection in public schools is not the answer, a group of Nutley High School students affirmed.
The Record Read more
Complaint charges Judge Russo with violating judicial code of conduct
Superior Court Judge John F. Russo Jr., suspended from the bench in Ocean County and suing his bosses in federal court, has now been charged in a complaint alleging he violated codes of judicial conduct.
Asbury Park Press Read more
Cops don't always need warrants to get blood in DUIs, NJ high court says
Police don't always need a warrant before drawing blood from a person suspected of driving under the influence of alcohol, a divided New Jersey Supreme Court ruled Tuesday in a Monmouth County case.
Asbury Park Press Read more