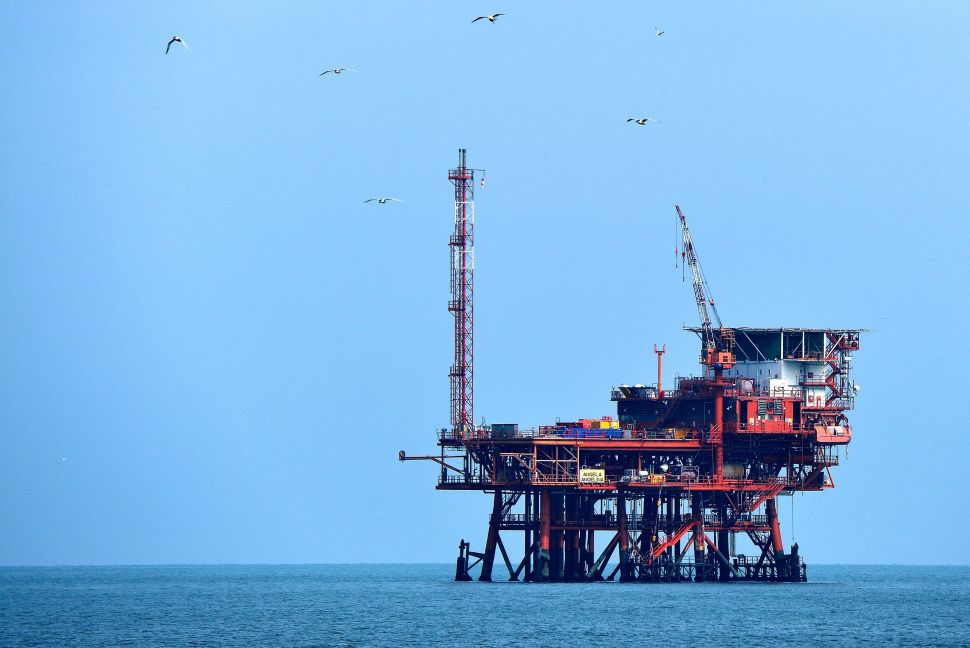 In politics, as in many things, the secret is location, location, location.
And so states opposed to the Trump administration's efforts to open areas off their coasts to offshore drilling are using their local powers to try to block the effort by regulating what can be done in the lands they control. This includes measures that ban construction of the infrastructure needed to support offshore oil rigs and laws ensuring oil companies know they face stiff consequences in case of an oil spill.
While a state can't ban federally sanctioned offshore drilling, it can make a drilling operation so expensive and cumbersome to maintain that oil companies go elsewhere, according to an Associated Press report.
But such plans are a two-edged sword, since it also precludes a state from benefiting from the jobs and revenue oil drilling can bring to an area.
Quote of the Day: "We started thinking about how we control the first three miles of ocean, and there are state rights that we have. Even if we don't succeed in banning it outright, we can still make it a lot more expensive to do it in this area. It's a back-door, ingenious way to block this." — New Jersey state Sen. Jeff Van Drew, on the state's efforts to block offshore oil exploration.
Phil Murphy Unveils Plans for Tech Hub Project in New Brunswick
New Jersey Gov. Phil Murphy unveiled plans on Monday for a redevelopment project in downtown New Brunswick dubbed "the Hub," a technology and innovation center.
Christian Hetrick, Observer Read more
Sebastian Gorka Endorses John McCann for Congress
Former Trump aide Sebastian Gorka has endorsed John McCann for the Republican nomination for Congress in New Jersey's 5th district.
Christian Hetrick, Observer Read more
Back-Door Ban: States Fight Trump Drill Plan With Local Bans
Some coastal states opposed to President Donald Trump's plan to allow oil and gas drilling off most of the nation's coastline are fighting back with proposed state laws designed to thwart the proposal.
Associated Press Read more
Congress Closes in on Massive Spending Bill That Likely Excludes Gateway
Congressional leaders and top White House officials are clearing the way for a massive $1.3 trillion spending bill, scrapping several last-minute attempts to tack on controversial policy riders ahead of a Friday deadline to fund the government.
Politico Read more
Atlantic City Democrats Sign Criminal Complaint Against Mayor Gilliam
The city's Democratic Committee filed a criminal complaint in municipal court Monday against Mayor Frank Gilliam and his former campaign manager, Richard Winstead.
Press of Atlantic City Read more
GOP Struggles With Post-Frelinghuysen Primary Fight
Staring down a blue wave, Republicans in New Jersey's 11th Congressional District are facing a stark choice as they defend a seat they've held for more than three decades: Back a down-the-line conservative or an unorthodox newcomer who might broaden the party's appeal in New Jersey even as President Donald Trump threatens to shrink it.
Politico Read more
Bergen County mayors demand accountability after snowstorm outages
Apoplectic elected officials across North Jersey are seeking ways to hold their power companies responsible for what they describe as poor or nonexistent service, particularly during the second of two storms to hit the area this month.
The Record Read more
Who Paid for Gov. Phil Murphy's Inauguration? The Details Are Hard to Trace
Gov. Phil Murphy may have relied on private donors to underwrite his million-dollar inaugural celebration two months ago, but he took advantage of a loophole in state finance law that will make most contributors' identities difficult to trace.
The Record Read more
As New Jersey Moves Toward Legal Weed, Federal Government Stays Silent
Days after Gov. Phil Murphy's administration inched closer to making marijuana legal in New Jersey, the federal government's top drug prosecutor declined to tip his hand as to whether the Trump administration would stand in the way.
The Record Read more
Jersey Native Leads Anti-Trump Forces in 'the Midterm of Our Lives'
As Democrats march into battle this fall in an election seen as a referendum on President Donald Trump, a West Orange native will be leading the charge.
NJ.com Read more
Community Gathers to Celebrate Alyssa Alhadeff, Teen Killed in Parkland Shooting
Superdome Sports was Alyssa Alhadeff's second home when she was growing up in Woodcliff Lake.
The Record Read more
Fingernails Too Long? Metro-North's Female Conductors Unhappy With Rule Change
Metro-North's female conductors sport a functional uniform tailored to a mostly male workforce—navy blue jacket, blue-and-white striped shirt and trousers.
The Record Read more
Can Toms River and Orthodox Jews Get Along? Community Council Hopes So
Michael Waldner remembers the black-and-white signs.
Asbury Park Press Read more
Resident Alleges Bias in Long Branch, Claims City Favors Jews in Lawsuit
Alphonse Edouard, a Haitian-American condo owner, is suing the city and its tax assessor, alleging his property is overtaxed because he isn't Jewish.
Asbury Park Press Read more
Bridgegate Prosecutor Fishman Gets Crisis Job at Arnold & Porter
Paul Fishman, New Jersey's former top federal prosecutor, has joined Arnold & Porter, where he will lead the law firm's crisis management and strategic response team, according to a statement by the firm.
Bloomberg Read more
Lakewood OKs Fire Tax Increase Rejected by Voters
The township committee this month raised residents' tax bills despite the wishes of voters.
Asbury Park Press Read more
Alum Paying for 80 Asbury Park High School Students to Attend March for Our Lives in D.C.
Ron Taft graduated from Asbury Park High School in 1962. A year later, Martin Luther King Jr. delivered his "I have a dream" speech to 250,000 civil rights marchers in front of the Lincoln Memorial.
Asbury Park Press Read more
N.J. Spending $3 Million To Teach Workers Needed Skills
The New Jersey Department of Labor and Workforce Development is handing out millions of dollars to help Garden State workers and businesses develop skills and improve productivity.
NJ101.5 Read more
Camden Smart Initiative Revitalizes City's Open Spaces
Throughout the next four weeks, NJ Spotlight will be showcasing the Camden SMART Initiative, which won the Aetna Foundation's Healthiest Cities & Counties Challenge Spotlight Award. Aetna's Spotlight Award is part of a larger national health challenge — the Healthiest Cities & Counties Challenge — empowering small- to mid-sized cities and counties to make a positive health impact in their community. The Camden SMART Initiative was recognized for the work it has been doing in Camden, NJ, as part of the challenge and has received an additional $25,000 to further support its program.
NJSpotlight Read more
Lodi School Board Appoints Latina Trustee Leslie Vizcaino
The borough school board's newest member is 23-year-old Leslie Vizcaino—a recent Lodi High graduate and, in a sign of the town's changing demographics, a Latina.
The Record Read more
Detective's Suit Alleges Gender Bias, Sexual Innuendo; Prosecutor Calls It Baseless
A police union leader in the Monmouth County Prosecutor's Office claims in a lawsuit that she's been subjected to on-the-job sexist remarks, vulgar names, sexual rumors and retaliation for complaining about it.
Asbury Park Press Read more
Moorestown Agrees to Add Affordable Housing, Open Door to Mall Redevelopment
Moorestown has planned for more than 300 new low- and moderate-income housing units and will open the door to redevelopment of the Moorestown Mall as part of a settlement over the township's affordable-housing obligations.
Inquirer Read more
Carteret Cops Issued Gun Permits Without Proper Background Checks
Some gun permits issued over more than two years were approved without going through the proper screening process — with failures to verify mental health status and criminal backgrounds — prosecutor's say.
NJ101.5 Read more
N.J. College Cuts 34 Jobs Amid Struggle to Stay Afloat
Faced with a steep drop in student enrollment, Essex County College will eliminate 34 positions by next year as it remains under close watch—and probation—by its accrediting agency.
NJ.com Read more
Former Secaucus Councilwoman Susan Pirro, 62, Loses Breast Cancer Fight
Former Councilwoman Susan Pirro died Sunday following her battle with breast cancer, a fight that saw her step away from public service at the end of last year. She was 62.
NJ.com Read more
Editorial: A Stuck Bridge and a Stalled Infrastructure Project
Last Friday, the 108-year-old Portal Bridge across the Hackensack River became temporarily stuck open, throwing another level of chaos into the morning commute. The fact that Amtrak had to wrestle to close the swing bridge before commuters could safely cross over was an aggravating reminder of the great need to upgrade transportation infrastructure between New York and New Jersey—and reveals a pressing urgency for the federal government and the two states to come up with an agreeable plan for how to do so.
The Record Read more