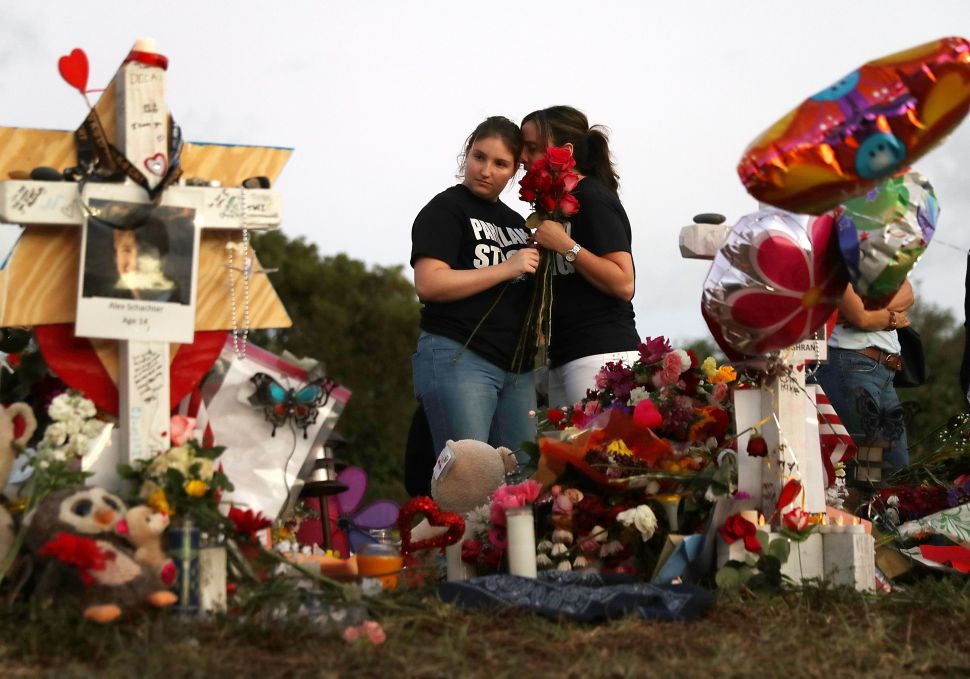 Students and school districts throughout the state are preparing for a planned walkout at 10 this morning to mark the one-month anniversary of the Florida school shooting that claimed the lives of 17 students.
The 17-minute memorial is supposed to take place at 10 a.m. and is intended to pressure elected officials to take tougher stances on gun policies. Some schools are supporting the walkout idea, but others have not expressed any stance on the planned protest. The Sayreville school district made headlines when it threatened to suspend students who participate.
The walkout is a national event being coordinated by the group Empower, a youth division of the Women's March.
The Asbury Park Press reports that the New Jersey School Boards Association, expecting a large number of students to participate in the event, has issued advice for how to handle the walkouts.
Some schools, including districts in Barnegat, Lakewood and Wall, are arranging for indoor events because of safety concerns about the students going outside. Other schools are scheduling the protests for areas away from public access.
Those fears could be warranted, the paper said, noting that several school districts have been the target of threats since the shootings in Parkland, Florida. A Lakewood man was arrested last week after threatening to open fire at a march calling for stricter gun laws.
Quote of the Day: "This is déjà vu all over again." — Assembly Republican Leader Jon Bramnick on Democrat Phil Muphy's budget plan, which proposes hiking taxes and spending.
New Jersey Gov. Phil Murphy Plans to Raise $1.5 Billion in Tax Revenue
New Jersey Gov. Phil Murphy unveiled a $37.4 billion budget on Tuesday that would raise $1.5 billion in new tax revenue by hiking taxes on the wealthy, legalizing recreational marijuana and restoring a recent cut to the sales tax.
Christian Hetrick, Observer Read more
N.J. Tax Increase? Phil Murphy Wants Bigger Sales Tax, Income Taxes to Fund Schools, Transit
Gov. Phil Murphy unveiled the price tag for his ambitious first-year agenda of pumping money into schools, college tuition aid and mass transit: more than $1.5 billion in new taxes that will hit the paychecks of the wealthy and retail purchases of everyone in the state.
The Record Read more
Higher Minimum Wage, Higher Uber Fees, Higher Taxes: How Murphy's Budget Hits N.J.
A higher minimum wage, higher Uber fares and higher taxes on millionaires: These are just some of the changes Democratic Gov. Phil Murphy is calling for in his $37.4 billion spending plan, which is 8 percent larger than the current budget.
The Record Read more
Tax Your Uber Ride? A Look at New and Increased Taxes Phil Murphy Just Proposed
Gov. Phil Murphy unveiled an ambitious progressive agenda Tuesday when he pulled back the curtain on his $37.4 billion state budget proposal.
NJ.com Read more
10 Things You Absolutely Need to Know About Murphy Budget's Tax Increases and Spending
Gov. Phil Murphy isn't wasting time, that much is clear. The state budget delivered this afternoon hits on many of his progressive campaign promises, with a few surprises.
NJ.com Read more
Business Community Has Concerns About Murphy Budget
While some attendees walked away tight-lipped from the governor's first budget address, others were optimistic that Gov. Phil Murphy has taken a step in the right direction for the state.
ROI-NJ Read more
Gov. Murphy Wants to Tax N.J. Millionaires: What Would That Mean?
In his first budget address Tuesday, New Jersey Gov. Phil Murphy proposed a tax on millionaires—one of many proposals aimed at funding investments in pensions, schools, and transit.
Inquirer Read more
Budget Battle Looms as Murphy, Sweeney Debate Who Should Pay Higher Taxes
Senate President Steve Sweeney has spent months chipping away at Gov. Phil Murphy's plans to create a millionaire's tax, saying he views the proposal to raise more than $600 million off the backs of New Jersey's wealthiest residents as a "last resort."
Politico Read more
Murphy Proposes $242M More for NJ Transit… Will It Avoid a Fare Hike?
Gov. Phil Murphy's proposed $37.4 billion state budget plows $242 million more into NJ Transit, but advocates said it was unclear if it would avoid a possible fare increase.
NJ.com Read more
Full Text: Gov. Phil Murphy Unveils 2019 Proposed State Budget
Phil Murphy unveiled his first proposed state budget as governor. Read the full text.
The Record Read more
Senate Advances Bills to Boost Cash Payments to Poor Families
New Jersey's poorest families could receive additional cash assistance under proposals intended to update the state's welfare program, a system critics contend is dangerously out of date and fails to reach nine out of 10 children in need.
NJSpotlight Read more
Mulshine: Democratic Governor Phil Murphy's First Budget: Pie, Meet Sky
You might say that the state budget Phil Murphy introduced Tuesday shows he's off to a promising start.
NJ.com Read more
Moran: Cut Spending, Raise Taxes, Face the Math
Gov. Phil Murphy will present his budget today, setting off a three-month scramble that will tell us a great deal about where New Jersey is headed in the post-Christie era.
NJ.com Read more
Editorial: More Spending, Higher Taxes Back in Trenton
A Democrat is back in the Governor's Office in Trenton. So, too, are more government spending and higher taxes.
Asbury Park Press Read more
Commuters Should Not Celebrate Yet, Murphy's Budget Gives NJ Transit Less Than Advertised
In his budget address Tuesday, Gov. Phil Murphy said the state's beleaguered mass transit system was getting a $242 million increase, to applause from state lawmakers and cabinet officials.
The Record Read more
N.J. Employment Off to Good Start in '18, State Says
New Jersey's jobs market grew in January, following positive results for 2017, according to the state Department of Labor and Workforce Development.
ROI-NJ Read more
Can New Jersey Make Net Neutrality Law Here?
An Assembly panel on Monday moved a package of legislation designed to ensure New Jerseyans continue to get all internet content without discrimination or extra charges.
NJSpotlight Read more
JCP&L Could Be Fined Only $100 a Day for Storm Response That Left Thousands in the Dark
Gov. Phil Murphy's administration launched an investigation Monday into Jersey Central Power & Light's much-criticized response to recent snowstorms that left thousands in the dark for almost a week.
The Record Read more
Paterson Schools Chief: 120 Jobs Hinge on Controversial $10M Loan
About 120 school district employees would lose their jobs if the Board of Education doesn't approve a controversial $10 million loan designed to help balance the budget, according to Superintendent Eileen Shafer.
Paterson Press Read more
Racial Justice Drives Fight for, and Against, Legal Pot in New Jersey
During his campaign for governor of New Jersey, Philip D. Murphy, a Democrat, pledged to legalize the recreational use of marijuana, telling Democrats at a party conference last year in Atlantic City that creating a new tax revenue was not what was motivating him.
New York Times Read more
Phil Murphy Wants Legal Weed Law in N.J. by End of Year
Gov. Phil Murphy wants state lawmakers to pass legislation legalizing and taxing recreational marijuana in New Jersey by the end of the year—despite a lack of widespread support from lawmakers in his own party.
NJ.com Read more
N.J. Marijuana Legalization: Home Grow, 400 Legal Weed Dispensaries OK in New Bill
New Jersey could become home to hundreds of legal marijuana dispensaries and users would be allowed to grow legal weed at home, under new marijuana-legalization legislation introduced Tuesday.
Asbury Park Press Read more
N.J. Police Chiefs Oppose Legal Marijuana, No Good Test For It, Danger to Drivers
Law enforcement officials in New Jersey have announced their opposition to legalization of marijuana, saying there's currently no way for them to accurately monitor or arrest those driving under the influence of the drug.
NJSpotlight Read more
Menendez Has 17-Point Lead Over Republican Hugin, Poll Finds
Fresh from a 2 1/2-month federal corruption trial that ended in a hung jury, Sen. Bob Menendez appears to be in a strong position for reelection, according to a poll released Tuesday.
Politico Read more
Walkouts Wednesday at Schools Throughout N.J.
Students at several schools throughout New Jersey schools are participating in Wednesday's National School Walkouts—prompting vastly different responses from their districts.
NJ101.5 Read more
Student Walkouts: What We Know About Gun Violence Protests
Students across the state and the country will be walking out of class tomorrow to honor the one month anniversary of the Parkland, Florida high school shooting that left 17 people dead.
Asbury Park Press Read more
Students Organizing #Enough School Walkouts Throughout South Jersey
Thousands of South Jersey students will leave their classrooms at 10 a.m. Wednesday to participate in memorial and protest events as part of a national movement started after the Parkland, Florida, school shooting.
Press of Atlantic City Read more
Safety Concerns Keep Many School Walkouts Indoors
Many students across New Jersey will be walking out of their classrooms Wednesday, the one-month anniversary of the Florida school massacre, to show support for victims and their families and to urge lawmakers to take action on gun control.
Asbury Park Press Read more
Panic Buttons, Emergency Lights Could Come to All N.J. Schools
New Jersey schools could be made to install panic buttons and emergency lights that would be used during attacks and emergencies, under a bill being considered by the state Assembly.
NJ101.5 Read more
N.J. Has Too Many Damn Towns: Here Are 25 That Need to Go
It's almost spring cleaning season, fellow New Jerseyans, and it's time we broached a familiar and heretofore unresolved issue in this crazy state: there are just waaaay too many towns here.
NJ.com Read more
Deputy N.J. Attorney General to Take Top Jersey City Post
A New Jersey deputy attorney general who helped prosecute disgraced former Paterson Mayor Joey Torres is joining the Fulop administration as Jersey City's corporation counsel.
NJ.com Read more