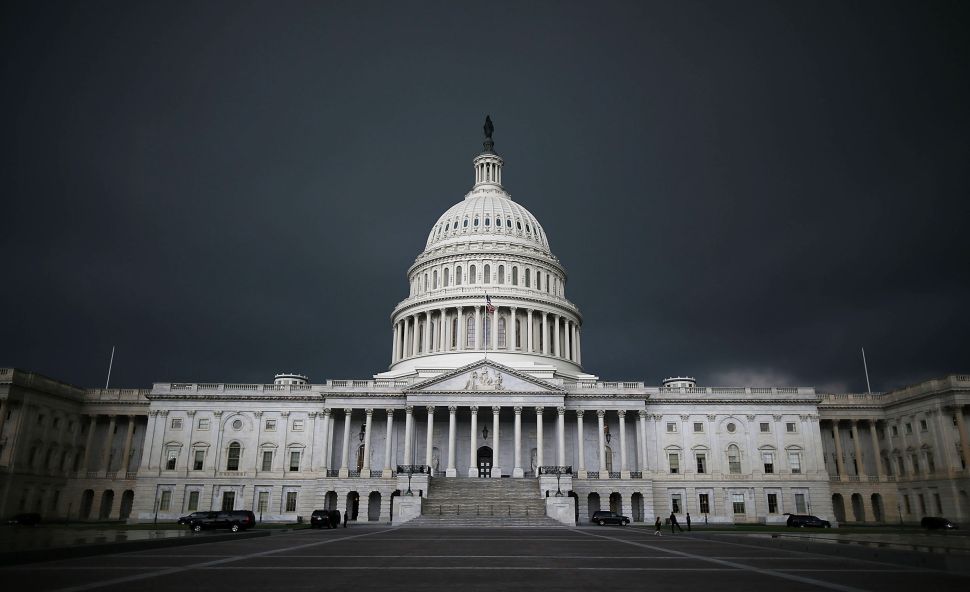 State lawmakers in Washington spent $660,000 in taxpayer funds to promote themselves and what they are doing in Congress, according to a report on spending by members of the House of Representatives.
And while the practice, known as franking, is legal, advocacy groups say it's just another perk that congressmen give themselves to gain an advantage over challengers, according to NJ.com.
The money goes toward sending out mailers, newletters and other media informing voters of how the congressional representatives stand on issues or how they are serving constituents. Critics say the messages resemble campaign mailings – only they are paid for by the public. Rules prohibit the mailings from being sent out close to an election.
Data made available from the Clerk of the House shows Republican Chris Smith, who represents the fourth district, spent $158,665 in 2017 – the highest amount by a New Jersey representative. Republican Tom MacArthur was second, spending $154,845, and Democrat Donald Norcross was third, spending $114,789.
While Smith's representatives did not comment, a MacArthur spokesman told NJ.com the congressman would rather use money in his annual budget to communicate with constituents than on other things.
Democrat Donald Payne Jr., in the 10th district, and Republican Frank LoBiondo, who is retiring this year from his post representing the 2nd district, spent no money on franking.
Quote of the Day: "The incumbent is actually using taxpayer dollars to have an advantage over anyone who wishes to challenge him or her." — Craig Holman, a lobbyist with Public Citizen, consumer rights advocacy group .
Your lawmakers used $660K of your money to tell you about themselves. Who spent the most?
Your lawmakers in Washington last year spent spent more than $666,000 in taxpayer money on mailings, robocalls and other communications to show you what they're doing, according to a new report tracking members of the U.S. House.
NJ.com Read more
At Least Eight White Supremacist Groups Operating in NJ
If you live in New Jersey and you hear the Ku Klux Klan mentioned, you might think of the South in the 1960s.
Think again.
NJ101.5 Read more
Want to Succeed Financially? New Jersey Not A Great Place to Try
Prosperity — many New Jerseyans are from it.
And a new analysis paints a clearer picture of the everyday struggles experienced by countless Garden State resident
NJ101.5 Read more
Bergman: More bad news for NJ taxpayers
I have long suspected that New Jersey lawmakers, particularly the Democrats, think their constituents are fools. How else to explain that even though onerous property taxes rank as residents' top concern in poll after poll, legislators consistently act to make things worse.
Asbury Park Press Read more
Murphy defends budget at NJPP conference
Gov. Phil Murphy defended his recent New Jersey budget proposals including a "millionaires tax" and raising the state sales tax in remarks at the New Jersey Policy Perspective conference Friday.
NJBiz Read more
Legislature Could Take Power Over One Tax Out of Murphy's Hands
A couple of years ago, as he was looking for ways to balance the state budget, then-Gov. Chris Christie almost scrapped a decades-old reciprocal tax agreement between New Jersey and Pennsylvania.
NJ101.5 Read more
NJ Files in Federal Court to Stop PennEast From Condemning Protected Land
Attorney General Gurbir Grewal has filed a motion to block PennEast Pipeline Co. from condemning over 20 properties acquired under open-space and farmland preservation programs.
NJSpotlight Read more
Big N.J. gun control bills set for votes on Monday, and Phil Murphy vows to sign them
State lawmakers are set to vote Monday on a package of bills to make New Jersey's gun laws even tougher — and Gov. Phil Murphy has vowed to sign them all if they reach his desk.
NJ.com Read more
Murphy says push for gun control 'isn't over,' but watch out for NRA
A day after taking part in the March for Our Lives, Gov. Phil Murphy said Sunday morning that he "walked away with optimism" but warned that "we can't underestimate" the National Rifle Association.
NJ.com Read more
March for Our Lives: Thousands march in North Jersey calling for an end to gun violence
Some were students not quite old enough to vote – but with a pointed message for politicians that they would soon make their voices heard at the ballot box. Others were parents who feared for their children's safety, teachers tired of preparing for the next school shooting and grandparents protesting for the first time.
The Record Read more
March for Our Lives: E Street, Bon Jovi, Puth, Halsey, Clinch and more Jersey marchers
Millions across the country participated in the student-led March for Our Lives gun control rallies on Saturday, March 24.
Asbury Park Press Read more
Here's where 19 N.J. towns currently stand on legal weed
Marijuana legalization has been one of the hottest issues in New Jersey since Phil Murphy took over in Trenton this year. At first he said he'd get it done in 100 days. Last week he walked that back, saying he wanted legalization by the end of the year.
NJ.com Read more
Lakewood gets $122M in federal aid; is it fair?
Carol Walker said her incessant office visits and phone calls eventually got her off an interminable waiting list and into a Section 8 government-funded housing voucher program in 2015.
Asbury Park Press Read more
Lakewood schools eye $28M loan to balance budget
The Board of Education has approved an initial budget that includes requesting a $28 million loan from the state.
Asbury Park Press Read more
Vandals target Lakewood Holocaust memorial for second time in less than a year
A Route 9 synagogue was vandalized this weekend — the second time in less than a year — with a black 666 spray painted on a stone Holocaust memorial.
Asbury Park Press Read more
Outrage after 4th jail suicide in less than one year
Less than 48 hours after telling police he wanted to jump off a bridge during a West New York arrest, a 26-year-old man was found hanging in his jail cell on Sunday morning.
NJ.com Read more
Where Cory Booker ranks among 2020 Democratic presidential hopefuls
U.S. Sen. Cory Booker "may have the highest upside" and moved up to fifth on the Washington Post's list of the most likely 2020 Democratic presidential candidates.
NJ.com Read more
Moran: Leonard Lance, facing anti-Trump wave, is in grave danger
Rep. Leonard Lance wants us to know that Donald Trump and he have nothing in common and might even be bred from different species of animals.
NJ.com Read more
Hudson political war message: I never liked you
The past week was all about the principals in the declared Hudson County Democratic Party civil war taking verbal potshots at each other expressing mutual dislike. Get it all out now because it could all end in a few months.
NJ.com Read more
Englewood Democrats endorse Frank Huttle ally Philip Meisner for mayor
The city Democrats moved swiftly to endorse a candidate for mayor after Mayor Frank Huttle III announced he will not seek a fourth term.
The Record Read more
Why did Bayonne, insurer fight release of $1.5M legal settlement?
After the yearlong battle by The Jersey Journal to obtain the $1.5 million-plus legal settlement between the city of Bayonne and a family pepper-sprayed by police, one question persists.
NJ.com Read more
MLK's speech in Paterson was one of his last. Hear from those who witnessed it
Thousands of people were jamming the sidewalks on a late March evening 50 years ago when the motorcade that brought Dr. Martin Luther King Jr. to Paterson finally turned the corner onto Auburn Street and made its way to the old wooden church where the sound of gospel music swirled through the rafters like incense.
The Record Read more
Editorial: Corrupt judge doesn't deserve PTI
After former municipal judge Richard B. Thompson pleaded guilty last month to falsifying records in a ticket-fixing scheme that generated more than $500,000 for nine Monmouth County towns that hired him, we urged state lawmakers to make reforms to the criminal justice system that would remove incentives for such corruption to occur.
Asbury Park Press Read more
Editorial: Putting an end to the unused sick pay scam
Great news: Your local police chief and school superintendent haven't been sick in 20 years. That's something that should make you knock wood and toast their good health, maybe even join in the chorus of attaboys at their retirement ceremonies. Instead, it's costing you obscene gobs of money.
NJ.com Read more