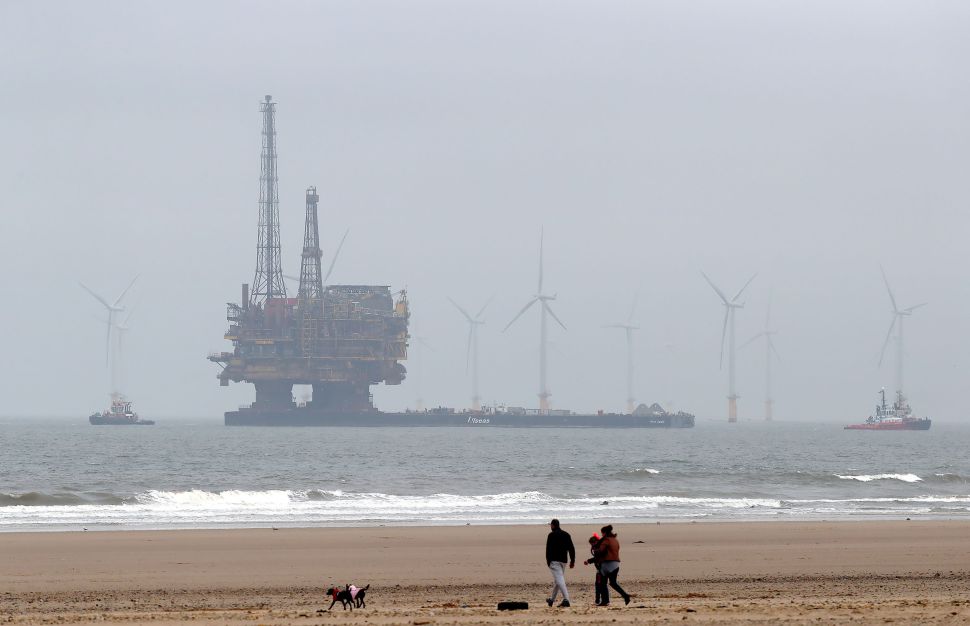 There were no promises, but two Republican congressmen say they came away from a meeting with Interior Secretary Ryan Zinke believing the state "may have dodged a bullet" in President Donald Trump's effort to open more offshore waters to oil exploration.
Reps. Chris Smith and Tom MacArthur met with Zinke and said the cabinet official " indicated … that drilling exploration off New Jersey may not be a priority for the administration, and that those waters could be formally removed from consideration, pending a formal process," according to a report in The Asbury Park Press.
Smith, who made the "bullet" comment, MacArthur and fellow New Jersey Republicans Leonard Lance and Frank LoBiondo met with Zinke to make the case that drilling off the state could endanger both the environment and New Jersey's bustling tourism economy.
Administration officials have already said Florida will be exempt from the 2019-2024 National Outer Continental Shelf Oil and Gas Leasing Program, and the New Jersey GOP representatives were hoping to win the same treatment for their state.
"We made it clear we want to be off the drilling list, and we came away with a clear sense he understands our position," MacArthur said in the report. "I'd be surprised at this point if we weren't excluded."
Quote of the Day: "It's no secret that New Jersey has some of the strongest gun safety laws in the country… but that does not mean we can't do a better job to protect our citizens." — Assembly Majority Leader Lou Greenwald, on gun control measures being considered by the legislature.
New Jersey Lawmakers Advance 6 Gun Control Bills
New Jersey lawmakers advanced a handful of bills on Wednesday to further tighten the state's gun laws in the wake of a Florida school shooting that killed 17 people.
Christian Hetrick, Observer Read more
Health Insurer Horizon to Invest $275M Due to New Tax Law
New Jersey's largest health insurer says it will invest $275 million in new initiatives and customer relief as a result of the new federal tax law.
Christian Hetrick, Observer Read more
N.J. Might Get Bumped Off Trump Offshore Drilling Plans
The waters off New Jersey might be removed from Trump administration plans to pursue oil and gas drilling in places where it's been banned for decades, two Republican congressmen from Jersey Shore districts said after a meeting with Interior Secretary Ryan Zinke.
Asbury Park Press Read more
Murphy 'Conceptually' Backs Gun-Control Bills Cleared by Assembly Panel
Gov. Phil Murphy said late Wednesday that he supports—at least in concept—a sweeping package of gun-control bills an Assembly committee advanced earlier in the day, though he stopped short of committing to signing them into law.
Politico Read more
'Harsh and Inhumane' Conditions Seen at 3 Immigrant Detention Centers in N.J., Report States
Immigrant detainees held at three facilities in New Jersey are subject to "harsh and inhumane conditions," and have been served raw and spoiled food (some containing worms or maggots), dirty drinking water, and damaged and insufficient clothing and hygiene products, according to a human rights organization report released this week.
The Record Read more
N.J. Marijuana Legalization: Wall Expected to Ban Weed Farms, Dispensaries
Another Jersey Shore town is expected to preemptively ban marijuana sales as state legislators continue to debate whether New Jersey will legalize marijuana.
Asbury Park Press Read more
N.J. Teens Protest Against Gun Violence: Teachable Moment or Disciplinary Problem
Teenagers across the country are organizing student protests to express their fear and anger about school security and national gun laws, while New Jersey's parents, teachers and school administrators are unsure how best to respond. Many want to channel students' passion in some way to create teachable moments and allow them to exercise their First Amendment rights. Other districts are concerned about permitting students to miss school, regardless of the reason.
NJSpotlight Read more
Gun Control Debate Touches South Jersey Congressional Race
Emily McGrath, an 18-year-old senior at Egg Harbor Township High School, followed in the footsteps of other outspoken high school students throughout the country when she confronted Sen. Jeff Van Drew, D-Atlantic, Cape May, Cumberland, last week about his National Rifle Association score and previous campaign contributions.
Press of Atlantic City Read more
N.J. School Student Shooting Video Game Character Gets Him Arrested
Prosecutors say an 18-year-old high school student created a virtual video-game school where his avatar could walk around shooting people.
NJ101.5 Read more
Cherry Hill Teens, Parents: Nothing Would Stop a Shooter Here
At least 200 students and parents attended Tuesday night's Cherry Hill Board of Education meeting, with many voicing concerns about school security and what they perceive to be a lack of response by education officials to make sure students are kept safe.
NJ101.5 Read more
There's Good News About Flu in Pennsylvania and New Jersey
We may finally have some good news about flu. The latest state reports, posted on Wednesday, show a downward trend in flu cases in both Pennsylvania and New Jersey.
Inquirer Read more
Heroin: New Jersey Rejected Project Reconnect's Needle Exchange Application in Paterson N.J.
Project Reconnect, a nonprofit that runs a program for former inmates transitioning to life outside of prison, will not be permitted to run a needle exchange and distribution program in the city, which prompted criticism from some City Council members.
The Record Read more
N.J. Limited Public Access to Brigantine's North End; Now the City is Pushing Back
A protected Brigantine beach owned by the State of New Jersey has started to resemble a parking lot in the summer, lined with four-wheel vehicles that threaten endangered birds that live there, state officials say.
Inquirer Read more
Atlantic City Electric Bets on Charging Stations
Atlantic City Electric is the first utility in the state to file a petition to broaden the scope of public and private plug-in vehicle-charging stations in its territory, a crucial first step that advocates consider key to achieving a cleaner transportation sector.
NJSpotlight Read more
This N.J. Resident Will Play Key Role in Trying to Re-elect Donald Trump
New Jersey resident Michael Glassner has been named chief operating officer of President Donald Trump's effort to win re-election.
NJ.com Read more
Perillo Tours: Giant 'Dump Trump' Sign Is Gone and We Support the President
The son of Mr. Italy might have had a change of heart on the son of Fred Trump.
NJ.com Read more
Should There Be a Subway to N.J.? Officials to Look at the Possibility
A subway line to New Jersey? That possibility is back in the news again as the Port Authority said it plans to hire a consultant to study building a new rapid transit line across the Hudson River to handle a crush of commuters predicted to travel to and from Manhattan in the coming decades.
NJ.com Read more
DiIonno: Mayors Fight Fencing-in of Delaware Water Gap
There aren't many interstate vistas east of the Mississippi as dramatic as the Route 80 S-turns through the Delaware Water Gap.
NJ.com Read more
Lodi Police Chief Vincent Quatrone Retires With $283k Payout
After 28 years on the force, Police Chief Vincent Quatrone retired Wednesday with a retirement and severance package totaling nearly $283,000.
The Record Read more
Clifton Police Union Rejects Contract Offer, Heading to Arbitration, PBA Says
With Clifton Policemen Benevolent Assocation's 104-0 rejection of the city's latest contract offer Tuesday, the matter goes to arbitration, something PBA officials hoped to avoid.
The Record Read more
Police Officer Faces Penalty for Using Department Letterhead
A New Jersey city police officer could lose more than two weeks' pay for writing a letter of complaint to the county prosecutor's office on department letterhead.
Associated Press Read more
City Hasn't Cleaned Some Streets Since January, and Residents Are Furious Over the Filth
Newark residents want to know: When will their streets be cleaned? Down some roads, the dirt, dampened by rain, has muddied into a thick paste of leaves and broken bottles. There are crushed coffee cups, plastic bags and discarded feminine hygiene products. On other blocks, there's a trail of dirt about a foot from the curb, even after street sweepers have gone by, according to photos and videos showed to NJ Advance Media in the last week.
NJ.com Read more
N.J. District Is segregating Black Students, Suit Says
Inside the suburban South Orange Maplewood School District, parents for years have accused the district of systemically depriving African-American students of access to challenging classes.
NJ.com Read more
Editorial: Black Lawmakers Weigh in on Pot Legalization
The politics of marijuana during the last eight years have revolved around its medicinal uses and former Gov. Chris Christie's unwillingness to fully embrace a law that was enacted in 2010. That struggle often fell along traditional party lines, with medical marijuana champions, such as Sen. Nicholas Scutari, D-Union, at loggerheads with the Republican Christie administration over basic issues provided for under the law, such as opening dispensaries statewide in a timely manner.
The Record Read more
Editorial: Newton Mayor Who Smeared Parkland Survivor Says He's a Victim of the Media, 'Trolls'
If there's anyone who understands the value of truth in this era of internet lies, it is the mayor of Newton, New Jersey.
NJ.com Read more