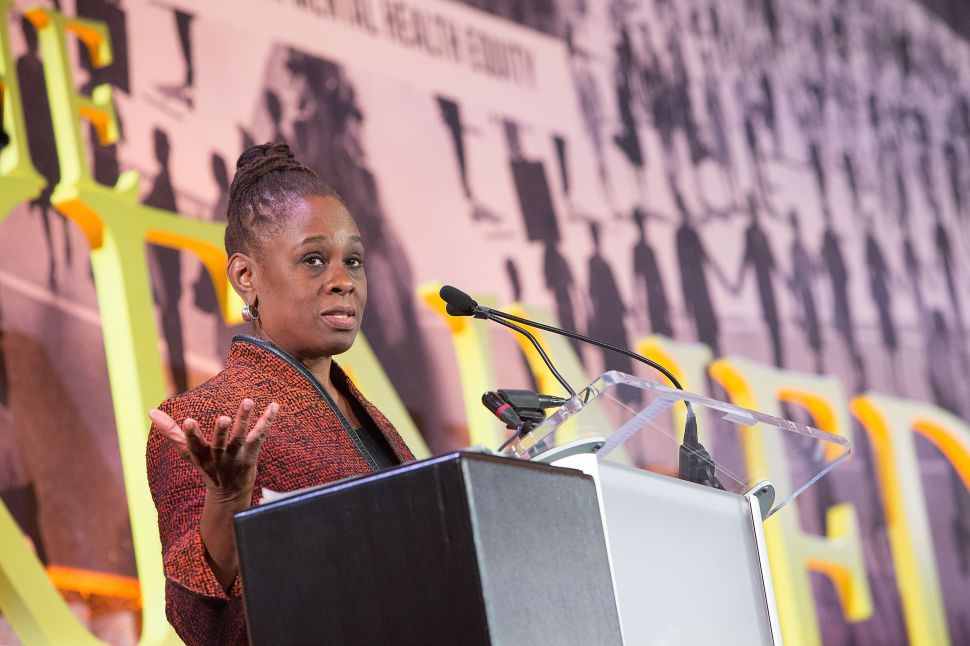 New York City's First Lady Chirlane McCray opened up about what has led her to consider higher office in 2021 and the challenges that come with her job during her first-ever gaggle with the media amid heightened scrutiny of her role in appointing top City Hall staffers.
On Monday night, McCray told NY1's Courtney Gross that 2021 is among timeframes she is considering for a possible political office run. In November 2017, she told Cosmopolitan magazine she isn't ruling out public office. And last month, she told Observer that running for office or leading a not-for-profit are both possibilities.
On Tuesday morning, after announcing that the Mayor's Fund to Advance New York City—of which she is chairwoman—and the Hispanic Federation would provide $200,000 to support mental health services in Puerto Rico post-Hurricane Maria and send a 12-person team to aid in recovery, McCray said she's undecided on a position.
When asked if part of her interest in running for office is about representation for black women given the decrease in the number of women on the City Council—as well as Public Advocate Letitia James possibly running for mayor—McCray said she wants to yield change.
"I would consider running for office because I think it is a way to actually be able to not just advocate for policies but to get policies implemented," she said.
And is it time for a black woman mayor?
"I think it'd be fabulous but not just any black woman because it makes a difference, it really does," McCray continued. "I would want somebody who is progressive and able to really do the job. It's not about ethnicity, it's not about gender, it's about someone who has the right values and is going to bring those values into the office and really make change in a way that is helpful to the whole city."
When Observer asked her what she is doing to encourage more black women to run for office, McCray said she always encourages women to take on leadership roles and sees herself as a "pretty good role model."
"I encourage all women now to run, especially since the election of 2016," McCray added.
Indeed, the 2016 presidential election in which President Donald Trump defeated Democratic presidential nominee Hillary Clinton has played a role in her decision.
"It certainly helped changed my mind about whether it was possible, whether it was doable and whether I should consider it," McCray admitted.
As to whether she and de Blasio have discussed the possibility of her running for office, she said de Blasio thinks everyone "who has something to offer" should run.
"That includes me," she said. "Yes, he is very encouraging, but we have not had a specific conversation about any particular office or anything imminent… just generally, yes, over the years. This is something that he's always talked about."
But she insisted she has not had any formal conversations with political consultants or outside advisers.
"I've had no formal conversations about my intent to run or what it would take and so on and so forth," McCray continued.
As to whether de Blasio will take on a prominent role in the same way that she has as first lady if she ends up becoming an elected official, she said the question is "way too hypothetical for me."
The mayor has called her his "closest confidante" and his "No. 1 advisor." The pair interviews all potential administration appointees together.
McCray told reporters that she has always been involved in decision-making processes with her husband since he ran for a school board, City Council and public advocate.
"I think that as my role has grown in this administration, it has become natural for me to be a little bit more visible, but I'm not really doing anything differently," she said. "I think that people are paying more attention to me now. And why? I don't know. But I really am not doing, I'm not playing a very different role than I played in the very beginning."
McCray heads the Mayor's Fund, a not-for-profit organization mayors use to raise money for charitable initiatives that City Hall backs—a voluntary, unpaid position to which the mayor appointed her in February 2014.
In an interview with Observer at Gracie Mansion, she noted her signature initiative, ThriveNYC—an $850 million, 54-program mental health initiative—was all her doing and described herself as a "great asset to the administration."
McCray said the job was initially challenging and that she was "very nervous" about public speaking but [it] has gotten easier with practice.
"I'm really a behind-the-scenes person," she said. "I like to work, I like strategy, I like planning, but I do like that I can draw attention to issues in a way that I never could by writing a speech or writing a paper or an article, that this actually gets attention to issues that I care about in a very different way and so I'm working hard to make it effective."
Her other initiatives are a $6 million plan to rehabilitate female inmates at the Rikers Island jail complex; Sisters Thrive, which encourages mental health literacy in the black community; and NYCHOPE, a web-pased portal for domestic violence survivors.
In November 2016, she unveiled the Cities Thrive Coalition, a 200-city bipartisan group of mayors crafting mental health reform. She also told Observer she is looking to evaluate candidates' understanding of mental health issues.
"I don't know what form it would take," McCray continued, referring to national work. "I never imagined that I would be standing here doing this right now, so who knows what is possible in the future."
Last month, a press release stated "Mayor de Blasio and First Lady Chirlane McCray appoint J. Phillip Thompson as Deputy Mayor for Strategic Policy Initiatives," sparking concerns about her role.
She also helped pick Miami-Dade Superintendent Alberto Carvalho as New York City schools chancellor and Houston Schools Superintendent Richard Carranza after Carvalho changed his mind.
De Blasio stoked controversy when he said that there are "good historical reasons" for anti-nepotism laws but that McCray should be paid. McCray disagreed.
"I asked him today when he called me, 'Why did you say that?' and I really didn't get a good answer," McCray recalled, garnering laughter from the audience. "I have no idea. We're close. Yes, I guess I'm one of his advisors, but sometimes, husbands say things and I have no explanation for why… I would like to get to the bottom of it."