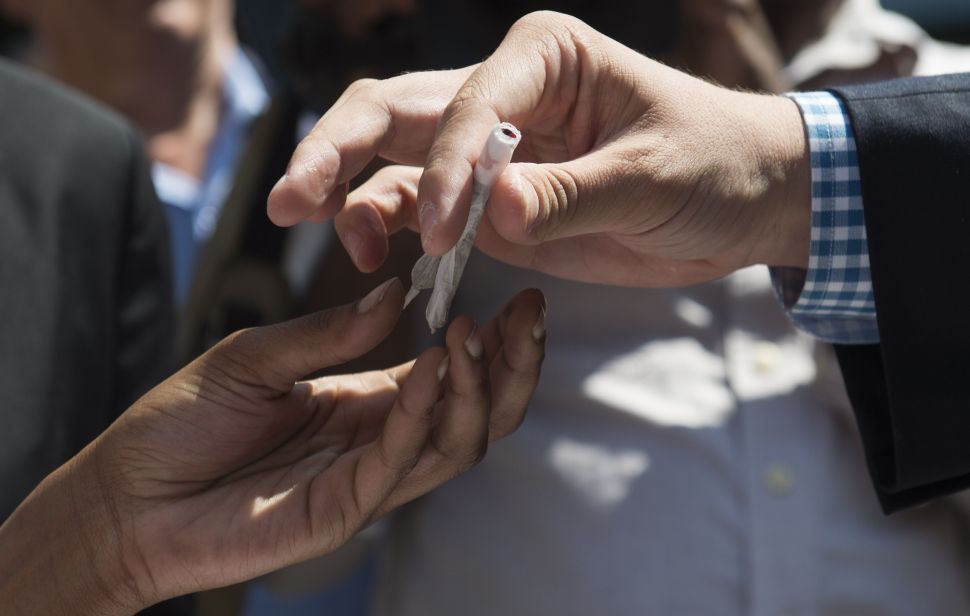 The NYPD will soon be required to provide more specific data on who is being targeted in its marijuana enforcement policies in an effort to combat racial disparities in enforcement that have hurt black and Latino New Yorkers.
But will that do the trick? Some elected officials and advocates are hopeful, others say it's not enough.
Under legislation sponsored by Brooklyn Councilman Stephen Levin, Police Commissioner James O'Neill would be required to submit a report on the number of marijuana possession enforcement actions within 25 days of the end of each quarter to the Council and post it to the NYPD's website five days after that time.
The report would have to indicate the exact number of arrests, as well as criminal summonses issued, and break it down by offense, race, gender, age, the borough, as well as the patrol precinct, housing police service area and transit district.
The NYPD would have to break down age into several categories—by year for people age 20 and under and by the following age groups for everyone else: 21 to 24 years old, 25 to 34 years old, 35 to 65 years old and over 65.
Mayor Bill de Blasio will be signing the legislation at a date to be determined, and the law would go into effect 60 days later. The Council unanimously passed the legislation last week.
Levin, who worked with the Drug Policy Alliance (DPA) and other criminal justice reform advocates, told Observer that he agrees that the bill is "not enough" but is a "step in the right direction."
"I think having better information, clearer information around who is getting arrested for marijuana possession or smoking and at what rate and in what communities and especially as it relates to communities of color, I think it's very important for us to be able to move towards ultimately recognizing officially or at least ultimately recognizing through our overall policy that marijuana arrests predominately hurt commutes of color, particularly young men," he said.
Ultimately, he said, the way to go is legalization and taxation of marijuana, also calling for people's arrests to be expunged from their records, pointing to the adverse impact arrests and prosecution have in areas such as education and employment.
"Whether it's Washington or California or Colorado, we should be looking at full legalization," Levin continued. "[New Jersey] Governor [Phil] Murphy is not afraid to talk about, that's across the river. I don't know why we're afraid to talk about it."
Gov. Andrew Cuomo recently announced his plans to study a regulated marijuana program in the state—a move that Mayor Bill de Blasio, who is against legalization, supports. There is also a bill currently being considered in Albany that would legalize, supervise and tax marijuana.
Neither the NYPD nor the mayor's office immediately responded to requests for comment.
The state decriminalized personal possession of marijuana in 1977.
In 2014, the city announced a new policy in which officers issue a summons instead of arresting people if they find them in possession of 25 grams or less of marijuana.
The only exception is if there is a warrant for the individual's arrest or the individual does not have identification. Officers can also make arrests if the marijuana is burning or if the type of possession demonstrates intent to sell.
But despite that new policy, in 2017, about 86 percent of people arrested for marijuana possession in the fifth degree—possession of less than two ounces in a public place—were people of color. Roughly 48 percent were black and 38 percent were Latino. White people constituted only nine percent.
At a recent City Council hearing, Queens Councilman Donovan Richards, chairman of the Council's Committee on Public Safety, pointed to the number of marijuana arrests under de Blasio and previous mayors during their first three years in office.
Under the late former Mayor Ed Koch, there were 6,000 arrests, while former Mayor David Dinkins' tenure saw 3,000 arrests. Under former Mayor Rudy Giuliani, it was 18,000 and under former Mayor Michael Bloomberg, it was 112,000. In de Blasio's first three years, there were 61,000 arrests.
"As we saw with Stop, Question and Frisk, mandating the NYPD to look themselves in the mirror by shining a light on the corners of their policing methods can lead to drastic shifts in strategies and conduct," Richards said in a statement. "The Public Safety Committee will continue to push for greater transparency and accountability within the police department and any efforts to improve police-community relations must include a more fair approach to marijuana enforcement."
Last year, de Blasio blasted the DPA, which has spearheaded a campaign to tackle racial disparities in marijuana enforcement, over a report it released outlining the 60,000 arrests, calling it misleading.
Chris Alexander, a policy coordinator for DPA's New York policy office, told Observer that while the organization has been able to get arrest data from the New York State Division of Criminal Justice Services, summons data is not available.
Over the last several years, Black and Latino individuals constitute 88 percent of arrests in New York City and 86 percent of arrests across the state, according to Alexander.
"This reporting bill really is more of an accountability measure than anything else to show that they're actually making a good faith effort to reduce the disparities in marijuana arrests in New York City," he said.
And he anticipates that once the summons data becomes available, they will find that the racial disparities persist there, too. The goal, he said is to lower racial disparities in arrests, not just decrease the number of arrests.
"It also allows us to tell the NYPD, 'This policy isn't enough, let's do something else,'" Alexander continued.
Josmar Trujillo, an organizer with the Coalition to End Broken Windows, told Observer there is no "evidence problem with racist policing practices."
"The fact that the NYPD continues to do this despite what de Blasio said, despite what prosecutors have promised I think just speaks to the NYPD not being able to or willing to let go of their bread and butter: marijuana possession, fare beating arrests, low-level broken windows policing arrests and summonses in general," Trujillo explained.
Indeed, he argued the Council should truncate the NYPD's head count and budget.
In 2015, the Council and the mayor reached a deal to add 1,300 new officers to the NYPD, the largest police force in the United States.
The NYPD's preliminary fiscal year 2019 budget is $5.579 billion, and the budgeted head count is 15,815 for civilian full-time positions and 35,941 for uniform full-time positions, according to the city's Office of Management and Budget.
"This Council… has never actually told NYPD, 'You're going to lose this' or 'This is gonna happen to your budget or to your ability to do things,'" Trujillo continued. "All they've ever done is play a foil to the NYPD. They're like the Washington generals to the NYPD's Harlem Globetrotters… they're never there to actually challenge the outcome. All they do is provide the illusion of accountability when there's never accountability."
Alexander said he understands the sentiment but believes "having the data is one thing that makes us very effective as advocates," noting the DPA has been pushing for marijuana legalization. Levin said it's the wrong approach and that the data will move public opinion, insisting he is "not saying the NYPD is racist" but that the criminal justice system "has longstanding racism built into it."
Andrea Ritchie, a New York-based police misconduct attorney, told Observer that without action, information "doesn't really get us anywhere."
Ritchie, who co-authored a report on the #SayHerName movement that centers on police violence against black women, also pointed to the impact of the marijuana enforcement policy on black women who experience "bodily humiliation and degradation."
"I think it would be helpful to know how often that kind of thing is leading to visual cavity searches and strip searches because then we can get a better sense of how often women's rights are being violated or New Yorkers' rights in general are being violated because I know this happens to men, but I know this happens particularly to women," she said.
She also noted consent searches are a main mechanism by which marijuana possession becomes criminal, with officers asking people to empty their purses, for example, without a legal basis. There is no data available on how black women are affected by marijuana arrests or on strip and cavity searches.
"Unfortunately, the marijuana arrest statistics aren't analyzed by both race and gender, so I think that's something that's important… we can't see what's happening with black women because we're subsumed into this large category of women and blacks," Ritchie continued.
A spokesman for Levin told Observer the law as written does not break up statistics in that way but that he expects the NYPD to report it as such.
And she agreed with Trujillo's sentiment, urging the city to focus its resources more on community needs such as after-school programs, mental health, drug treatment programs and housing.
"I think that's true and it's a question of New Yorkers making a decision about where they want to send resources," Ritchie said.