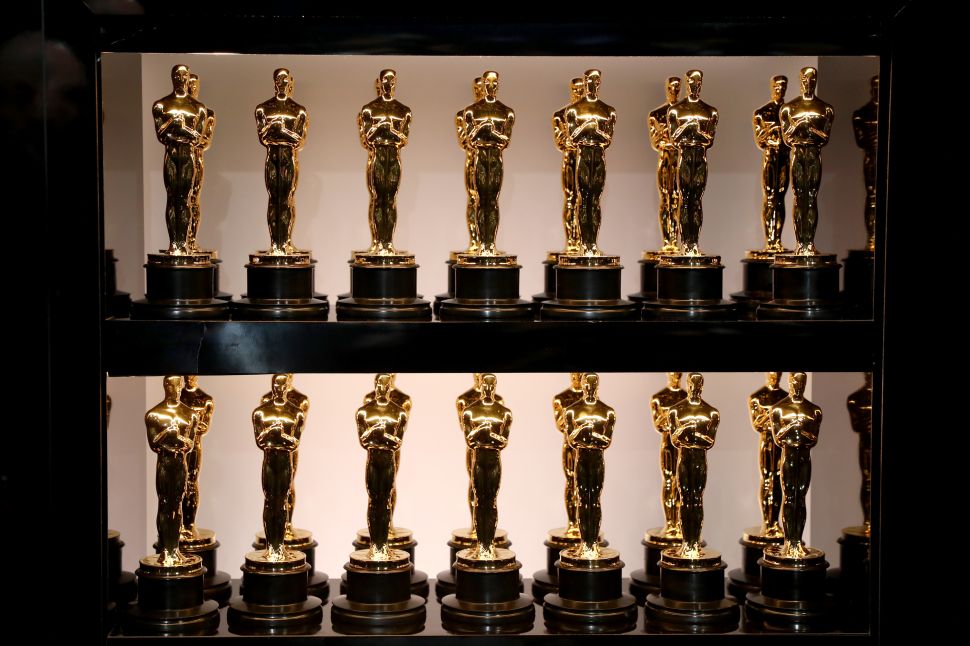 The 2018 Oscars are in the books, and, as usual, they didn't offer much of a surprise. But because the ceremony has largely become one of the most predictable annual awards shows, we thought we'd give predicting the 2019 Academy Awards a shot.
To say this endeavor is a crapshoot would be an insult to craps players.
There are so many variables at play when it comes to Oscars nominations that picking favorites even after you've seen all of the movies is like trying to guess what Christopher Nolan is going to do next.  You might as well try to figure out what was up with that fifth-dimensional bookshelf instead.
But we can at least try to make an educated guess based on Oscars history (the Academy loves returning nominees, not to mention historical true-life stories and movies about Hollywood), scheduling (the majority of Best Picture nominees are typically released in November and December) and industry chatter.
BEST PICTURE
This field can and likely will change dramatically over the next 12 months. After all, we're still awaiting a release date for Steven Spielberg's The Kidnapping of Edgardo Mortara. But you can see how each film makes sense as a Best Picture contender based on the current social and political climate and the Academy's voting history. You've got biopics, socially-conscious dramas and diverse representation; a perfect recipe for today's film fanatics.
First Man: Academy wunderkind Damien Chazelle (La La Land, Whiplash) returns with Ryan Gosling playing Neil Armstrong. 'Nuff said.
If Beale Street Could Talk: Barry Jenkins (Moonlight) follows up his Oscars shocker with an adaptation of James Baldwin's novel about a young couple dealing with a false rape accusation in 1970s New York City.
Mary, Queen of Scots: Stacked cast with Best Actress nominees Saoirse Ronan and Margot Robbie playing rival royals plotting for the throne of England.
Beautiful Boy: An addiction story told through a father-son relationship with Steve Carell and the internet's new obsession Timothee Chalamet.
A Star Is Born: The past three versions have all notched multiple Oscars nominations, and this one is anchored by Bradley Cooper and Lady Gaga. Who knows?
Backseat: Adam McKay (The Big Short) tackles the political life of former Vice President Dick Cheney with Christian Bale.
The Women of Marwen: Based on the award-winning documentary Marwencol, director Robert Zemeckis tells the story of a man who awakens from a coma with no memory of his previous life and creates his own world with dolls as a coping mechanism.
Boy Erased: A young gay Christian man is subjected to conversion therapy. Directed by Joel Edgerton, it stars Oscar nominee Lucas Hedges and Oscar winners Nicole Kidman and Russell Crowe.
My Life on the Road: A Julianne Moore-led biopic about feminist leader Gloria Steinem, directed by Julie Taymor (Frida).
Winner: First Man
BEST DIRECTOR
The Academy has placed a greater emphasis on gender and racial diversity in recent years, but we don't yet know how that will manifest itself in behind-the-scenes nominations. Taymor seems poised for a second nomination, while veteran Mimi Leder could surprise some folks with her anticipated Ruth Bader Ginsburg biopic. But can they overcome presumptive favorite Chazelle, whose First Man was practically bred for the Oscars race?
Adam McKay (Backseat)
Barry Jenkins (If Beale Street Could Talk)
Julie Taymor (My Life on the Road)
Damien Chazelle (First Man)
Mimi Leder (On the Basis of Sex)
Winner: Damien Chazelle
BEST ACTRESS
Jones and Moore may be the frontrunners at this early stage, but don't sleep on this category, which could be the most competitive come Oscars night next year. Ronan is a three-time nominee and still just 23-years-old, Henson's The Best of Enemies is a racial story ripe for the times, and the buzz surrounding The Wife, which debuted at the 2017 Toronto Film Festival, is that Close gives a career-best performance. This race is going to be exciting.
Saoirse Ronan (Mary, Queen of Scots)
Felicity Jones (On the Basis of Sex)
Julianne Moore (My Life on the Road)
Taraji P. Henson (The Best of Enemies)
Glenn Close (The Wife)
Winner: Felicity Jones
BEST ACTOR
Steve Carell has two roles that could land him a Best Actor statue and, as Donald Rumsfeld in Backseat, one that could land him a Best Supporting nod as well. Christian Bale is always a contender, and many felt he should have been nominated this year for Hostiles. Redford is the biggest curveball as he hasn't been nominated for acting since 1995's Quiz Show, but Old Man and the Gun is shaping up to be one of those more elevated dramedies. Firth is familiar and well-liked among acting circles.
But the frontrunner here is Gosling. He's playing Neil Armstrong; it doesn't get as teed up for the gold as that.
Ryan Gosling (First Man)
Steve Carell (The Women of Marwen or Beautiful Boy)
Christian Bale (Backseat)
Colin Firth (The Mercy)
Robert Redford (Old Man and the Gun)
Winner: Ryan Gosling
BEST SUPPORTING ACTRESS
Gaga is a long shot, but you never know; a sterling rendition of a Best Original Song nominee could whip up some support. Foy jumps from her beloved role on Netflix's The Crown to one of the Oscars frontrunners, which positions her well. The Academy also has a fascination with younger actresses for some reason, which puts Robbie (immensely talented and deserving) right in the thick of the race following I, Tonya.
But Kidman (four nominations) and Blanchett (seven) look like they could be the frontrunners as the mother of a gay Christian man in Boy Erased and a notorious recluse in Where'd You Go, Bernadette, respectively.
Margot Robbie (Mary, Queen of Scots)
Nicole Kidman (Boy Erased)
Claire Foy (First Man)
Cate Blanchett (Where'd You Go, Bernadette)
Lady Gaga (A Star Is Born)
Winner: Cate Blanchett
BEST SUPPORTING ACTOR 
We have to believe that the Academy is just itching to throw something at the talented Sterling K. Brown. Elsewhere, you've got a laundry list of impressive character actors taking on period dramas and real-life roles. This category could be another toss up next year.
Guy Pearce (Mary, Queen of Scots)
J.K. Simmons (The Front Runner)
Sam Rockwell (Backseat)
Sterling K. Brown (Hotel Artemis)
Corey Stoll (First Man)
Winner: J.K. Simmons