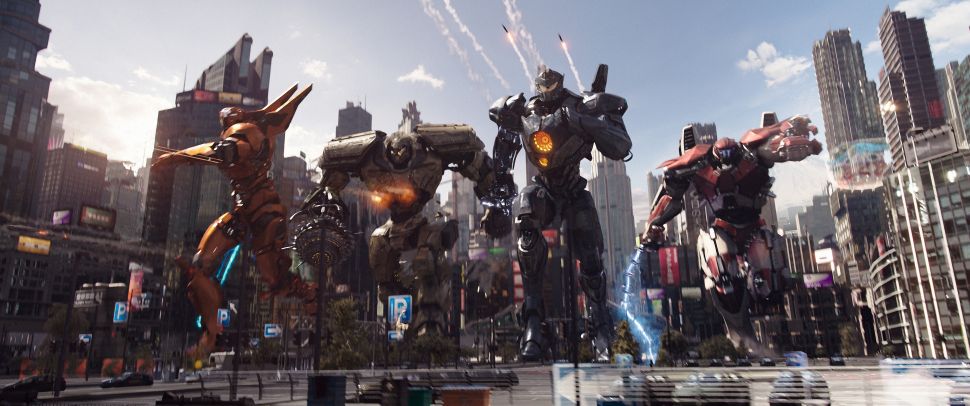 Pacific Rim: Uprising opens this weekend, which wouldn't normally warrant much of our attention, but has become a point of interest within the industry.
Why? Because more important than the movie's North American rollout is how the sequel will perform in China, where it has been engineered for worldwide appeal.
The casual movie-goer may not have noticed, but over the last decade, Hollywood has looked more and more toward China to bail it out of box office bombs and tired tentpoles. This shift has put China firmly on pace to overtake the U.S. as the world's most important box office territory within the next few years, which will change what kind of films we're consuming worldwide.
But don't fret as this international cinematic conflict unfolds. We promise moviegoers are the biggest winners of these blockbuster battles—even as Hollywood bemoans its looming first-ever second-place finish.
"Movies, especially epic special effects-laden films, have historically and still do very well in China," Paul Dergarabedian, senior media analyst at comScore, told Observer. "The movie-going experience there has changed drastically over recent years as more state-of-the-art equipment and theaters are built. Now, audiences want to see cinematic, effects-driven movies. It's a new phenomenon there."
To really understand the Chinese audience's infatuation with CGI-heavy adventures, you need only know that Avatar grossed a healthy $25 million from IMAX showings in China…
…On just 13 screens in the entire country.
Western movies have only been allowed back in China since the late 1990s. Since then, the film industry has seen steady growth in the region. In 2008, there were around 4,100 cinema screens in the country. Today, there are more than 25,000.
Six years ago, the Chinese government, notoriously stringent when it comes to importing foreign entertainment, expanded the amount of foreign films allowed in the country. It also upped the amount of box office receipts (25 percent) that foreign studios could claim from their movies in China, making the market an even more desirable target for Hollywood.
Studios are now adjusting accordingly.
"Certainly China has been a powerhouse market for Hollywood movies for a few years now. Most of the big blockbusters are action titles. Hollywood's aging action properties tend to overperform, often grossing much more in China than in the U.S.," Gitesh Pandya, founder and editor of Box Office Guru, told Observer. "Most recently Tomb Raider—a reboot of a 2001 film franchise based on a 1990s video game—had an opening weekend that was 74 percent bigger in China than in North America. Warcraft also was miles ahead there compared to here."
"Despite keeping a much smaller share of the gross, and forced to abide by controls set by the government there, U.S. studios still see China as the key market in the international marketplace," Pandya added.
Combine all of that with plummeting DVD sales over the last 10 years, and it's easy to see why Hollywood is cozying up to the foreign market.
China saw a 20 percent box office surge in 2017, a bounce-back from a slow 3.5 percent increase in 2016. The U.S., meanwhile, struggled through a two percent drop last year compared to 2016.
We can celebrate Black Panther all we want, but the overall numbers reveal one ugly truth: we're plateauing.
So what? How does that impact you, the ticket buyer?
Moving forward, we'll start to see films that reflect a lot more diversity.
That process has already begun in movies both big (Rogue One: A Star Wars Story) and small (Get Out), but it will become more and more prevalent as overseas grosses generally continue to make up two-thirds of a big movie's overall haul.
If different audiences are given the opportunity to see themselves on screen, it will help them connect to the film in a way big blockbusters of 15 years ago simply didn't. Studios will begin cultivating more movies with universal themes that can play around the world. For now, let's skip over the fact that this socially conscious progress is being spurred by profits and just enjoy the evolving landscape.
You can expect more movies to be aimed squarely at the Chinese market with Chinese leads in the cast, or at least have elements that appeal to Middle Kingdom audiences. Michael Bay has stationed a big chunk of the recent Transformers movies in China, and the Fast and Furious franchise has globe trotted to different Asian regions as well.
"Action sells best and having actors and/or a setting from China can boost excitement," Pandya explained. "A true U.S.-China co-production can also get preferential treatment in that market. And it's important to not show China in a negative light if you want your film to be allowed in."
With China enlisting the assistance of Hollywood to help shape some of their films, such as Wolf Warrior 2 which grossed $867 million in the country and benefitted from the advice of Avengers: Infinity War directors Joe and Anthony Russo, you could start to see a reverse flow as well.
"Going in the other direction, China-based films could start crossing over and becoming just as popular in North America. As China keeps growing and gains more influence in the international market, it could have effects we don't even know yet. But Pacific Rim is very emblematic of what's going on right now. China can turn a middle-of-the-road performer into a real hero," Dergarabedian said.
Ang Lee's Crouching Tiger, Hidden Dragon did not receive a Chinese release back in 2000, but earned an impressive $128 million here at home, leading to a Netflix (NFLX) sequel in 2016. Domestic audiences will not flat-out ignore a film because its roots come from abroad, setting the stage for a more worldly slate of big name films.
The rise of home entertainment and the explosion of quality in television in recent years have made living rooms an equally inviting viewing destination. The big screen still holds value as a hub of communal viewing and pop monoculture, not to mention artistic advantages (try watching Dunkirk on your phone). But more and more, the American public is opting to stay in and watch Will Smith's Bright or binge Stranger Things on Netflix rather than head to the theater.
To make up the difference, studios will need to keep international audiences in mind.
Pacific Rim: Uprising is tracking for a solid domestic debut between $20 million and $30 million, likely enough to end Black Panther's five-week reign at No. 1, but not enough to top Guillermo del Toro's 2013 original ($37 million).
Studio Legendary Pictures, which was purchased by massive Chinese conglomerate Wanda Group in 2015, is likely looking for a repeat performance of del Toro's effort. One could easily make the argument that this sequel would not exist without the Middle Kingdom, where Pacific Rim grossed $112 million, $11 million more than the U.S. at a time when China's market was still gaining traction (for comparison, Star Wars: The Force Awakens earned $124 million in China in 2015).
The ultimate winner in all of this globe-trotting moviemaking is moviegoers themselves, regardless of their location.
The competitive, strategically cinematic-driven world we're living in is better for long-term quality. It means studios, whether they be American or Chinese, must continue to strive for the best to capture our attention lest they lose out on millions in revenue.
So that's why Pacific Rim: Uprising, a somwhat mindless two-hour slugfest between giant robots and giant monsters, is on our radar.