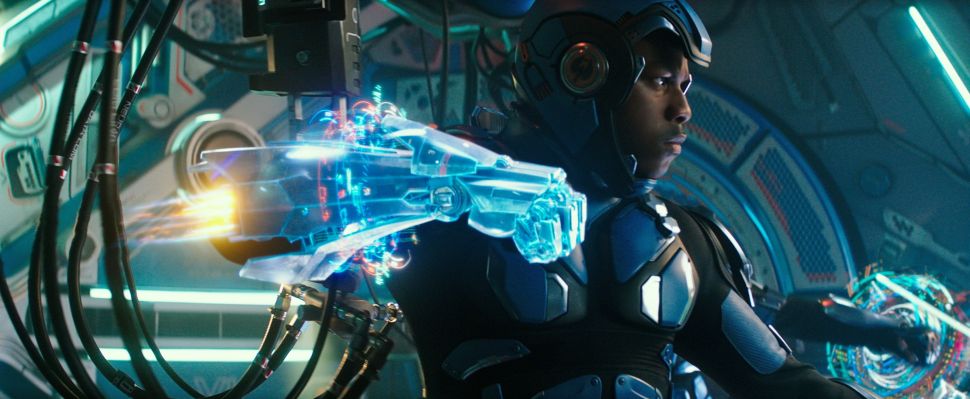 New generation Star Wars star John Boyega is hoping to notch a few more mega-franchises under his belt as the 26-year-old's career continues its upward trajectory. To that end, he and Legendary Pictures are hoping that Pacific Rim: Uprising, a sequel to Guillermo del Toro's 2013 original, breaks out when it hits theaters this weekend.
As of now, Uprising is tracking for a solid $20 million to $30 million, which should be good enough to end Black Panther's five-week streak as the No. 1 movie in America. But is it enough to establish Boyega's Movie Star bona fides? Probably not, though we'll have to wait to see how the film performs in China.
Carving out a career in today's Hollywood is no easy task for a young up-and-comer. Sticking with familiar IP seems to be the safer route, especially in light of the critical and commercial drumming Boyega's The Circle took last summer. But operating in the franchise system also has its limitations, especially when they fail to live up to expectations and, most importantly, to the studios' box office hopes.
Based on the critical reactions to Uprising, it sounds like Boyega's newest is a mixed bag that could go either way.
Directed by the television veteran Steven S. DeKnight (Angel, Smallville), the movie balances amiable humor and standard believe-in-yourself bromides with better than average action sequences. I grew up on Godzilla movies and retain some vestigial fondness for them—and, incidentally, I can't stand Transformers movies. That Pacific Rim Uprising managed to hit me in my Godzilla sweet spot is the best recommendation I can give it.
Pacific Rim Uprising delivers plentiful CG mayhem, first between rival Jaegers (thanks to a mysterious rogue sentinel), and then between Jaegers and a trio of kaijus with transformative skills of their own. What it lacks, though, is both del Toro's trademark Lovecraftian imagery (all slick tentacles and dank subterranean locales) and the sense of thunderous heft that the Mexican auteur bestowed upon his titans.
Entertainment Weekly's Chris Nashawaty
The follow-up feels like a flat cocktail of tedious mayhem, amateur-hour Starship Troopers-level acting (minus the tongue-in-cheek irony), and plot holes so gaping that a 20-story radioactive iguana could rampage right through them.
The film in general moves at a sleeker pace, with more of an actual plot to match the shiny visuals. It's strange given that del Toro, a newly minted Oscar-winning director, couldn't make a more entertaining film than Uprising director Steven S DeKnight, whose credits lie solely on the small screen. If anything, del Toro's overexcitable ambition muddied the focus, while the sequel plays more like the solidly entertaining A-list B-movie we all wanted the first time.
The Independent's Geoffrey Macnab
Still, if you like films that are very noisy, very brash and have storylines that revolve around prolonged meaningless wrecking sprees, Pacific Rim Uprising won't let you down. It has a likeable, tongue in cheek quality that you don't find in Michael Bay's horribly bombastic Transformers movies. In amid all the general head-banging havoc, Boyega lends a human touch. He is not taking the film too seriously and nor should we.
[It's] a movie that has nothing on its mind but getting from start to finish in one piece — a movie that wants to plug the hole in a sinking ship in order to strengthen the Pacific Rim brand and set it sailing towards a climactic final chapter. Depressingly, Uprising is never better than when it's setting up another sequel.