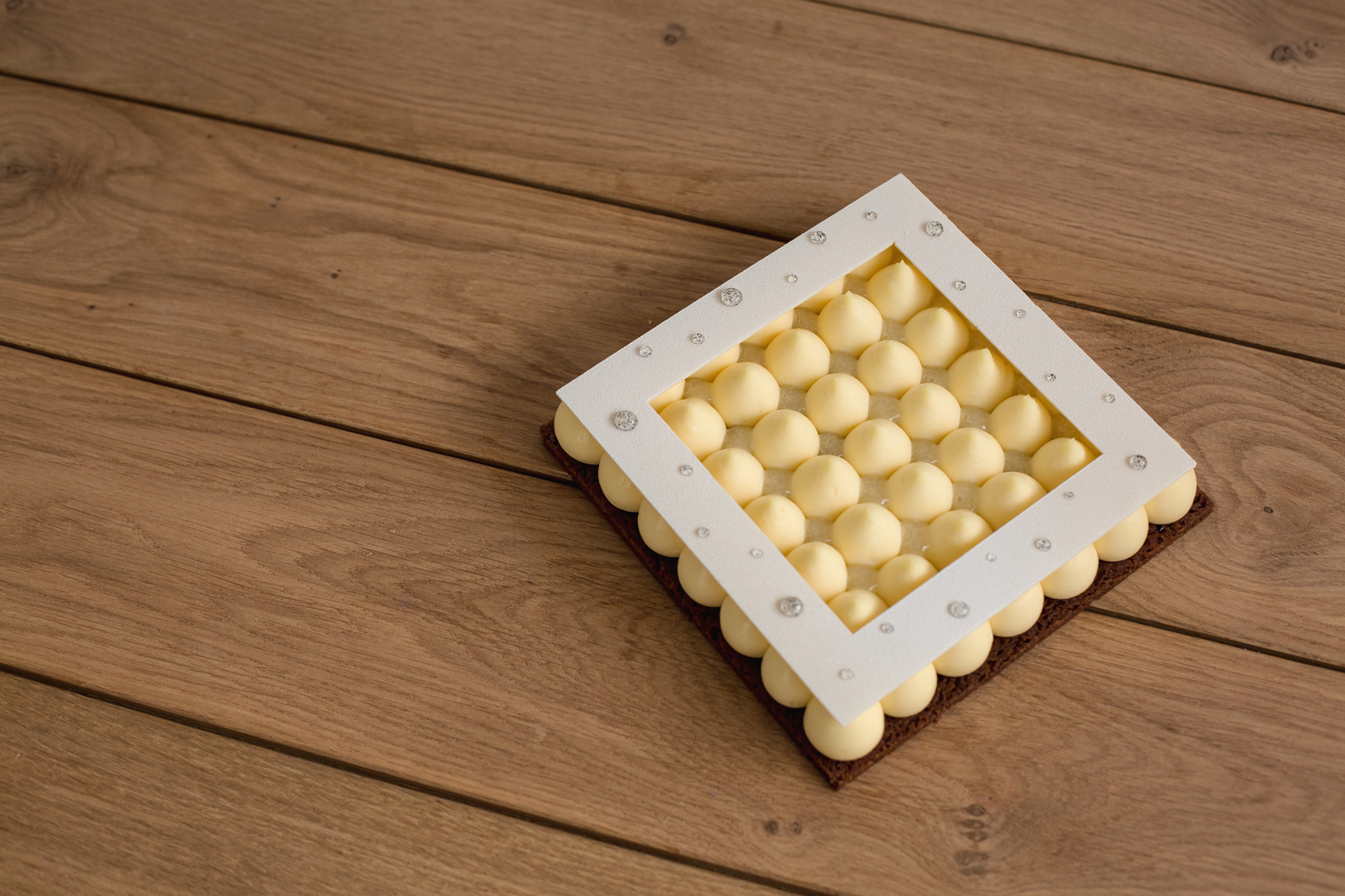 In recent years, the Parisian bakery scene has expanded far beyond the traditional croissants, macarons and baguettes. The next generation of pastry chefs is pushing the boundaries of what's possible by creating edible works of art, ranging from surreal, fruit-shaped sweets to carefully constructed cakes in unexpected colors and textures.
Unlike New York or other international cities, Paris goes all when it comes to the presentation of pastries. Many patisseries line up macarons, tarts and decadent little gateaux, one by one near the shop's window—almost as if they're enticing tourists to snap a shot of these sweet treats. Or, you know, eat one.
Here are three pastry destinations in Paris with chefs who are pushing the envelope—and the definition—of what the conventional Paris pastry even is.
Cedric Grolet's Fruits at Le Meurice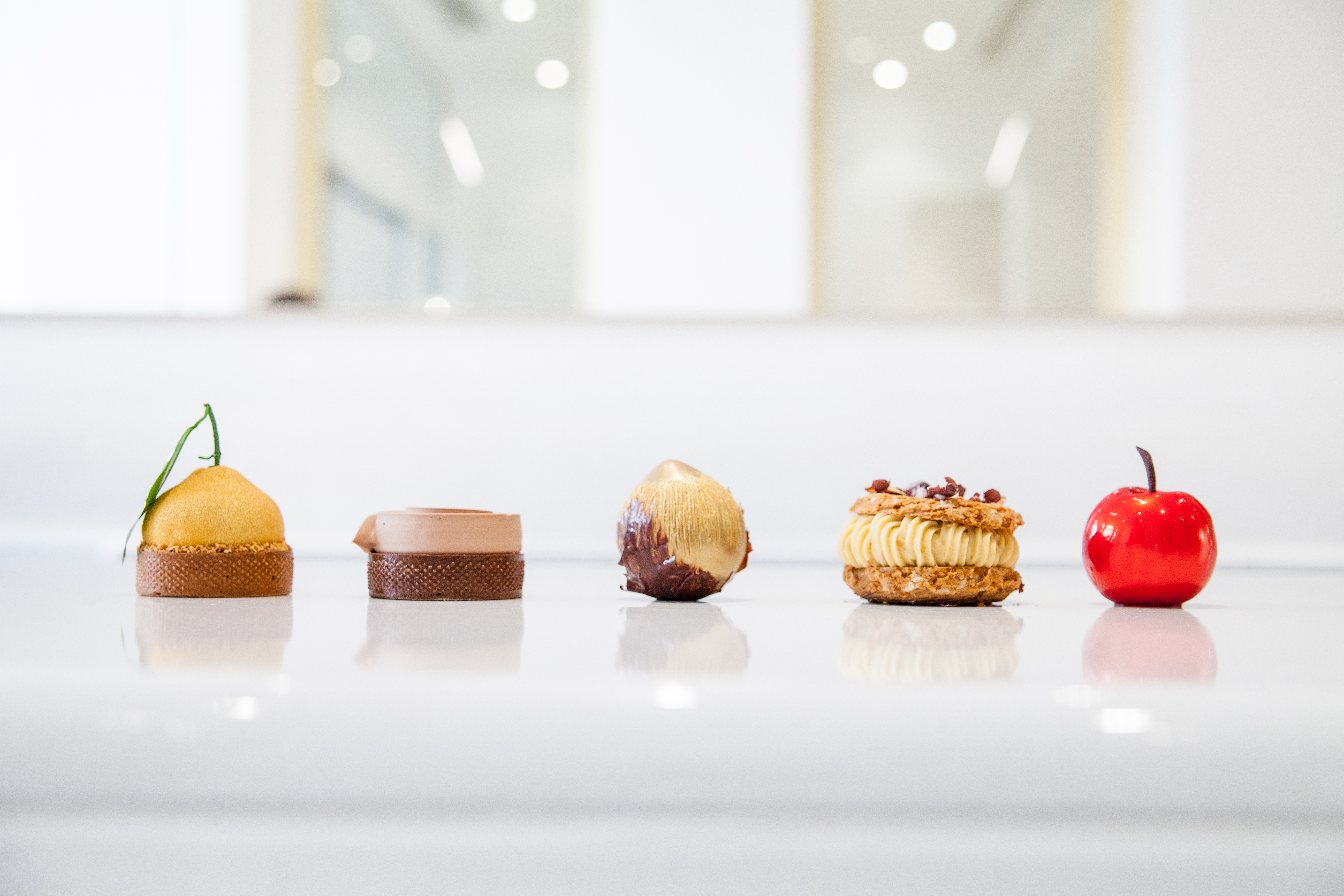 With nearly 1 million followers on Instagram, Cedric Grolet's creations are closely watched and endlessly regrammed by foodies and fashionistas alike. His following mostly gathers for a look at his trompe l'oeil fruit. These cakes bear a resemblance so close to nature that it's almost a shock to crack their hard exterior shells open, when finishing off a meal at Le Meurice's hotel bar or at Le Dali.
As for Grolet's inspiration behind the fruit? He simply wanted to recreate the textures and vibrant colors of the black lemons, peaches, green apples and mandarins his mother used to feed him for dessert and mid-afternoon snacks during his childhood. Cutting into one of the famed fruit cakes reveals a plump center oozing with fresh jams, chunks of fruit and rich ganache. The black lemon, for example, is filled with a tangy lemon puree and nibs of white chocolate. It's extremely tart and almost bitter; quite different from what you might expect from your average pastry, but right on par with an actual lemon. The pear also mirrors how the fruit appears and tastes IRL; the exterior has a stippled and porous texture that gives way to a softly dense interior, whipped together with white chocolate mousse and a dollop of pear preserves.
"I find fruits fantastic because they each have their own texture and taste, which makes working with them so interesting," says Grolet. "So, it made sense for me to create a collection of desserts and pastries encapsulated in fruits."
Just a few days ago, Grolet and Le Meurice expanded this pastry empire even further. Located at 6 Rue de Castiglione, their patîsserie will include limited edition creations, along with desserts to share with larger groups of six to eight people. Of course, the classic fruit desserts will also be available, in addition to a recognizable array of other sweets, like Rubik's Cube-shaped cakes that fashion brands, including Dior, have served during black tie events and masked balls.
"Cédric is guided by two rules. First, keep it simple—which everyone knows is very hard to do, because you have to forget easy options, pare down, and keep only what's essential," said Alain Ducasse in a statement about the opening of the new boutique. "His second rule is to draw inspiration from nature, an ambition that has opened up a new and promising field in the world of desserts."
Pralus' Signature Pink Bread
Walk past the window of a Pralus bakery location in Paris, and you'll see beautiful bread in the window, garnished with a flash of pink. Named La Praluline, this gorgeous butter brioche seems to glow, thanks to the bright pink brushed pralines that get their distinctive color from the mixture of Valencia almonds and Piedmont hazelnuts coated in rose sugar.
This is one pastry that actually looks more extraordinary once it's been bitten into; the crispy, buttery brioche crust gives way to a soft and flaky inner, marked with a constellation of pink nuts scattered through the crevices and folds.
Auguste Pralus first invented the recipe in 1955, from a little bakery in Roanne, the same year he won the prestigious Meilleur Ouvrier de France competition. It's been a signature of Parisian and French bakery culture ever since. On the weekends there's often a line of tourists and Parisienne trailing out the door, patiently waiting to pick up their own Praluline haul that has been carefully wrapped in brown paper and tied with a golden bow. But please, don't compare this pastry, which is steeped in history, to the lowly Cronut.
"The recipe, a secret, [has] never changed," says François Pralus, the son of the creator of the highly Instagrammable bread. "It's exactly the same since 1955. We bake our brioche in each shop and the pralines are made in our factory, in Roanne." When the bakers here do decide to change things up, they don't veer too far from the original. Take, for example, the 50th anniversary of the Praluline in 2005. In homage to the sweet treat, they simply took the original, topped it with "a light vanilla cream from Madagascar," and dubbed it La Pralusiene.
"With my father, I learned the basics of my job, to select the best ingredients. We bake our brioche in each shop and the pralines are made in our factory, in Roanne. The quality of nuts and almonds, from Piemont and Valencia, which we use is very important for the recipe," Pralus says, adding the most French phrase, ever: "We use the best quality butter, too."
Cyril Lignac's Surreal Cakes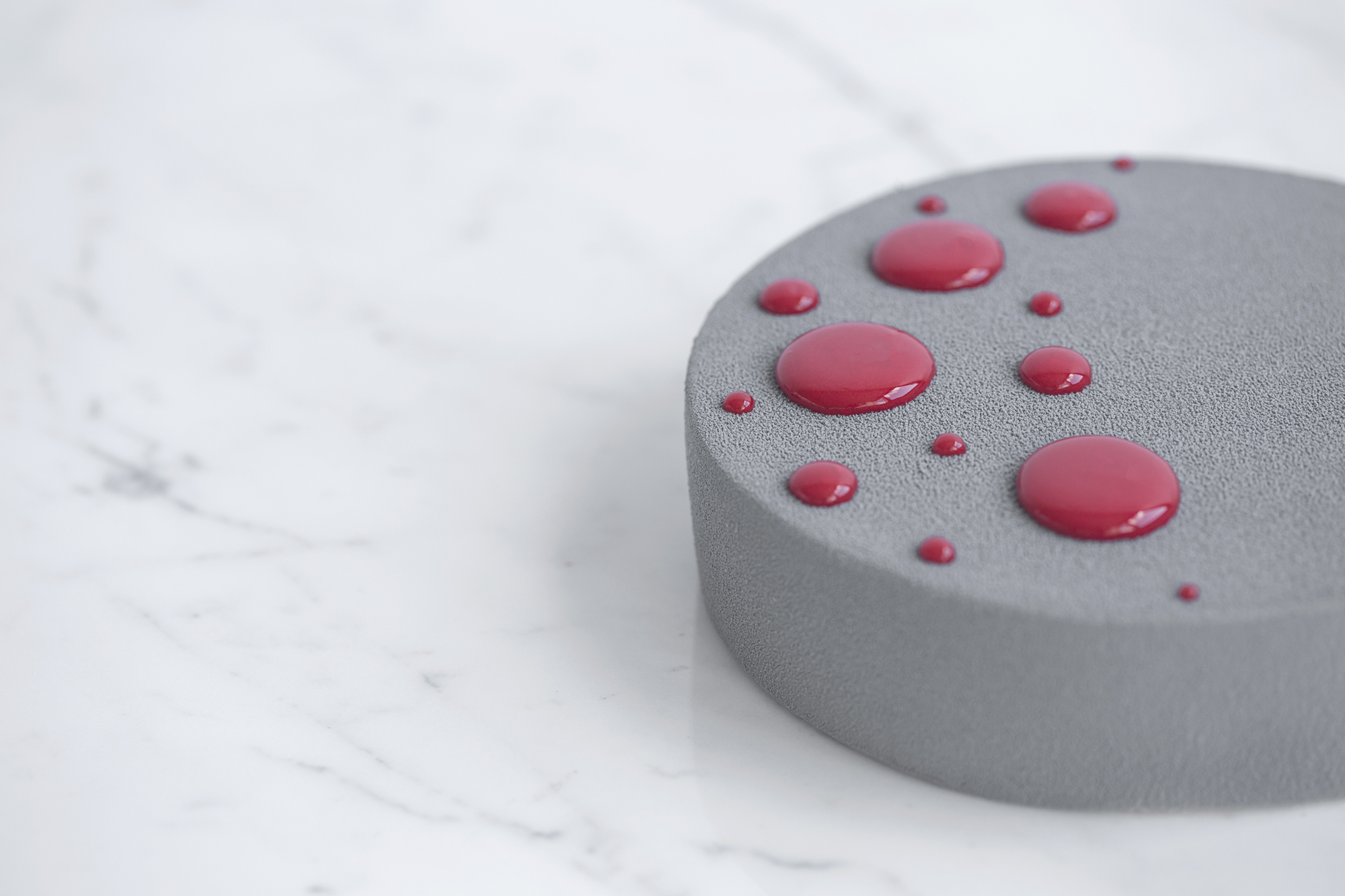 Cyril Lignac isn't just a pastry chef: the influential French food icon has put his name on over 40 cookbooks, is the owner of two bistros and also the owner of a Michelin starred restaurant, Le Quinzième.
Inside La Pâtisserie Cyril Lignac, there's a healthy combination of traditional and unconventional pastries. Like Lignanc's rich and boozy take on the classic baba au rhum, which is coated with an apricot glaze that glistens under the shop's lights and topped off with an impossibly high swirl of homemade whipped bourbon vanilla cream.
For a beautifully surreal take on the art of the pastry in Paris, dig into Equinoxe, a distinctive matte grey cake accented with glistening red dots. This deceptively industrial looking treat is actually light and fluffy, made from a light Bourbon vanilla cream, crisp Speculoos biscuits and a buttery salted caramel center. It's certainly not the kind of pastry one can judge by its appearance.
Benoît Couvrand, Lignac's partner and head of the two pastry shops in Paris creates non-traditional concoctions that have passersby drooling from the window—like bright, raspberry pies where each berry is filled with an intensely flavored compote, or delicate macarons in decidedly sophisticated varieties, such as lemon verbena.