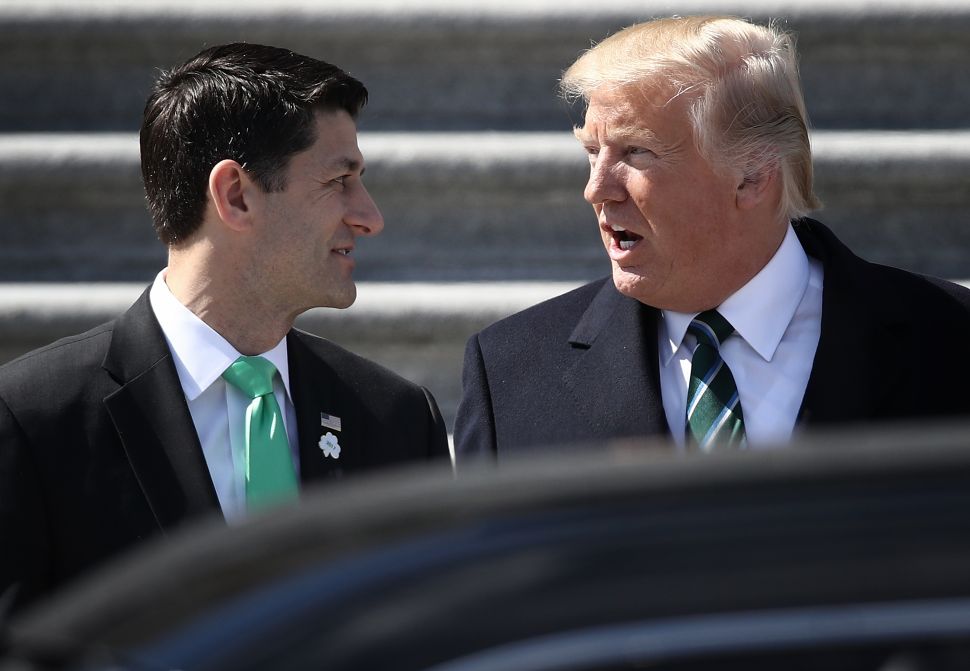 As President Donald Trump doubles down on his support for tariffs on steel and aluminum exports—tweeting out condemnation for the North Atlantic Free Trade Agreement (NAFTA) even as representatives from North and Central America meet in Mexico City—Republican lawmakers are breaking from the White House's nationalist platform.
House Speaker Paul Ryan (R-Wis.) became the latest Republican to publicly challenge the tariffs, joining Senators Orrin Hatch (R-Utah) and Ben Sasse (R-Neb.) and Ways and Means Chairman Rep. Kevin Brady (R-Texas).
"We are extremely worried about the consequences of a trade war and are urging the White House to not advance with this plan," a spokeswoman for Ryan said in a statement on Monday. "The new tax reform law has boosted the economy, and we certainly don't want to jeopardize those gains."
After the president's economic advisor Gary Cohn tried unsuccessfully to circumvent the White House's nationalist hardliners to kill the policy, the Dow Jones plummeted 500 points. Republicans stressing the importance of free market capitalism decried the initiative, pointing to the stock market's plunge as proof of failure.
"You'd expect a policy this bad from a leftist administration, not a supposedly Republican one," Sasse said last Thursday after Trump announced the 25 percent tariff on steel imports and 10 percent tariff on aluminum.
While disgruntled Republicans trigger anxieties at home, other countries involved in NAFTA pose the greater threat of a possible trade war. Canadian Foreign Minister Chrystia Freeland promised to "take responsive measures to defend its trade interests and workers," following the president's announcement.
During Monday's latest round of NAFTA talks, representatives from the U.S., Canada and Mexico gathered in Mexico City to negotiate trade initiatives. Looming over the meeting were a series of tweets fired off by Trump earlier in the morning calling the agreement "a bad deal for U.S.A."
Despite the Canadian foreign minister's pessimism toward the tariffs last week, Canada's chief negotiator Steve Verheul noted the body had "successes we can point [to]" but ceded there is "more to do" in ongoing negotiations.