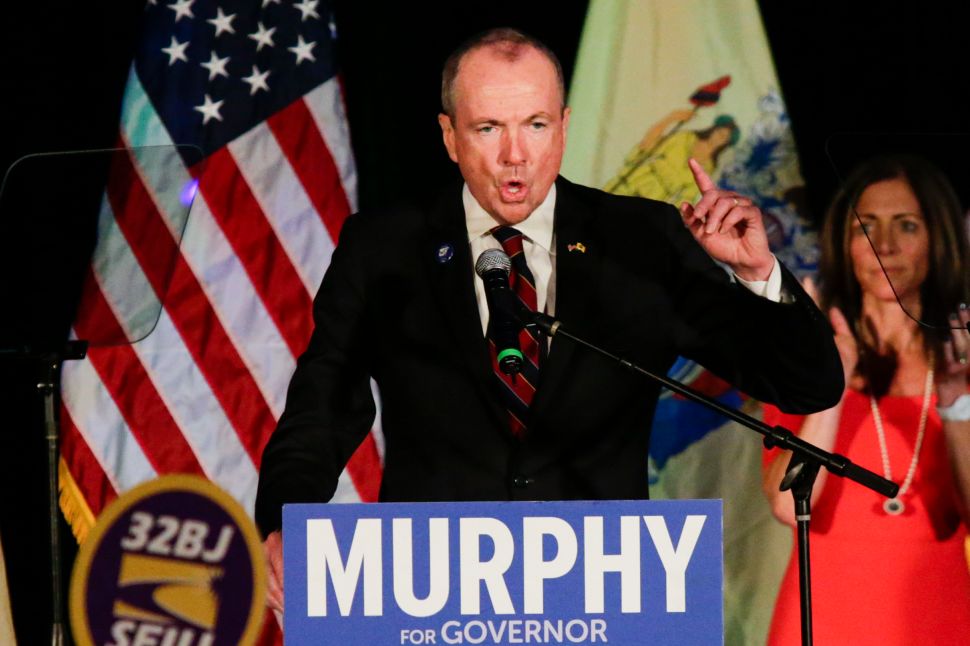 Gov. Phil Murphy signaled on Monday that he will make NJ Transit a top priority in his first budget, hinting that the beleaguered agency could see a boost in state aid after years of struggling to fund its operations.
"You'll see in the budget tomorrow, we're making a major statement about funding NJ Transit," Murphy said during a radio call-in show on NJ 101.5, a day before he will deliver his budget address to the legislature.
Murphy didn't elaborate on the budget announcement, but he reiterated that the agency has been deeply underfunded for years, with millions of dollars diverted from capital funding projects to cover the cost of its operations. State aid to NJ Transit plummeted under former Gov. Chris Christie, from $348 million in 2009 to $33 million in 2016. New Jersey currently commits $141 million in aid to NJ Transit.
"A commuter rail company like this—which is the third largest in the country and, by the way, used to be a national model, not a national laughing stock—you need to put money where your mouth is," Murphy said during the 20-minute radio appearance.
Once a model transportation agency, NJ Transit has suffered from frequent delays and several accidents in recent years—including the fatal 2016 crash in Hoboken—all while fares have increased 36 percent since 2009. The railroad is also at risk of failing to meet a federal deadline to install Positive Train Control, a system designed to prevent collisions and high-speed derailments.
Murphy has called NJ Transit a "national disgrace." He signed an executive order  mandating a "full-scale" audit of NJ Transit, including its finances, leadership structure, hiring process and customer service.
The governor also said Monday that he will announce steps to combat New Jersey's "property tax crisis." He again called for a "shared services czar" to help streamline local government and rein in the state's notoriously high property taxes. His remarks were in response to a caller who asked about Murphy's plans to reduce government spending.
"We have got a real, full-bore—and it's not new, it's been building a long time—property tax crisis," Murphy said. "The opportunity to be smarter about sharing services, about how we're organized, is one that we want to take advantage of."
Murphy, a Democrat, has promoted shared services between municipalities in the past, but it hasn't been at the top of his agenda.
He took heat during the gubernatorial race from his Republican opponent, Kim Guadagno, who accused him of not having a plan to reduce property taxes. Although Murphy didn't offer a property tax reduction plan per se, he argues that fully funding the school-funding formula—one of his core campaign promises—is the answer to the property tax puzzle.
"Property taxes over the past eight years are up, I think, 19 percent. This continues in a direction that is going to be unsustainable," Murphy said.
The governor has already hinted that he will anticipate revenue from a tax hike on incomes above $1 million when he delivers his budget address. That could generate roughly $600 million needed for a host of campaign promises, including more money for schools, tuition-free community college and the state's cash-starved public worker pension system.
Earlier Monday, Republican legislative leaders hosted a prebuttal of sorts to Murphy's budget.
They called on Murphy to reverse course and ditch his campaign promises to raise taxes on the wealthy and largest corporations. Senate Minority Leader Tom Kean Jr. and Assembly Minority Leader Jon Bramnick (both R-Union) claimed the state could see a bigger-than-expected budget surplus that Murphy and Democrats can spend from instead.
"Trenton is mission control, and tomorrow is going to be the first launch by the mission control team of Senator Sweeney and Governor Murphy," Bramnick said. "What you're going to see is a repeat of history. Mission control is going to spend their time on raising taxes, despite the fact we anticipate a budget surplus."