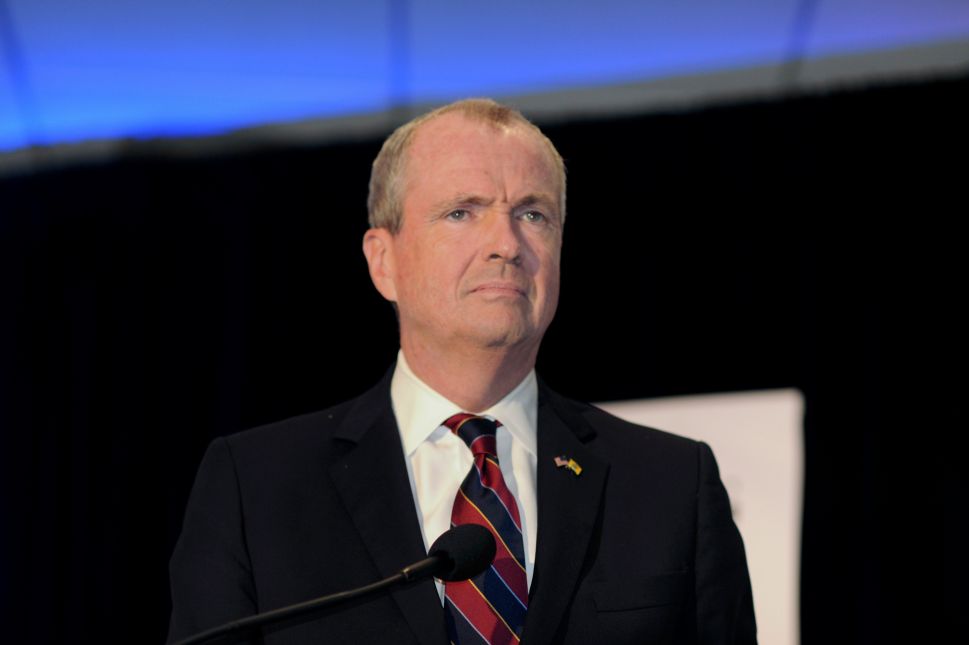 New Jersey Gov. Phil Murphy unveiled a $37.4 billion budget on Tuesday that would raise $1.5 billion in new tax revenue by hiking taxes on the wealthy, legalizing recreational marijuana and restoring a recent cut to the sales tax.
In his first budget address to the legislature, Murphy said he would use the extra revenue to ramp up state aid for school districts, increase funding for the beleaguered NJ Transit and a make a larger payment into the cash-strapped public worker pension system. He also proposed beginning a path toward free community college and a statewide expansion of preschool education.
The Democratic governor's spending plan is $2.7 billion larger than last year's state budget.
Murphy also wants to boost the Earned Income Tax Credit to 40 percent of the federal limit, create a child and dependent care tax credit and increase the cap on property tax deductions on state income from $10,000 to $15,000.
"Everything in this budget is built around restoring New Jersey as the 'good value for money' state we had been for decades," Murphy said in a 54-minute speech. "Whether you were born here, or moved here later in life, you knew New Jersey was never an inexpensive place. But you knew that by living here, or putting your business here, you had a better shot to make it than if you had gone anywhere else."
Murphy's proposed tax hikes could face resistance from the Democrat-controlled legislature. Senate President Steve Sweeney (D-Gloucester) has called a millionaires tax a "last resort." Lawmakers agreed in 2016 to make a small cut to the sales tax as part of a deal to raise the gasoline tax. And Democrats are split on whether to legalize recreational marijuana for adult use.
Murphy expects a millionaires tax to bring $765 million into the state's coffers. Under his plan, the marginal tax rate on income above $1 million would rise from 8.97 percent to 10.75 percent. He also wants to modernize the Corporation Business Tax to raise $110 million, and tax "carried interest"—or performance fees earned by hedge fund and private equity managers—to generate roughly $100 million.
In what was perhaps the biggest budget surprise, Murphy called for restoring the sales tax rate to seven percent from the current 6.625 percent, which he says would raise around $546 million in revenue. In addition, Murphy wants to expand the base of the sales tax to include ride-sharing services and Airbnb stays to generate $67 million. He also called for taxing e-cigarettes to bring in $65 million.
While Murphy campaigned on some of his other tax hike proposals, he never said he would increase the sales tax. In August, a Murphy campaign spokesman specifically said a sales tax hike was "not part of our proposal."
"Let's be honest, the impact of the three-eighths of one percent sales tax decrease has been nearly imperceptible to the average family, but it has directly impacted our ability to provide better services to, and greater future investment in, that family," Murphy said during his speech.
The governor is also banking on marijuana to be legalized by January to rake in $60 million for the next fiscal year, while expecting $20 million more from an expansion of medical marijuana.
With all of that extra tax revenue, Murphy proposed boosting funding for schools by $341 million, including $283.6 million in more state aid for K-12 schools and $57.6 million in additional money for preschools. His budget commits $50 million for college tuition assistance, with the goal of having free community college in three years.
"Think about this—when we have achieved these objectives, New Jersey will set a standard for the nation by providing free access to an education for everyone from pre-K to an Associate's Degree," Murphy said.
His budget also increases the state subsidy to New Jersey Transit by $242 million, giving the embattled agency a boost in aid after years of struggling to fund its operations. New Jersey currently commits $141 million in aid to NJ Transit, which was forced to divert millions of dollars from capital funding projects to cover the cost of its operations under Christie.
Murphy plans to continue the 10-year ramp Christie and Democrats have been following to reach full pension payments in fiscal 2023, meaning he would pay only 60 percent of the actuarially determined contribution in his first year in office, or $3.2 billion.
Democratic legislative leaders said they still needed time to review the budget before weighing in.
"We're going to start a thorough and thoughtful review of that and like we do with all budgets and we're going to come up with what's right and best for the state of New Jersey," said Assembly Speaker Craig Coughlin (D-Middlesex).
Sweeney declined to speak with reporters after the speech, deferring comment to a joint written statement from top Senate Democrats.
"This is the first budget plan by the new governor and it includes many Democratic priorities that continue or expand upon policies that we have fought for in recent years," the statement said. "We look forward to building on our progress where we can. It also includes many ambitious proposals that are appealing, but will require thorough review and consideration to determine if they are achievable. We will maintain an open mind throughout the budget process."
Republicans blasted Murphy's budget for raising taxes and ramping up government spending.
"Democrats are going full speed ahead with a massive $2.7 billion spending hike, an increase of nearly eight percent. It's irresponsible and it represents a bad value for taxpayers," said Senate Minority Leader Tom Kean Jr. (R-Union). "While Democrats want to say they are only increasing taxes on millionaires and corporations, the governor's proposed $546 million sales tax increase would hurt all New Jerseyans. It's beyond callous to say that New Jerseyans will not feel the impact of this change."
"Governor Murphy is taking New Jersey in the wrong direction," said Assembly Minority Leader Jon Bramnick (R-Union). "This is going to force more middle-class New Jerseyans to flee the state. Now, it is up to the majority in the legislature to stop this plan.  This is déjà vu all over again."
Murphy's budget plan now goes to the legislature.