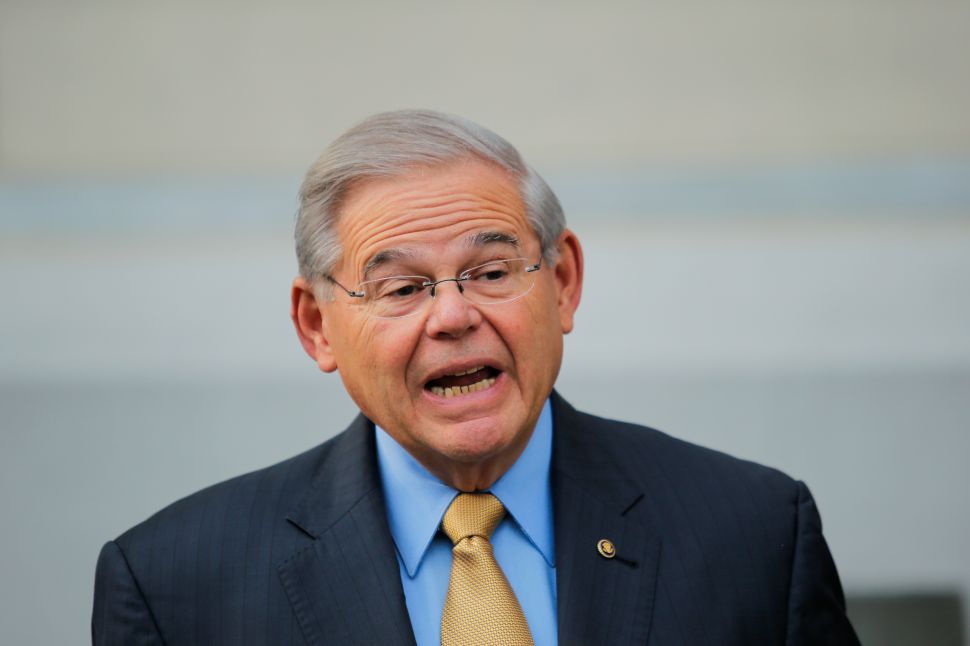 U.S. Sen. Bob Menendez has a double-digit lead over his Republican challenger even though many New Jersey voters think he was involved in "serious wrongdoing," according to a new poll.
Menendez, whose two-and-a-half-month corruption trial ended in a hung jury last year, leads pharmaceutical executive Bob Hugin by 17 points among voters—49 percent to 32 percent—according to a Quinnipiac University poll released Tuesday.
The poll found that 38 percent of voters think Menendez was involved in "serious wrongdoing," while 20 percent said he was not involved and 37 percent said they didn't know enough to decide.
Menendez was accused of taking official actions to benefit Salomon Melgen, a wealthy Florida eye doctor and the senator's top donor, in exchange for gifts, trips and campaign contributions. Prosecutors also charged Menendez with intentionally omitting Melgen's gifts from his Senate financial disclosure forms.
A jury was unable to reach a unanimous verdict on any of the charges, and Judge William H. Walls declared a mistrial. Prosecutors later dropped the case after Walls acquitted Menendez and Melgen of seven of the 18 counts they faced.
Menendez received a slightly negative favorability rating, 35 percent to 37 percent. Hugin remains largely unknown, with 83 percent unable form an opinion of him.
Democrats are still behind Menendez, backing him by an 85 percent to three percent margin. Republicans prefer Hugin over Menendez, 81 percent to seven percent margin. Menendez leads among independents, 41 percent to 36 percent, according to the poll.
"New Jersey voters are sending Sen. Robert Menendez a mixed message. They far prefer him—he holds a 17-point lead over Republican challenger Bob Hugin in the race for his U.S. Senate seat. But they are skeptical about his guilt or innocence regarding federal corruption charges that were dropped after a hung jury," Peter A. Brown, assistant director of the Quinnipiac Poll, said in a statement. "In very blue New Jersey, the big 'D' next to Menendez' name is a big asset."
The poll of 1,052 voters was conducted from March 8  to March 12 and has a margin of error of plus or minus 4.2 percentage points.