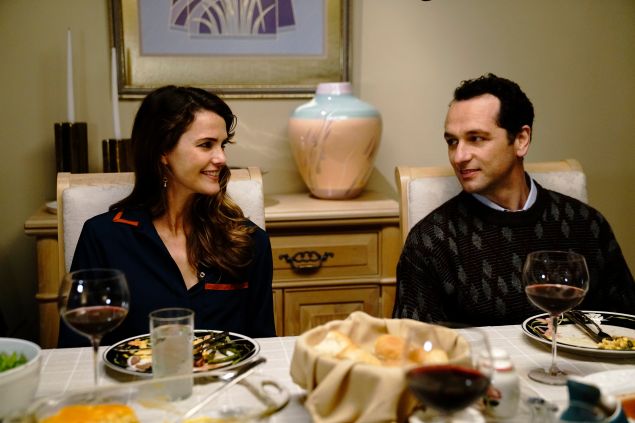 "Last night I really lost control," Joel Fields told us recently. "I ate some chocolate banana mouse that I never would eat under normal circumstances."
"This is not normal behavior for him," Joe Weisberg confirmed. "I think it's the pressure."
The two men, the creative force behind FX's award-winning series The Americans, are nervous about the show's upcoming conclusion. "Because it's the finale season, you want everything to be perfect," Weisberg explained. "It's also just an emotional year because we're coming to the end. We're happy and ready to finish this, but it's also heart-wrenching." Plus their show just became way more topical than they ever could have predicted when they penned the closing storyline months ago. The current Russian-American political climate has put a spotlight on their narrative—for its realism as well as its sentiments—and the duo know this will bring plenty of scrutiny.
But Weisberg and Fields have the first-hand material to answer any questions of creative licenses they might have taken. And even in its earliest iteration, The Americans was grounded in real events. The series was originally inspired by the arrest of 10 Russian agents found living surreptitiously in suburban New Jersey in 2010. Weisberg, who was a CIA officer in the '90s, thought the story was ripe for a TV makeover.
The narrative follows the Jennings family, headed up by Elizabeth (Keri Russell) and her husband Philip (Matthew Rhys), seemingly mild-mannered suburban parents who run a travel agency but are secretly Russian KGB agents who carry out deadly covert missions on behalf of the motherland.
But with the recent investigation into Russian meddling in the U.S. presidential election, and the expulsion of 60 Russian officials from U.S. soil after the poisoning of former double agent Sergei Skripal in the U.K. earlier this month, the duo are also perhaps a little nervous that attitudes have changed toward their humanizing portrait of Russian operatives.
Weisberg makes it clear the series isn't asking viewers to root for the Russians. "If you're uncomfortable, just give it a couple of episodes. We think the show is not about wanting people to pick sides and choose the Russians over the Americans. We're asking people to look at what it's like to be a soldier behind enemy lines. In a broader sense, it's about what it's like to be married. And whether you're Russian or American, anybody who's been married can relate to that."
As the fifth season concluded, that marriage was in a state of flux, as it has been throughout the run of the show. Elizabeth, sensing her husband was at his breaking point, encouraged him to evaluate his commitment to the cause, throwing their future into a heightened state of uncertainty.
Jumping ahead two years to 1987, the sixth season opener finds Philip initially content in a new role outside the organization. But things quickly devolve for the couple as Elizabeth becomes even more focused on her undercover work, driving an enormous wedge between them.
The time hop also means this last season coincides with a huge turning point in relations between the Soviet Union and the U.S. According to Weisberg, that was designed to parallel what's happening in the Jennings' marriage. "We're showing these highly ideological people and how what's happening politically affects them in very deep, powerful ways."
Though they've been cautious not to make the show seem drenched in '80s nostalgia, the producers have always embraced the use of music from the time. Fields promises, "you'll hear more songs in this final season than maybe you did in the past seasons." And something the show has become known for is very strategic song choice—often letting an almost-forgotten pop song stand in for dialogue. Fields says to expect more of those sequences. "The relationships have grown to the point where less has to be said, so that provides more opportunity for songs and that's a place where we're going to be spending money to get what we want."
Weisberg laughed a little, the statement being very indicative of their day so far. "Just this morning we were haggling over a song that we really, really want. You have to go after the things that you think are really important and make them work within the confines of what you have. It's like any business, I mean, yeah, we're going out of business, but we don't want to ruin it along the way by not using our resources wisely." Still, expect some expensive setups for the blowout season.
The final episodes of the series will undoubtedly answer the most burning questions—what will ultimately become of the Jennings? Will they turn on each other? Will they achieve their long-sought after goals? Will they be discovered and held accountable for their actions? Or, will they slip back to the Soviet Union, never to be seen again?
With a narrative through-line teetering between personal feelings and political beliefs, The Americans may have started out as Reagan-era fiction, but it also seems to work quite well as Trumpian annotation.
Whatever happens on the imagined drama, it will reach a conclusion. The real-life scenario, however, will continue to unfold, possibly filling the dramatic void for some when the series leaves the air.
'The Americans' airs Wednesday at 10e/9c on FX.