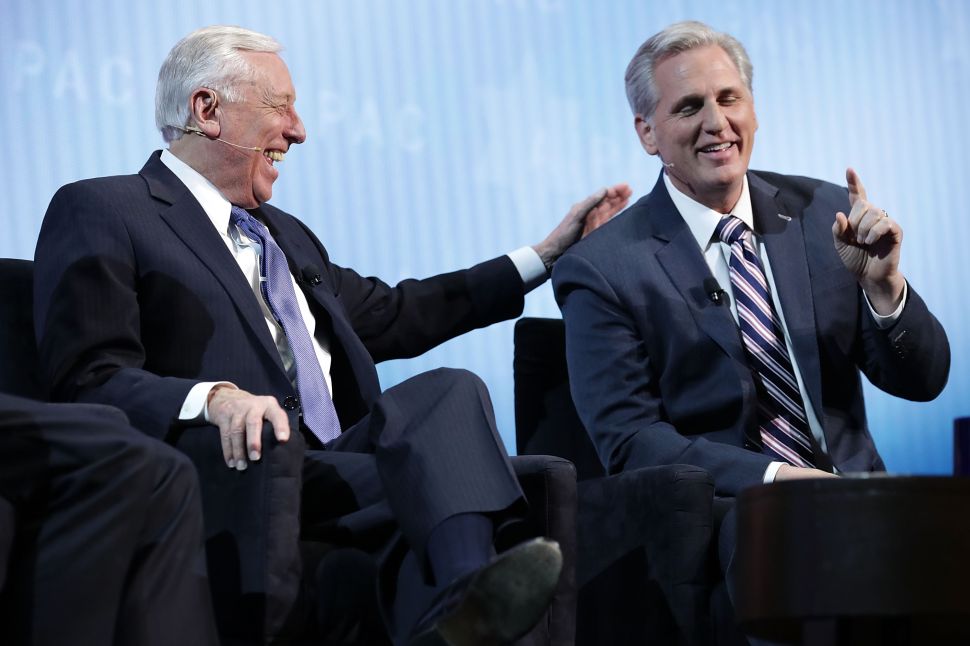 Despite partisan gridlock on gun reform, immigration and economic policy, Republican and Democratic leaders unified around the issue of Israel during the first day of the American Israel Public Affairs Committee (AIPAC) conference.
During a Monday afternoon general session, Vice President Mike Pence, U.N. Ambassador Nikki Haley, Senate Minority Leader Chuck Schumer (D-N.Y.), House Minority Leader Nancy Pelosi (D-Calif.), Rep. Kevin McCarthy (R-Calif.), Rep. Steny Hoyer (D-Md.), and Rep. Grace Meng (D-N.Y.) all delivered successive speeches on Israel's importance.
Touting the milestone of President Donald Trump's recognition of Jerusalem as Israel's capital—along with other policy initiatives—the vice president promised that "the United States of America will never compromise the safety and security of the Jewish State of Israel."
Senator Chuck Schumer echoed these sentiments in his address, calling for legislation that would defund the Palestinian Authority—the self-governing body of the Palestinian people.
"The world draws a false moral equivalence between Israel's actions to defend herself and the actions of terrorists who use children as human shields in their evil campaign to push Israel into the sea," said Schumer.
"At the UN and throughout the UN agencies, Israel does get bullied. It gets bullied because the countries that don't like Israel are used to being able to get away with it," Haley boomed, adding, "Jerusalem was, is and always will be Israel's capital."
Founded in 1954 after former President Dwight D. Eisenhower suspended U.S. aid to Israel over international violations, the American Zionist Committee for Public Affairs (AZCPA) rebranded as AIPAC in 1959. The organization has since ballooned into a pro-Israel lobbying juggernaut promoting a two-state solution and the collection of nearly $3 billion in U.S. financial aid.
When asked for comment about why Israel remains such a bipartisan issue for lawmakers, a spokesperson for AIPAC sent a link to a two-page editorial published in the February edition of the organization's Near East Report, "The U.S.-Israel Relationship Must Transcend Partisan Politics."
Referring to the U.S.-Israel strategic relationship as "a key pillar of America's Middle East Security framework," the editorial states that "Israel promotes U.S. values that are valued by all Americans, regardless of their political party."