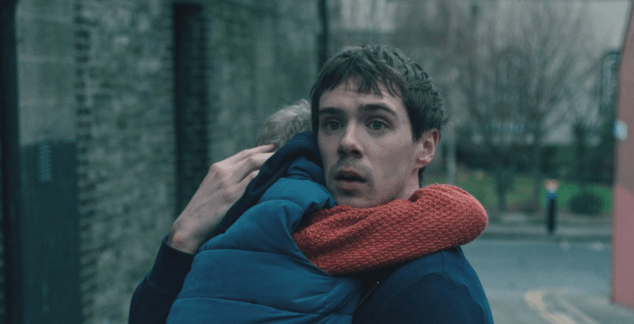 When in doubt, bring on the zombies.
Films of quality and intelligence about real people or worthy historic events—with good actors, coherent narratives and professional artistry—seem to be few and far between these days, but zombie flicks just keep on coming. The latest in this ossified cornball genre is The Cured, which at least tries for a soupçon of freshness.
In this one, a cure is finally found for what scientists label the flesh-eating "Maze Virus," which causes infected individuals to turn into uncontrollable cannibals. Ireland, which was devastated by the monster plague, releases 75 percent of the former flesh-eating zombies from quarantine and sends them back home to Dublin. But the survivors are treated like ex-cons and lepers. Nobody likes them and everybody fears them. It's not easy being green.
These released prisoners may be ready to rehabilitate, but they remember everything they did and the suffering they caused, and they resent being forced to report to parole officers. The movie is partially about their struggle to rejoin society and pick up where they left off before the outbreak, which lends human elements of injustice and prejudice to the usual familiar shock value. But it is also about a militant gang of rebellious ex-zombies turned terrorists who want to free the 25 percent of raving mad lunatics who have resisted the cure. Fighting the Irish government's plans for forced elimination of the incurable is a clumsy sub-plot that makes the movie drag, and comes off like its parodying of the I.R.A. The psychological and political aftermath of a zombie invasion is something the movie bravely attempts, but the parallel plot devices don't really work. The zombie action (of which there is a lot) might distract many from the story's lack of coherence.
---

THE CURED ★★
(2/4 stars)
Directed by: David Freyne
Written by: David Freyne
Starring: Sam Keeley, Ellen Page and Tom Vaughan-Lawlor
Running time: 96 mins.

---
The human plot centers on a handsome ex-zombie named Senan (played by the engaging Sam Keeley, one of Ireland's best actors), who is sent home to live under the supervision of his sister-in-law Abbie (Ellen Page). He gets a job nobody wants working in a clinic that deals with the still-infected zombies, treating them with more respect and trust than anyone else shows them. While he contemplates what to do about their straitjackets, his friend Conor (Tom Vaughan-Lawlor), also recently released, leads a double life running for office and working for the rebels—trying to free the zombies and destroy the world.
Debut director David Freyne has obviously seen entirely too many George Romero movies for his own good. There's nothing wrong with the acting, but other than an expense-paid trip to the land of limericks and leprechauns, what the bright and resourceful Ellen Page is doing in The Cured is anybody's guess. (She's also listed as a co-producer. Go figure.)
In the end, things look very grim for the future of humanity, though the audience had probably given up hope long before. God forbid there should be a sequel, but you know zombies. You can't keep the living dead down long.