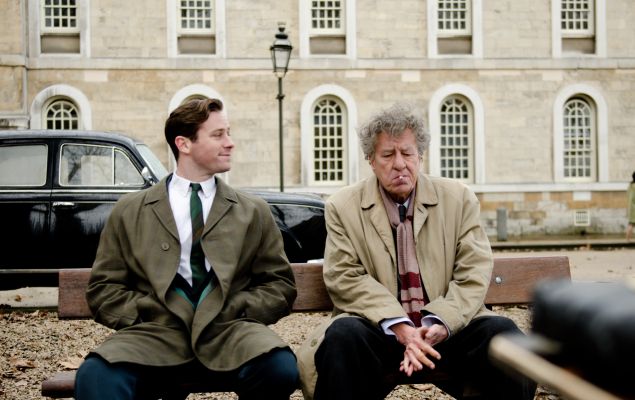 Delicately written and painstakingly directed, both by actor Stanley Tucci, a curio called Final Portrait is making the rounds of the art cinemas in search of some box-office action. It isn't likely to find any, but I watched with relish the physical pain and emotional agony endured by the great Swiss artist Alberto Giacometti as he tackled his last painting in a filthy, cluttered and disorganized atelier in Paris, and I found it unusual and invigorating.
In 1964, Giacometti (played by a battered, neurotic Geoffrey Rush) ran into a friend, the American writer, biographer and art dealer James Lord (Armie Hammer, fresh from his triumph as the college-age lover of a teenage boy in the hit film Call Me By Your Name) and asked him to pose for what the renowned painter declared would his "final portrait." After already neglecting the assignments awaiting him back home, Lord had planned to end his extended visit to Paris immediately and return to New York, but the temptation to be the subject of the last canvas of a great artist was too powerful a lure to resist.
So, flattered and impressed, with the guarantee that the pose would not exceed two formal sittings, Lord began the first of many airline ticket exchanges, a growing number of canceled appointments, a series of cacophonous domestic interruptions and endless postponements as the two-day project drags on for 18 sittings and a fortnight of frustration.
---

FINAL PORTRAIT ★★★
(3/4 stars)
Directed by: Stanley Tucci
Written by: Stanley Tucci
Starring: Geoffrey Rush, Armie Hammer, Sylvie Testud and Clémence Poésy
Running time: 90 mins.

---
Basically a two-hander with a pair of enchanting actors in the center ring, the film further enhances Armie Hammer's cool, sexy control as a Ken doll who can really act, while extending free rein to Geoffrey Rush's gnarled, crotchety and unhinged eccentricity. Like them or not, Tucci's screenplay lets you get to know the protagonists while his direction moves you in and around them in unfamiliar ways. The result is a state of suffocating claustrophobia that is never as dull as it implies. As the question arises, Giacometti cynically insinuates that no matter how many times James Lord changes his tie, his portrait might never be completed.
Meanwhile, he (and the audience) are subjected to the madness that erupts in the studio daily. Giacometti is truly a piece of work, ranting against Picasso, criticizing Chagall, dragging out millions of francs hidden in dusty old books and boxes whenever he needs money for cognac or cigars. He talks incessantly about suicide, abuses his frumpy, long-suffering wife Annette (Sylvie Testud), denying her everything including a working kitchen while plying his mistress and muse, the prostitute Caroline (Clémence Poésy), with gifts and even overpaying her pimps with rolls of bills for the use of her time as his favorite model.
To his chagrin, Lord patiently allows Giacometti to drag it out indefinitely, only to watch in horror as he destroys the painting and starts all over again. It's not giving away any spoilers to remind you that the final painting was eventually completed, netting James Lord 20 million dollars, and inspiring his famous memoir, A Giacometti Portrait, published in 1965, as well as a full-length Giacometti biography. This movie is a meticulous dossier of the artistic process by one man who created it and another man who lived through it. Not your usual bill of fare at the movies, but well worth the patience to make it pay off.