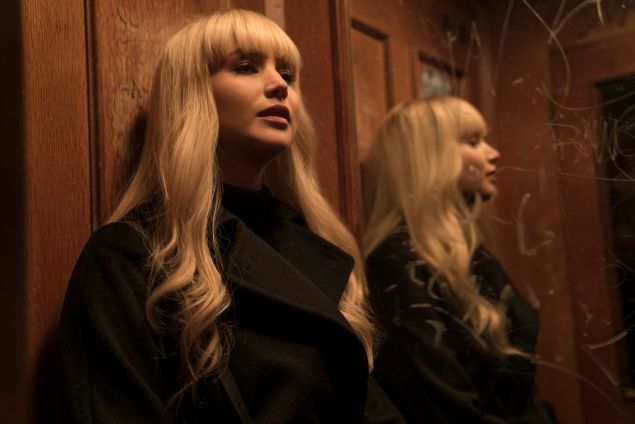 Unbearable violence so graphic you endure most of it with your hands covering your eyes, over-written script and hysterical direction so over-the-top it's incomprehensible, and Jennifer Lawrence wallowing in full-frontal nude scenes—the trashy, convoluted Red Sparrow has plenty of everything it doesn't need and very little of what it does. It's an espionage cartoon sideshow that is inarguably nasty and pointless, with occasionally entertaining moments. Color it preposterous.
The encyclopedic plot, culled from one of three novels by former C.I.A. operative Jason Matthews, is so demented that trying to figure it out is hardly worth the strain on the brain to bother. Game girl that she is, Jennifer Lawrence will fearlessly tackle anything if the money's good enough, but she remains one of the current screen scene's prime talents at choosing the wrong projects.
Hot on the heels of the vile, pretentious Mother! she is now woefully miscast as Dominika Egorova, a Russian ballerina who is crippled in mid-stardom by another dancer on the stage of the Bolshoi. With her career permanently destroyed, Dominika has to find another way to support her invalid mother (a wasted Joely Richardson), so she turns to her her Uncle Vanya (these are the jokes, folks), a sleazy sexual predator and mass murderer who also happens to be one of Russia's leading super spies.
A vision of consummate evil played with fascinating, creepy sensuality by the great Matthias Schoenaerts, Uncle Vanya plots and murders ruthlessly, biding his time until he can get her into bed himself, quickly recruiting his niece into a secret organization dedicated to turning attractive Russian boys and girls into sex machines called Red Sparrows—spies who will do anything with their bodies to seduce their victims into surrendering information. The training program is run by a cold, efficient and amoral Communist robot (a sinister but wasted Charlotte Rampling), who is successful enough in her role as matron to turn Dominika into a first-rate whore spy who is raped and mutilated across Budapest, Moscow, Vienna and London tracking an American C.I.A. operative, Nate Nash (played by the equally miscast Australian, Joel Edgerton), to procure the identity of a mole he nourishes as a double agent (a doubly-wasted Jeremy Irons).
---

RED SPARROW ★★
(2/4 stars)
Directed by: Francis Lawrence
Written by: Justin Haythe (screenplay) and Jason Matthews (book)
Starring: Jennifer Lawrence, Joely Richardson, Charlotte Rampling, Joel Edgerton, Jeremy Irons, Mary-Louise Parker and Matthias Schoenaerts
Running time: 140 mins.

---
Trouble is, she's such a fabulous red sparrow that Nash loses his cool and falls for her sexual power, while she ill-advisedly lowers her guard and falls for his protective alpha-male double role as Daddy and lover, and the door opens for assorted predators, sadists and maniacs to unload an arsenal of weapons and beat both spies senseless.
The torture sequences are so calculatedly gruesome that both of the lovers emerge black and blue from every scene. By the time the Russians strip Nate down and drag out what looks like a medieval cheese grater to shred his skin from his body while he screams bloody murder, the film has turned fatally implausible.
Reunited with director Francis Lawrence, who helmed the last three Hunger Games installments, Ms. Lawrence (no relation) goes through her paces valiantly, looking terrific in lavish costumes even with a black eye (I didn't know Russian spies dressed so elegantly; it's a deadly game but it must pay well).
There isn't much chemistry between the leads, and their sex scenes don't sizzle, but the fault lies with the dopey, confusing script by Justin Haythe that fails to develop their characters with any depth or purpose. The all-star cast works hard to bring small, superfluous scenes to life, especially the brief one dominated by Mary-Louise Parker, who comes to a disastrous end as a drunken spy who evokes more laughs than suspense.
Silly, sickening and contrived, Red Sparrow takes obvious advantage of the current anti-Russian sentiments running rampant in American politics, so it's no surprise that the villains get to steal the picture—especially the terrific Matthias Schoenaerts, who walks the walk and talks the talk with icy resolve, and looks alarmingly like Vladimir Putin.